This update is long overdue. We have been plagued by mediocre surf and I bruised a bone in the ball of my back foot. Anyway, I've had some fun waves over the last few days and have a good feel for my new board. My Stamps EPS/Epoxy board is exceptional. It may be one of the best boards I have ever ridden.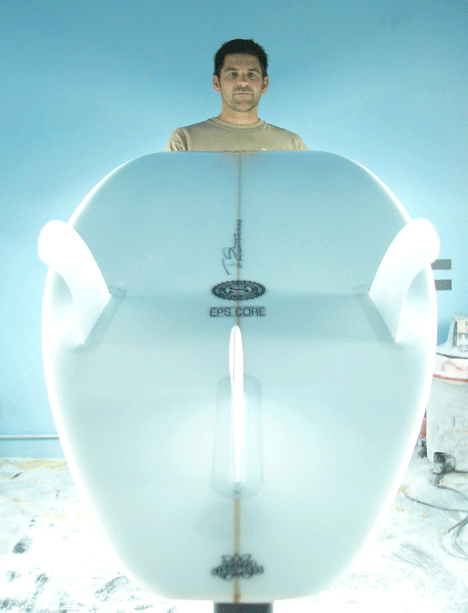 This EPS Epoxy board is 6'6" x 18½ x 2 3/8". It's thin, narrow and lightweight for a guy my size (6', 200lbs.). The EPS foam is more buoyant and allows for less overall board volume. It floats, paddles and catches waves well.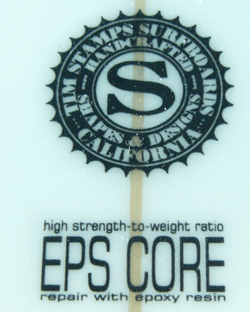 At first glance the EPS board looked like a standard Pu/Pe surfboard. Typically, with EPS Epoxy glassed boards the finish blank has a rough appearance due to the pourosity of the EPS Foam. Thus, when glassed the Epoxy resin fills in the pours and you are left with an unrefined appearance. Well, Tim has a process which seals the pours of the blank before it is glassed. Therefore, the finished board has a much cleaner refined appearance and there is less resin seepage into the foam which also reduces weight.
Tim had the board ready two days before I was leaving on a short surf trip. I was concerned about it being to green to ride but it was the only small wave board I had. I broke my other two small wave boards:-( Anyway, it had been really warm and it helped speed up the curing process.
During my first paddle out, I could tell the difference in the buoyancy and rigidity of the board. However, once on a wave it felt very comfortable. To say the least, I'm very pleased.
The board is holding up well thus far. It has very minor pressure dings under my feet but thats it. I have been purposely punishing this board to test its strength with floaters, hard carves and a few poor attempts at aerials. In the past I would have had to jumped off out of fear of breaking the board. Now, I can go for it more often. The next thing to break will be my body. OUCH!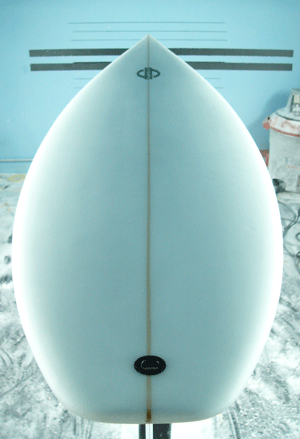 Click this link to reach
Tim Stamps
and order your own EPS/Epoxy core board. Trust me, you will be glad you did.
Stay away from those cookie cutter pop-outs with the fancy logo.

Gone Surfing... Be Back Soon.

Jason Hennessey