Header

Back to Pro Surfing Archives 2006...

By Press Release:


ASSOCIATION OF SURFING PROFESSIONALS (ASP) INTERNATIONAL

Billabong Pro Maui
Event No. 8 and the final stop on the ASP Women's World Tour
Honolua Bay, Maui, Hawaii
December 8 – December 21, 2006
SEVENTH HEAVEN FOR LAYNE BEACHLEY AT BILLABONG PRO MAUI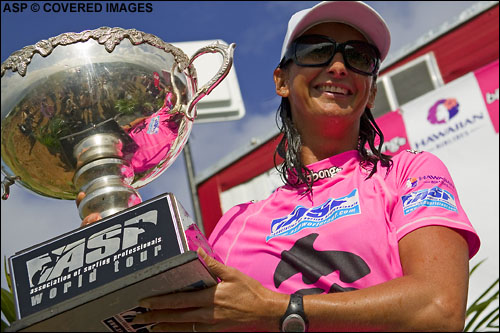 Layne Beachley clutches the ASP World Title trophy for an unprecedented seventh time at Honolua Bay. Pic Credit ASP Tostee
HONOLUA BAY, Hawaii (Sunday, Dec. 10, 2006) Seventeen-year ASP Women's World Tour veteran Layne Beachley has won an unprecedented 7th ASP Women's World Tour Title in Honolua Bay, Maui today. It has been two years since Beachley last secured a world title.
"It's surreal, absolutely surreal," Beachley said. "It's been such a journey this year and to not have to actually fight for it, to have it almost handed to me, it's one of the most amazing experiences I've ever had. This is probably one of the most rewarding and satisfying world titles I've ever won."
This is the fifth world crown the 34-year-old has clinched in Maui. She clinched her first title in 1998 in France, and her second, in 1999, at Sunset Beach. Each of her five since have been won at Honolua Bay.
"This is my fifth world title in Maui and my seventh title overall," Beachley said. "Maui obviously has a very special place in my heart; it's such an amazing amphitheater. It's been such a beautiful day and such a surreal experience – I don't know how to explain it."
Beachley's win came after Chelsea Georgeson (AUS), the only surfer who could challenge Beachley for the title, was eliminated by Claire Bevilacqua (AUS) the quarterfinal before hers. Beachley paddled into her heat against Rebecca Woods the 2006 ASP Women's World Champion.
"I'm not finding it anti-climatic that Chelsea didn't get through her quarterfinal but I anticipated it coming down to the final so we could fight for it – that's how I've won all of my other world titles out here," Beachley said. "To have Chelsea go down and to paddle out there as the 2006 ASP World Champion rather than fighting for it was unbelievable."
Beachley was the world's No. 1 female surfer for six successive years – from 1998 to 2003 – and holds the record for the most consecutive surfing world championships, male or female. Her ASP Women's World Title stranglehold was interrupted by Sofia Mulanovich (PER) in 2004 and Georgeson in 2005.

Only Kelly Slater (USA) has won more ASP World Titles than Beachley, having won his eighth ASP crown this year. Slater's five consecutive titles from 1994-1998 are the closest anyone has come to nearing Beachley's six-year pro-surfing monopoly.
When asked what it meant to her to have seven world titles to Slater's eight, Beachley joked: "It means I'm going for eight and Kelly better not win nine! It's means I'm going to go out there and have some more fun. I think Kelly is going to go for 10 and if he does he can have it!"
Beachley fought with Melanie Redman-Carr (AUS), who won the first three events of the 2006 season, for pole position through much of the year, but Redman-Carr bowed out of contention with a Round Three loss earlier this week. She finished the season as world No. 2.
Defending world champion and 2006 world No. 3 Georgeson was a late addition to the 2006 title race.
"It was a pretty interesting year," Georgeson said. "I definitely didn't make it easy for myself. I left my run a little bit late. Coming off a [world title] win last year; it's pretty hard to back that up. I was pretty excited coming into this last event, having a chance still so I'm happy with third place, it could have been worse."
Georgeson, who at 23-years-old is 11-years younger than Beachley, was gracious in defeat and full of praise for Beachley's contributions to the sport.
"Layne has always been there and she's always been such a good role model for all of us girls," Georgeson said. "What she's done for women's surfing –running her own event, still competing on tour and then winning seven world titles – it's pretty amazing. I give her a lot of credit. It takes a lot to just win one, but to be able to go back each year and win; it's pretty awesome to see."
The ASP Women's World Tour will take a break until late February of 2007 when it resumes on the Gold Coast of Australia – Georgeson's home turf.
"It'll be interesting to see what happens next year… if Layne's still hungry for more," Georgeson said. "I'm sure she'll probably be heading for eight now so congratulations to her for sure. She's an amazing competitor."
###
Layne Beachley's 2006 ASP Women's World Tour Results:
Roxy Pro Australia (Feb. 28 – Mar. 12): 2nd place
Roxy Pro Fiji (Apr. 22 – Apr. 29): 2nd place
Billabong Pro Tahiti (May 14 – May 16): 3rd place
Billabong Pro Brazil (Aug. 21 – 28): 1st place
Rip Curl Pro France (Aug. 31 – Sept. 5): 5th place
Havaianas Beachley Classic (Oct. 9 – Oct 15): 2nd place
Roxy Pro Hawaii (Nov. 24 – Dec. 6): 5th place
Billabong Pro Maui (Dec. 8 – Dec. 20): 3rd place
Layne Beachley's ASP Women's World Tour Career Year End Results:
2006: 1st (Clinched the ASP Women's World Tour Title in Maui)
2005: 5th
2004: 4th
2003: 1st (Clinched the ASP Women's World Tour Title in Maui)
2002: 1st (Clinched the ASP Women's World Tour Title in Maui)
2001: 1st (Clinched the ASP Women's World Tour Title in Maui)
2000: 1st (Clinched the ASP Women's World Tour Title in Maui)
1999: 1st (Clinched the ASP Women's World Tour Title Sunset Beach)
1998: 1st (Clinched the ASP Women's World Tour Title France)
1997: 2nd
1996: 3rd
1995: 2nd
1994: 4th
1993: 6th
1992: 17th
1991: 12th
1990: 10th
2006 Final ASP Women's World Tour Ratings
1. Layne Beachley (AUS) 6374
2. Melanie Redman-Carr (AUS) 5802
3. Chelsea Gerogeson (AUS) 5797
4. Jessi Miley-Dyer (AUS) 4440
5. Sofia Mulanovich (PER) 4105
6. Rebecca Woods (AUS) 3794
7. Claire Bevilacqua (AUS) 3564
8. Keala Kennelly (HAW) 3516
9. Silvana Lima (BRA) 3408
10. Megan Abubo (HAW) 3398
11. Rochelle Ballard (HAW) 3312
12. Samantha Cornish (AUS) 3218
13. Heather Clark (ZAF) 3180
14. Julia Christian (USA) 2834
15. Trudy Todd (AUS) 2244
16. Serena Brooke (AUS) 2232
17. Jacqueline Silva (BRA) 2142