Header

ASSOCIATION OF SURFING PROFESSIONALS (ASP) INTERNATIONAL

Billabong Girls Pro Brazil
Praia da Tiririca, Itacaré, Bahia-Brazil
Aug 21-28, 2006

www.aspworldtour.com and www.billabonggirls.com
TAVARES WINS 5 STAR WQS & WILDCARD INTO BILLABONG GIRLS PRO BRAZIL
ITACARÉ, Brazil (Sunday, August 20, 2006)– Former ASP Women's World Tour surfer Maria Tita-Tavares (BRA) beat Sofia Mulanovich (PER) to win the five-star World Qualifying Series (WQS) division of the Billabong Girls Pro Brazil today.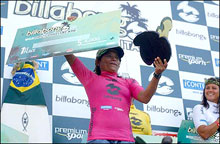 Maria TitaTaveres Picture Credit ASP Tostee
Tavares was visibly moved by the victory and overwhelming response from the Brazilian fans crowding the beach at Itacaré to watch the final.
"I had a lot of fun and it feels good to win here because this is my home," Tavares said. "I was so happy to make the final with Sofia – the world champion two years ago. I just concentrated and went heat by heat."
Tavares was awarded US$1,700 and a wildcard into the main event – both welcome rewards considering that her failure to requalify for the elite-tour at the end of last year was largely due to financial difficulty in getting to ASP Women's World Tour events, not her performance in them.
"It's really cool that Tita won today," Mulanovich said. "It must be really special for her to win in Brazil. I was having a lot of fun on these waves until that heat; they just went bad in the final. It's alright though, I'm just stoked I made the final."
Mulanovich's second-place finish at Itacaré today, as well as her victory at the U.S. Open of Surfing held in Huntington Beach, Calif. last month, are strong indications that the Peruvian is poised to make a charge going into the next leg of ASP Women's World Tour competition.
Mulanovich has drawn Julia Christian (USA) and Samantha Cornish (AUS) in round one; Tavares will meet ASP Women's World Tour ratings leader Melanie Redman-Carr (AUS) and Heather Clark (ZAF) in the first round.
Redman-Carr, who had already voiced that the South Americans would be the girls to beat in the Billabong Pro Girls Brazil, now has another one to worry about.
"Tita and Sofia were the standouts of the week you could pretty much tell they were going to be in the final from day two," Redman-Carr said. "When you're throwing out two strong turns in small waves like Tita was, you're going to get high scores."
Though the official event waiting period begins tomorrow (Monday, August 21, 2006), contest organizers have opted to give competitors a day of rest and have put the event on hold until the following day. Present swell forecasts indicate a pulse in swell for Tuesday and improving conditions on Wednesday.
UPCOMING ROUND ONE HEATS:
HEAT 1: Megan Abubo (HAW), Keala Kennelly (HAW), Jessi Miley Dyer (AUS)
HEAT 2: Sofia Mulanovich (PER), Samantha Cornish (AUS), Julia Christian (USA)
HEAT 3: Melanie Redman-Carr (AUS), Heather Clark (ZAF), Maria Tita Tavares (BRA)
HEAT 4: Chelsea Georgeson (AUS), Trudy Todd (AUS), Serena Brooke (AUS)
HEAT 5: Layne Beachley (AUS), Claire Bevilacqua (AUS), Jacqueline Silva (BRA)
HEAT 6: Rochelle Ballard (HAW), Rebecca Woods (AUS), Silvana Lima (BRA)
APS WCT Tour 2010 Schedule
Mens's Division
Quiksilver Pro Gold Coast
Feb 27-Mar 10, Gold Coast Qld-Australia
Rip Curl Pro Bells
March 30 -April 10, Bells Beach Victoria-Australia
Hang Loose Santa Catarina Pro
April 23-May 2, Santa Catarina Brazil
Billabong Pro J-Bay
Jly 15-25, Jeffreys Bay South Africa
Billabong Pro Teahupoo
Aug 23 - Sept 3, Teahupoo Taiarapu-Tahiti
Hurley Pro Trestles
Sep 12-21, Trestles California-USA
Quiksilver Pro France
Sep 25-Oct 5, South West Coast France
Rip Curl Pro
Oct 7-18, Peniche, Portugal
Rip Curl Pro Search
Oct 30-Nov. 10 - Somewhere?
Billabong Pipeline Masters
Dec 8-20, Banzai Pipeline Oahu-Hawaii
Women's Division
Roxy Pro Gold Coast
Feb 27-Mar 10, Gold Coast, Queensland, Australia
Rip Curl Women's Pro Bells
Mar 30-April 10, Bells Beach Victoria, Australia
TSB Bank Women's Surf Festival
Apr 11-16 Taranaki – New Zealand
Commonwealth Bank Beachly Classic
Apr 21-26, Dee Why,Northern Beaches, NSW-Australia
Movistar Peru Classic presented by Rip Curl
June 8-13, Lobitos-Peru
Rip Curl Pro
Oct 7-11, Peniche-Portugal
Rip Curl Search
Oct 30-Nov 4, Somewhere
Gidget Pro
Nov 24-Dec 6, Sunset Beach Oahu, Hawaii
Billabong Pro Maui
Dec 8-20 Honolua Bay, Maui, Hawaii