Header

FOR IMMEDIATE RELEASE

ASSOCIATION OF SURFING PROFESSIONALS (ASP) INTERNATIONAL

Billabong Girls Pro Brazil
Praia da Tiririca, Itacaré, Bahia-Brazil
Aug 21-28, 2006

www.aspworldtour.com and www.billabonggirls.com
GEORGESON AND BEACHLEY READY TO ROCK WHEN BILLABONG PRO RESUMES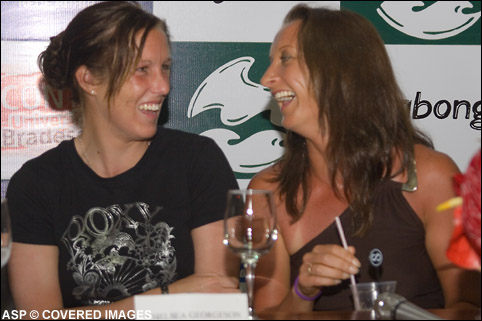 Layne Beachley and Chelsea Georgeson Picture Credit ASP Tostee
ITACARÉ, Brazil (Tuesday, August 22, 2006) –Lack of swell has seen the Billabong Pro Girls Brazil put on hold today, but after waiting three months for ASP Women's World Tour action to resume, what's a day or two more?
If you're former six-time world champion Layne Beachley (AUS) or reigning world champion Chelsea Georgeson (AUS) (sitting second and third in the world respectively), it's another day to fine-tune your tactics to stop Melanie Redman-Carr (AUS).
Redman-Carr sits solidly atop the ASP Women's World Tour leader board after winning the first three events on the 2006 calendar. Beachley finished runner-up in Australia and Fiji; Georgeson came second in Tahiti.
If Redman-Carr continues her hot streak, it's possible that the tour veteran could clinch her first world title in France – the tour stop held right after the Billabong Pro Brazil.
"I think we all know in the back of our heads that we need to try to stop her, but you can't really think about all of that," Georgeson said. "All you can really to do is try to win."
Georgeson is no stranger to a late season push. She didn't wrap up her first world title until the final day of competition last year.
The current world champ is also the only elite-tour competitor who didn't surf in the five-star World Qualifying Series (WQS) event held at Praia da Tiririca last week.
"I haven't competed in any other 'QS events this year, so I didn't see the point," Georgeson said. "I decided to conserve my energy – save it for the main event. Unless you can ride the adrenaline from winning the event right before, it can be really tiring to surf two contests in a row like that."
Beachley, who is no stranger to winning events, seems content to sit in second – for now at least.
"Mel is on a roll, but I know she is feeling a lot of pressure – I've been there." Beachley said. "She's had three months to psyche up and prepare for Brazil, but so have the rest of us. I know I prefer to come from behind."
Another call on competition status will be made tomorrow morning.
UPCOMING ROUND ONE HEATS:
HEAT 1: Megan Abubo (HAW), Keala Kennelly (HAW), Jessi Miley Dyer (AUS)
HEAT 2: Sofia Mulanovich (PER), Samantha Cornish (AUS), Julia Christian (USA)
HEAT 3: Melanie Redman-Carr (AUS), Heather Clark (ZAF), Maria Tita Tavares (BRA)
HEAT 4: Chelsea Georgeson (AUS), Trudy Todd (AUS), Serena Brooke (AUS)
HEAT 5: Layne Beachley (AUS), Claire Bevilacqua (AUS), Jacqueline Silva (BRA)
HEAT 6: Rochelle Ballard (HAW), Rebecca Woods (AUS), Silvana Lima (BRA)
APS WCT Tour 2010 Schedule
Mens's Division
Quiksilver Pro Gold Coast
Feb 27-Mar 10, Gold Coast Qld-Australia
Rip Curl Pro Bells
March 30 -April 10, Bells Beach Victoria-Australia
Hang Loose Santa Catarina Pro
April 23-May 2, Santa Catarina Brazil
Billabong Pro J-Bay
Jly 15-25, Jeffreys Bay South Africa
Billabong Pro Teahupoo
Aug 23 - Sept 3, Teahupoo Taiarapu-Tahiti
Hurley Pro Trestles
Sep 12-21, Trestles California-USA
Quiksilver Pro France
Sep 25-Oct 5, South West Coast France
Rip Curl Pro
Oct 7-18, Peniche, Portugal
Rip Curl Pro Search
Oct 30-Nov. 10 - Somewhere?
Billabong Pipeline Masters
Dec 8-20, Banzai Pipeline Oahu-Hawaii
Women's Division
Roxy Pro Gold Coast
Feb 27-Mar 10, Gold Coast, Queensland, Australia
Rip Curl Women's Pro Bells
Mar 30-April 10, Bells Beach Victoria, Australia
TSB Bank Women's Surf Festival
Apr 11-16 Taranaki – New Zealand
Commonwealth Bank Beachly Classic
Apr 21-26, Dee Why,Northern Beaches, NSW-Australia
Movistar Peru Classic presented by Rip Curl
June 8-13, Lobitos-Peru
Rip Curl Pro
Oct 7-11, Peniche-Portugal
Rip Curl Search
Oct 30-Nov 4, Somewhere
Gidget Pro
Nov 24-Dec 6, Sunset Beach Oahu, Hawaii
Billabong Pro Maui
Dec 8-20 Honolua Bay, Maui, Hawaii