Header

By Press Release:

ASSOCIATION OF SURFING PROFESSIONALS (ASP) INTERNATIONAL

Billabong Girls Pro Brazil
Praia da Tiririca, Itacaré, Bahia-Brazil
Aug 21-28, 2006

www.aspworldtour.com and www.billabonggirls.com
ROUND ONE OF THE BILLABONG GIRLS PRO BRAZIL UNDERWAY IN ITACARÉ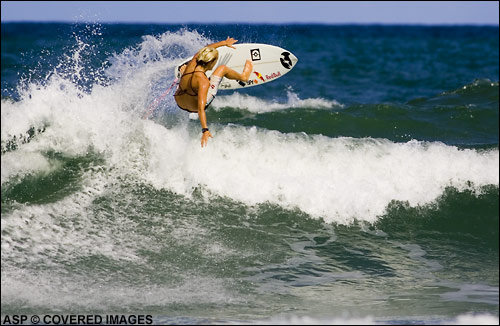 Keala Kennelley Picture credit ASP Tostee
ITACARÉ, Brazil (Wednesday, August 23, 2006) –Round one of the inaugural Billabong Pro Girls Brazil hit the water at 1pm local time. Officials are hoping to complete all six heats of round one today.
If conditions, which are currently only two to three foot (half to one metre) but favorably wind affected, hold, it is possible that round two will run as well.
Round two features the third place surfers from the first six heats and takes two heats and approximately one hour to complete. The girls who finish third in the three-woman round two heats are eliminated.
Heat three of round one is today's most critical match-up. Current world number one Melanie Redman-Carr (AUS) will meet wildcard Maria Tita Tavares (BRA) and Heather Clark (ZAF) in that heat. Redman-Carr and Tavares' performances will be of significant importance.
Tavares is a former elite-tour surfer who is known for her ability to make magic in small waves, something she illustrated when she won last week's five-star World Qualifying Series (WQS) event held at Praia da Tiririca, Itacaré, as well.
Redman-Carr has won every event on the 2006 ASP Women's World Tour thus far and currently poised to make a serious run at her first World Title.
UPCOMING ROUND ONE HEATS:
HEAT 1: Megan Abubo (HAW), Keala Kennelly (HAW), Jessi Miley Dyer (AUS)
HEAT 2: Sofia Mulanovich (PER), Samantha Cornish (AUS), Julia Christian (USA)
HEAT 3: Melanie Redman-Carr (AUS), Heather Clark (ZAF), Maria Tita Tavares (BRA)
HEAT 4: Chelsea Georgeson (AUS), Trudy Todd (AUS), Serena Brooke (AUS)
HEAT 5: Layne Beachley (AUS), Claire Bevilacqua (AUS), Jacqueline Silva (BRA)
HEAT 6: Rochelle Ballard (HAW), Rebecca Woods (AUS), Silvana Lima (BRA)
APS WCT Tour 2010 Schedule
Mens's Division
Quiksilver Pro Gold Coast
Feb 27-Mar 10, Gold Coast Qld-Australia
Rip Curl Pro Bells
March 30 -April 10, Bells Beach Victoria-Australia
Hang Loose Santa Catarina Pro
April 23-May 2, Santa Catarina Brazil
Billabong Pro J-Bay
Jly 15-25, Jeffreys Bay South Africa
Billabong Pro Teahupoo
Aug 23 - Sept 3, Teahupoo Taiarapu-Tahiti
Hurley Pro Trestles
Sep 12-21, Trestles California-USA
Quiksilver Pro France
Sep 25-Oct 5, South West Coast France
Rip Curl Pro
Oct 7-18, Peniche, Portugal
Rip Curl Pro Search
Oct 30-Nov. 10 - Somewhere?
Billabong Pipeline Masters
Dec 8-20, Banzai Pipeline Oahu-Hawaii
Women's Division
Roxy Pro Gold Coast
Feb 27-Mar 10, Gold Coast, Queensland, Australia
Rip Curl Women's Pro Bells
Mar 30-April 10, Bells Beach Victoria, Australia
TSB Bank Women's Surf Festival
Apr 11-16 Taranaki – New Zealand
Commonwealth Bank Beachly Classic
Apr 21-26, Dee Why,Northern Beaches, NSW-Australia
Movistar Peru Classic presented by Rip Curl
June 8-13, Lobitos-Peru
Rip Curl Pro
Oct 7-11, Peniche-Portugal
Rip Curl Search
Oct 30-Nov 4, Somewhere
Gidget Pro
Nov 24-Dec 6, Sunset Beach Oahu, Hawaii
Billabong Pro Maui
Dec 8-20 Honolua Bay, Maui, Hawaii