Header

By Press Release

ASSOCIATION OF SURFING PROFESSIONALS (ASP) INTERNATIONAL

Billabong Girls Pro Brazil
Praia da Tiririca, Itacaré, Bahia-Brazil
Aug 21-28, 2006

www.aspworldtour.com and www.billabonggirls.com
REDMAN-CARR CRACKS AT THE BILLABONG GIRLS PRO BRAZIL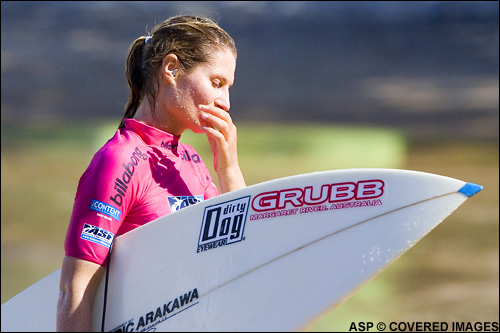 Melanie Redman-Carr Picture credit ASP Tostee
ITACARÉ, Brazil (Wednesday, August 23, 2006) – Melanie Redman-Carr's (AUS) fairy tale start to the season turned nightmarish when she made an early exit courtesy of South Americans in the Billabong Girls Pro Brazil today.
The nine-year tour veteran must now add an unsightly last place (equal 17th) to her, until now, immaculate score line.
The current world ratings leader, who had won every contest on the 2006 ASP Women's World Tour calendar prior to the Billabong Girls Pro Brazil, lost both her round one and two heats at Itacaré this afternoon.
"That heat wasn't going my way in the beginning and it definitely wasn't going my way in the end," Redman-Carr, who lost to Jacqueline Silva (BRA) and Keala Kennelly (HAW) in round two, said. "I'm disappointed, but I would have met Tita in the next round and there was really only a 50 percent chance I would have made it out of that heat."
Redman-Carr was left needing a combination of scores to beat wildcard and former ASP Women's World Tour Surfer Maria Tita Tavares (BRA) in her round one heat.
Tavares was given the wildcard (orignally slated to go to a young Peruvian surfer) as a result of winning last week's Billabong Girls Pro five-star World Qualifying Series (WQS) event.
"I knew I was going to draw Tita since the first day of WQS competition; she was surfing so well and I knew she was going to win it," Redman-Carr said. "I also knew this competition would probably be harder for me than for anyone else because the wildcards would be better than 80% of the girls in these types of conditions."
Tavares posted the day's highest single wave score (a 9.00 out of 10.00) and the day's highest heat total (16.00 out of 20.00). The small-statured Brazilian is widely dreaded in small conditions like those on offer today.
"I won the WQS and I'm very excited about the wildcard that Billabong gave to me," Tavares, who speaks broken English, said. "I can't believe it. Melanie (Redman-Carr) and I have been surfing for a while and she's a good surfer. I'm so happy right now but I just have to wait for the next heat."
Also in form and no doubt pleased to see Redman-Carr out of the running was current world No. 2 Layne Beachley (AUS). Beachley easily defeated Claire Bevilacqua (AUS) and Silva in round one to advance straight into round three.
"I'm happy with that heat," Beachley said. "After doing the WQS event last week and failing miserably, it was a really good wake-up call. I've spent the last two days especially working really hard on tuning my equipment and really tuning my surfing. I've spent more time out of the water than in it and I thought I could just come here and surf. It's a total different beast when you're competing to just free-surfing. That being said, I'm really happy with the results so far."
Winning the first heat of the day was current ASP World Junior Champion and World Qualifying Series (WQS) No. 1, Jessi Miley- Dyer. Finishing equal third in last week's Billabong Girls Pro five-star WQS event, Miley Dyer now sits atop that tour's ratings with enough points to ensure a spot on the 2007 ASP Women's World Tour.
"I haven't done so well in the last three events we've had (on the ASP Women's World Tour)," Miley-Dyer said. "I really needed the WQS as a backup and I'm really happy to know that I don't need a result here because I've already qualified for next year. It's just a big relief."
There is an excellent chance that round three of the Billabong Pro Girls will run tomorrow, but due to highly tide-affected conditions at Praia da Tiririca, Itacaré, contest directors will not make a call until noon local time.
Logon to http://www.aspworldtour.com/billabonggirls/ for heat by heat updates and more!
Round Two Results: (1st and 2nd advance to the Round Three; 3rd finishes equal 17th and earns $US2,500)
Heat 1: Jacqueline Silva (BRA) 15.25, Keala Kennelly (HAW) 11.75, Melanie Redman-Carr (AUS) 8.95
Heat 2: Rochelle Ballard (HAW) 13.50, Sofia Mulanovich (PER) 11.30, Trudy Todd (AUS) 8.00
Round One Results: (1st and 2nd advance to Round Three; 3rd surfs Round Two)
Heat 1: Heat 1: Jessi Miley-Dyer (AUS) 12.40, Megan Abubo (HAW) 10.75, Keala Kennelly (HAW) 10.15
Heat 2: Samantha Cornish (AUS) 11.65, Julia Christian (USA) 11.30, Sofia Mulanovich (PER) 11.10
Heat 3: Maria Tita Tavares (BRA) 16.00, Heather Clark (ZAF) 9.30, Melanie Redman-Carr (AUS) 8.75
Heat 4: Serena Brooke (AUS) 15.25, Chelsea Georgeson (AUS) 12.75, Trudy Todd (AUS) 11.20
Heat 5: Layne Beachley (AUS) 14.50, Claire Bevilacqua (AUS) 12.20, Jacqueline Silva (BRA) 11.30
Heat 6: Silvana Lima (BRA) 11.40, Rebecca Woods (AUS) 10.85, Rochelle Ballard (HAW) 10.80