Header

By Press Release:

ASSOCIATION OF SURFING PROFESSIONALS (ASP) INTERNATIONAL

Billabong Girls Pro Brazil
Event No. 4 on the ASP Women's World Tour
Praia da Tiririca, Itacaré, Bahia-Brazil
Aug 21-28, 2006

www.aspworldtour.com and www.billabonggirls.com
GEORGESON BLITZES THROUGH BILLABONG GIRLS PRO QUARTERFINALS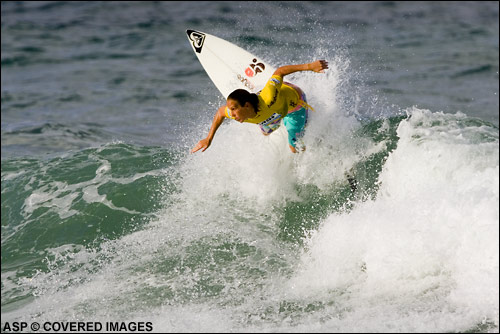 Chelsea Georgeson Picture credit ASP Tostee
ITACARÉ, Brazil (Friday, August 25, 2006) –Reigning world champion Chelsea Georgeson's quarterfinal performance at the Billabong Girls Pro Brazil, indicated that she is the surfer to beat when competition at stop four on the ASP Women's World Tour wraps up tomorrow.
With an 8.0 and 8.5 (out of a possible 10) in her scoreline mid-heat, Georgeson was well and truly commanding her quarterfinal against 2005 Rookie of the Year Claire Bevilacqua (AUS). Despite today's wave score average being well below a 7.0 (Bevilacqua kept a 1.2 and 2.5), Georgeson increased her lead when she earned an 8.6 and 9.65 with just minutes to go.
"I was sitting there watching for quite awhile just trying to see where the waves are coming through because it's very unpredictable to even see where they are coming from," Georgeson said. "I was just trying to see where the most consistent ripple was so I could sit there. I think Claire just got unlucky picking waves."
Georgeson now holds the highest heat total of the event (18.25 out of 20.00) as well as today's top four wave scores. She will meet rookie Jessi Miley-Dyer (AUS) in the semifinals.
"Jess has been doing well the whole event, she's very strong in these conditions," Georgeson said. "We're both from Sydney and terrible waves so she's definitely got the practice. It's going to be a hard heat no matter what, so I'm just going to go out, take each heat as it comes and see what happens."
Miley-Dyer defeated Julia Christian (USA) to better her best result of equal ninth. She will post at least a fifth place finish in Brazil, but having requalified for the ASP Women's World Tour already via of World Qualifying Series (WQS) points, the young Australian is under less pressure.
"I didn't think that Brazil was going to be one of my strong points, I like places like Cloudbreak and Tahiti and I was looking to do better there, but it's actually a little bit like Bronte [NSW, Australia], out here," Miley Dyer said. "It really reminds me a lot of home. There's a lot of current, it's a small beach and a punchy little beach break, so it's kind of nice being someplace that is sort of familiar to me."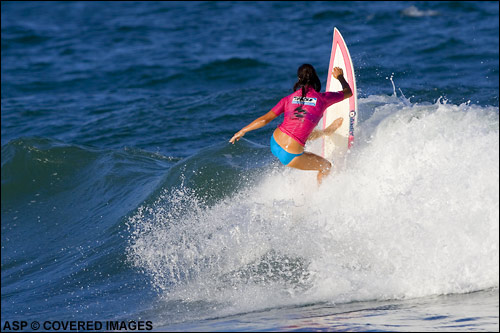 Layne Beachley Picture credit ASP Tostee
Layne Beachley rounds out the Australian contingent who will compete in tomorrow's semifinals. Beachley beat South Africa's Heather Clark to advance.
"I had a much better run in that heat than I did in my previous heat," Beachley said. "I was kind of freaking before I paddled out as I was thinking, 'where the hell am I going to sit and what the hell am I going to catch?' It looked really challenging. Then I heard Chelsea (Georgeson) getting 8's and 9's and I kept thinking, 'how is she doing that?!'"
Beachley seems confident that she will be able to beat local favorite Silvana Lima (BRA), who took Sofia Mulanovich out, in semifinal two tomorrow.
"We're all out to win this event and Chelsea (Georgeson) is going to have to stop me in the final if she really wants it."
Lima, like Miley-Dyer, has now bettered her rookie season personal best. The only Brazilian still in contention, Lima is very vocally backed on the beach. At home in these conditions and with massive support, the young surfer could give Beachley a run for her money.
The semifinal and final will run at Praia da Tiririca tomorrow. Surfers will check in at 1pm when event organizers will announce what time competition will commence.
Logon to http://www.aspworldtour.com/billabonggirls/ for heat by heat updates, images and more.
Quarterfinal Results: (1st advances to the Semifinals; 2nd finishes equal 5th and earns US$4,100)
Quarterfinal 1: Jessi Miley-Dyer (AUS) 12.50 def. Julia Christian (USA) 8.25
Quarterfinal 2: Chelsea Georgeson (AUS) 18.25 def. Claire Bevilacqua (AUS) 3.75
Quarterfinal 3: Layne Beachley (AUS) 14.15 def. Heather Clark (ZAF) 9.50
Quarterfinal 4: Silvana Lima (BRA) 12.75 vs. Sofia Mulanovich (PER) 12.35