Header

By Press Release:


ASSOCIATION OF SURFING PROFESSIONALS (ASP) INTERNATIONAL

BILLABONG GIRLS PRO BRAZIL
Itacare, Brazil
Saturday, August 26, 2006
BEACHLEY WINS BILLABONG GIRLS PRO BRAZIL AND TAKES RATINGS LEAD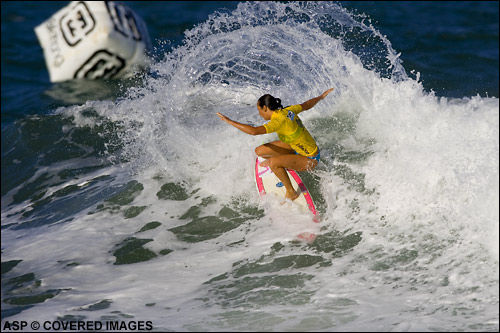 ITACARE, BRAZIL (Saturday, August 26, 2006) – Layne Beachley (AUS) won the inaugural Billabong Girls Pro Brazil today to post her first ASP Women's World Tour event win in two years. Beachley is now the No. 1-rated female surfer in the world – an honor she hasn't shouldered since winning her sixth world title in 2003.
"It was a fairy tale ending for me. I've worked so hard all week and I've been participating and making the call and hoping I'm doing the right thing," Beachley said. "The conditions have been so challenging and then it all just fell into place for me in the final. It couldn't have happened any better and I'm really excited that I'm No. 1 in the world and made such great ground on Mel (Redman-Carr) – it's such an integral part of the year."
Although looking in top form throughout the event, Beachley stepped it up in the finals, amassing an excellent 9.95 and an 8.50. The performance signaled to competitors that the six-time world champ has returned her devastating competitive form.
"The insatiable winning thirst has come back," Beachley said. "It's been 18 months since I won an event and it hasn't really sunk in yet. I'm so excited; I can't remember what to do because it's been so long since I won. I'm just thrilled and relieved and so ready to party and drink as much Cachasca as I can."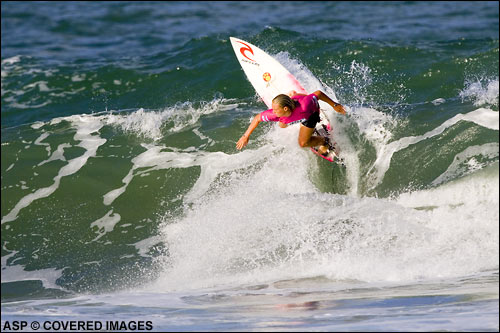 Left needing a combination of wave scores to challenge Beachley, Jessi Miley-Dyer (AUS) sat in second for most of the heat.
"Layne (Beachley) got two really good scores right away," Miley-Dyer said. "When she pretty much got a 10, I went, 'Wow, heavy – anybody who can get a 10 in difficult conditions like this…well perhaps I'll just stay over here on my left while they finish the contest.'"
Still, at 19 years old, the rookie was pleased just to be in the final – her first on the ASP Women's World Tour.
"I still had a little bit of hope that I could pull it off. Anything can happen in a heat," Miley-Dyer said. "It's always hard when someone has a 9.95 and an 8.50 to come from behind and beat them but I was just having fun out there. I've already qualified via the WQS, so I didn't have any pressure and I think that really showed in the event. Everywhere else I've been knocked out in the third round and then here I make a final."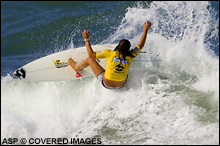 Miley-Dyer was one of two rookies represented in the business end of the Billabong Girls Pro Brazil. Brazilian Silvana Lima (BRA) was beaten by Beachley in the semifinal heat prior to the final. With 33-year old Melanie Redman-Carr (AUS) and 34-year old Beachley heavily dominating the early leg of the tour, today was one for the youngsters.
"It would have been really cool if Silvana (Lima) and I had been in the final together. Two rookies on tour and Silvana being from Brazil, it would have been unreal," Miley-Dyer said. "Unfortunately, it wasn't to be."
Although looking dangerous in her homeland's beachbreaks, Lima was unable to find the scores needed to overcome Beachley in the semifinals.
"I opened up with a really strong wave, an 8.25 but couldn't find another good one. I was having trouble with my positioning," Lima said. "I am disappointed but it is still a good result, let's see what I can do next week in France!"
Lima posted an equal third for her best result to date and now sits fifth in the world.
Defending ASP World Champ Chelsea Georgeson looked en route to re-ignited her world title campaign before falling to rookie Miley-Dyer in the semifinals.
"It's a little frustrating. There was a lot of current out there," Georgeson said. "When I was watching it there were a lot of waves on the left, but then there were some popping up on the right too so I paddled over and then the waves were on the left again. It was just one of those frustrating heats where you just have to sit in one spot and let the waves come to you I guess."
Frustrations aside, Georgeson's equal third finish sees her maintaining her current third spot on this season's ratings.
The girls will be jetting across the Atlantic next for the Rip Curl Pro Mademoiselle in Hossegor, France held from August 31 to September 5, 2006.
For more information log onto www.aspworldtour.com.