Header

For Immediate Release

MONDAY SEPTEMBER 11, 2006

BOOST MOBILE PRO PRESENTED BY HURLEY
TRESTLES, CALIFORNIA, USA
SEPTEMBER 12 – 16, 2006

EVENT #6 ON THE 2006 FOSTER'S ASSOCIATION OF SURFING PROFESSIONALS (ASP) MEN'S WORLD TOUR

Live on www.aspworldtour.com and www.boostmobilepro.com
FOSTER'S ASP MEN'S WORLD TOUR TO RESUME TOMORROW AT BOOST MOBILE PRO PRESENTED BY HURLEY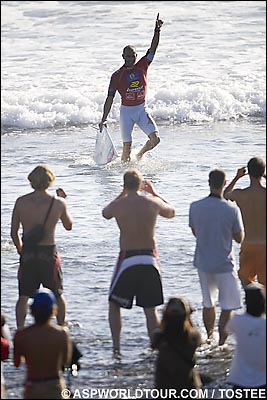 SAN CLEMENTE, USA (September 11, 2006) –The full compliment of the top 45 surfers in the world will hit the water at Trestles, located just outside of San Clemente, Southern California, tomorrow for round one of the most prestigious surfing event on US soil, the Boost Mobile Pro of Surf presented by Hurley.
Throughout the previous six events held during this year, injuries have forced out numerous regular competitors on the Foster's ASP Men's World Tour, but after a lengthy break between events in the circuit all of the best of the best have confirmed they will take part in what will be a truly exciting affair.
The ratings race is hotting up as we head into the "business end" of the year and while seven-time world champion Kelly Slater (USA) is leading, numerous surfers are still within striking range to claim the 2006 top gong.
Two surfers in Taj Burrow (AUS) and Andy Irons (HAW) could potentially overtake Slater with a win here this week.
Burrow in particular is eager for the tour to restart as he is renowned for putting on solid performances at Trestles and the upcoming locations of Hossegor, France and Mundaka in Spain, and after finishing second to Mick Fanning (AUS) in the last event at Jeffreys Bay, South Africa, the flashy 28-year-old is brimming with confidence.
"Yeah, I'm definitely looking forward to surfing in the event at Trestles as I've had some good results there in the past few years," said Burrow. "It's a really fun wave and I enjoy surfing out there."
The incredibly popular Burrow stated loudly at the beginning of 2006 that his sights were firmly fixed on winning his first world title – an honour which many of his peers have said should have been his a long time ago.
"It's now or never!" said Burrow back in March. " I had time out of the water last year due to injury and that really made me appreciate competitive surfing. It has heavily motivated me to go full on after the title."
After his sterling finish in the last event, where he was narrowly beaten when he fell on a wave in the dying seconds of the final, his focus six months down the track is still prominent and while sitting in second place with 4682 points behind Slater's 5109 he is eager for the chance to leapfrog into the lead.
"I'm really keen to win an event soon," said Burrow. "From there I'm hoping I can go on and bump off 'the big fellow' [Slater]."
The Boost Mobile Pro presented by Hurley will kick off as stated tomorrow (September 12) and will run through until Saturday (September 16).
The live webcast of the event will begin on www.aspworldtour.com or www.boostmobilepro.com at approximately 7.35am (US East Coast time) with the "Dawn Patrol," a live variety morning show hosted by former Foster's ASP Men's World Tour competitor Pat O'Connell and Boost Mobile's Mark Fewell, which will lead into competition start at 8am.
At the end of each day (approximately 5pm) a "Sunset Sessions" live afternoon show will be hosted by Peter King and Jodie Hillyard.
The shows will feature surfer interviews, highlight clips, celebrity and guest special appearances, swell forecasts, and analysis of each day's competition.
During the live coverage throughout the day the Boost Mobile Pro commentary team will include professional sportscasters David Stanfield and Charlie Fox, pro surfers and media personalities Mike Parsons, Pat O'Connell, Peter King, Brock Little, Saxon Boucher and Jodie Hillyard, and Hurley model Rosie O'Laffertey.
Special guest appearances will also be made by Slater and former event winner Richie Lovett (USA) who has just recently returned to the water after he had a hip replacement due to cancer.
In addition to the live webcast, www.boostmobilepro.com is an interactive website with photos, video clips, downloads, and promotions to win great prizes.