Header

EVENT #6 ON THE 2006 FOSTER'S ASSOCIATION OF SURFING PROFESSIONALS (ASP) MEN'S WORLD TOUR

Live on www.aspworldtour.com and www.boostmobilepro.com
BOOST MOBILE PRO UNDERWAY NOW!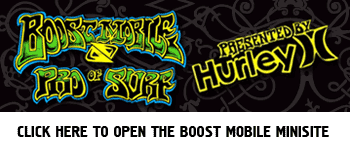 Surfers competing in the Boost Mobile Pro presented by Hurley have been greeted by excellent one metre (three foot) waves at Trestles, Southern California this morning as organisers blow the whistle for the start of round one.
Sixteen heats will make up the first day's play with three-man heats the order, kicking off with heat one consisting of Bruce Irons (HAW), Adriano de Souza (BRA) and David Weare (ZAF).
The Boost Mobile Pro will run straight through to Saturday September 16.
With the live webcast underway as we speak stay tuned to all the action on www.aspworldtour.com or www.boostmobilepro.com
The live webcast of the event will begin at approximately 7.35am (US East Coast time) each day with the "Dawn Patrol," a live variety morning show hosted by former Foster's ASP Men's World Tour competitor Pat O'Connell and Boost Mobile's Mark Fewell, which will lead into competition start at 8am.
At the end of each day (approximately 5pm) a "Sunset Sessions" live afternoon show will be hosted by Peter King and Jodie Hillyard.
The shows will feature surfer interviews, highlight clips, celebrity and guest special appearances, swell forecasts, and analysis of each day's competition.
During the live coverage throughout the day the Boost Mobile Pro commentary team will include professional sportscasters David Stanfield and Charlie Fox, pro surfers and media personalities Mike Parsons, Pat O'Connell, Peter King, Brock Little, Saxon Boucher and Jodie Hillyard, and Hurley model Rosie O'Laffertey.
Special guest appearances will also be made by Slater and former event winner Richie Lovett (USA) who has just recently returned to the water after he had a hip replacement due to cancer.
In addition to the live webcast, www.boostmobilepro.com is an interactive website with photos, video clips, downloads, and promotions to win great prizes.
APS WCT Tour 2010 Schedule
Mens's Division
Quiksilver Pro Gold Coast
Feb 27-Mar 10, Gold Coast Qld-Australia
Rip Curl Pro Bells
March 30 -April 10, Bells Beach Victoria-Australia
Hang Loose Santa Catarina Pro
April 23-May 2, Santa Catarina Brazil
Billabong Pro J-Bay
Jly 15-25, Jeffreys Bay South Africa
Billabong Pro Teahupoo
Aug 23 - Sept 3, Teahupoo Taiarapu-Tahiti
Hurley Pro Trestles
Sep 12-21, Trestles California-USA
Quiksilver Pro France
Sep 25-Oct 5, South West Coast France
Rip Curl Pro
Oct 7-18, Peniche, Portugal
Rip Curl Pro Search
Oct 30-Nov. 10 - Somewhere?
Billabong Pipeline Masters
Dec 8-20, Banzai Pipeline Oahu-Hawaii
Women's Division
Roxy Pro Gold Coast
Feb 27-Mar 10, Gold Coast, Queensland, Australia
Rip Curl Women's Pro Bells
Mar 30-April 10, Bells Beach Victoria, Australia
TSB Bank Women's Surf Festival
Apr 11-16 Taranaki – New Zealand
Commonwealth Bank Beachly Classic
Apr 21-26, Dee Why,Northern Beaches, NSW-Australia
Movistar Peru Classic presented by Rip Curl
June 8-13, Lobitos-Peru
Rip Curl Pro
Oct 7-11, Peniche-Portugal
Rip Curl Search
Oct 30-Nov 4, Somewhere
Gidget Pro
Nov 24-Dec 6, Sunset Beach Oahu, Hawaii
Billabong Pro Maui
Dec 8-20 Honolua Bay, Maui, Hawaii