Header

By Press Release:

WEDNESDAY SEPTEMBER 13, 2006

BOOST MOBILE PRO PRESENTED BY HURLEY
TRESTLES, CALIFORNIA, USA
SEPTEMBER 12 – 16, 2006

EVENT #7 ON THE 2006 FOSTER'S ASSOCIATION OF SURFING PROFESSIONALS (ASP) MEN'S WORLD TOUR

Live on www.boostmobilepro.com
KILLER DRAW FOR BOOST MOBILE PRO ROUND TWO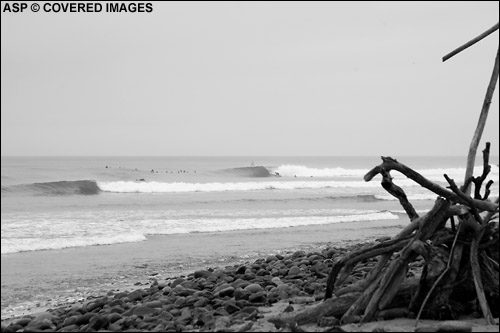 Round two line up for the Boost Mobile Pro credit ASP Tostee
SAN CLEMENTE, USA (September 13, 2006) – Spectators are lining the beach at Trestles, California, in anticipation of a killer start to day two of the Boost Mobile Pro with the first heat of the day underway now between the ever exciting Mick Fanning (AUS) and the wildcard wonder kid Dane Reynolds (USA).
Both are attacking the heat from different angles with Fanning needing a win to keep his slim Foster's ASP Men's World Tour title hopes alive, while the unrated Reynolds is merely looking to upset the apple cart and put on a big disply in front of the crowd.
Following on from the opening match-up, organisers will continue through to the end of round two today with the event wrapping up on Saturday.
Stay tuned to all the LIVE action on www.aspworldtour.com and www.boostmobilepro.com
Get on line now!
ROUND TWO HEAT DRAW:
HEAT 1: Mick Fanning (AUS) vs Dane Reynolds (USA)
HEAT 2: Taylor Knox (USA) vs Jamie O'Brien
HEAT 3: Tim Reyes (USA) vs Rob Machado (USA)
HEAT 4: Bruce Irons (HAW) vs Adrian Buchan
HEAT 5: CJ Hobgood (USA) vs Toby Martin (USA)
HEAT 6: Greg Emslie (USA) vs Yuri Sodre (BRA)
HEAT 7: Shaun Cansdell (AUS) vs Pedro Henrique
HEAT 8: Cory Lopez (USA) vs Jarrad Howse (AUS)
HEAT 9: Trent Munro (AUS) vs David Weare (ZAF)
HEAT 10: Fred Patacchia (HAW) vs Mikael Picon (FRA)
HEAT 11: Luke Stedman (AUS) vs Raoni Monteiro (BRA)
HEAT 12: Darren O'Rafferty (AUS) vs Victor Ribas (BRA)
HEAT 13: Pancho Sullivan (HAW) vs Chris Ward (USA)
HEAT 14: Paulo Moura (BRA) vs Peterson Rosa (BRA)
HEAT 15: Travis Logie (USA) vs Jake Paterson (AUS)
HEAT 16: Mick Lowe (AUS) vs Troy Brooks (AUS)
APS WCT Tour 2010 Schedule
Mens's Division
Quiksilver Pro Gold Coast
Feb 27-Mar 10, Gold Coast Qld-Australia
Rip Curl Pro Bells
March 30 -April 10, Bells Beach Victoria-Australia
Hang Loose Santa Catarina Pro
April 23-May 2, Santa Catarina Brazil
Billabong Pro J-Bay
Jly 15-25, Jeffreys Bay South Africa
Billabong Pro Teahupoo
Aug 23 - Sept 3, Teahupoo Taiarapu-Tahiti
Hurley Pro Trestles
Sep 12-21, Trestles California-USA
Quiksilver Pro France
Sep 25-Oct 5, South West Coast France
Rip Curl Pro
Oct 7-18, Peniche, Portugal
Rip Curl Pro Search
Oct 30-Nov. 10 - Somewhere?
Billabong Pipeline Masters
Dec 8-20, Banzai Pipeline Oahu-Hawaii
Women's Division
Roxy Pro Gold Coast
Feb 27-Mar 10, Gold Coast, Queensland, Australia
Rip Curl Women's Pro Bells
Mar 30-April 10, Bells Beach Victoria, Australia
TSB Bank Women's Surf Festival
Apr 11-16 Taranaki – New Zealand
Commonwealth Bank Beachly Classic
Apr 21-26, Dee Why,Northern Beaches, NSW-Australia
Movistar Peru Classic presented by Rip Curl
June 8-13, Lobitos-Peru
Rip Curl Pro
Oct 7-11, Peniche-Portugal
Rip Curl Search
Oct 30-Nov 4, Somewhere
Gidget Pro
Nov 24-Dec 6, Sunset Beach Oahu, Hawaii
Billabong Pro Maui
Dec 8-20 Honolua Bay, Maui, Hawaii