Header

By Press Release:

FRIDAY SEPTEMBER 15, 2006

BOOST MOBILE PRO PRESENTED BY HURLEY
TRESTLES, CALIFORNIA, USA
SEPTEMBER 12 – 16, 2006
EVENT #7 ON THE 2006 FOSTER'S ASSOCIATION OF SURFING PROFESSIONALS (ASP) MEN'S WORLD TOUR
Live on www.boostmobilepro.com
BOOST MOBILE PRO PRESENTED BY HURLEY UNDERWAY NOW!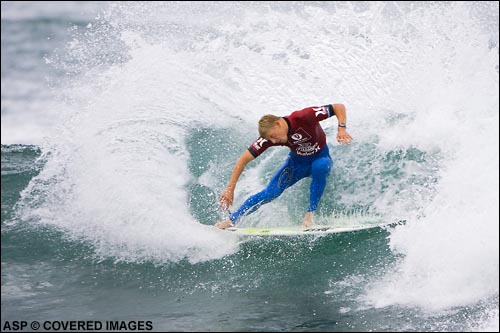 Mick Fanning Picture credit ASP Tostee
SAN CLEMENTE, California (September 15, 2006) – With the swell increasing slightly overnight organisers of the Boost Mobile Pro presented by Hurley have sent out heat one of round three which consists of Mick Fanning (AUS) versus Marcelo Nunes (BRA).
"We should see a great day of surfing today," said contest director Mike Parsons. "The swell is a bit bigger than yesterday and this morning it will be really clean. With a such a great draw in front of us no-one will want to miss it."
Sixteen heats will make up the order of the day with the event finishing tomorrow afternoon (Saturday, September 16).
Today's draw is as follows:
Round Three Heat Draw: (1st advances to Round Four; 2nd finishes equal 17th)
Heat 1: Mick Fanning (AUS) vs. Marcelo Nunes (BRA)
Heat 2: Daniel Wills (AUS) vs. Nathan Hedge (AUS)
Heat 3: Dean Morrison (AUS) vs. Luke Stedman (AUS)
Heat 4: Damien Hobgood (USA) vs. Jarrad Howse (AUS)
Heat 5: Joel Parkinson (AUS) vs. Peterson Rosa (BRA)
Heat 6: Tim Reyes (USA) vs. Troy Brooks (AUS)
Heat 7: Shaun Cansdell (AUS) vs. Trent Munro (AUS)
Heat 8: Kelly Slater (USA) vs. Adrian Buchan (AUS)
Heat 9: Andy Irons (HAW) vs. Toby Martin (AUS)
Heat 10: Greg Emslie (ZAF) vs. Bede Durbidge (AUS)
Heat 11: Taylor Knox (USA) vs. Chris Ward (USA)
Heat 12: Tom Whitaker (AUS) vs. Travis Logie (ZAF)
Heat 13: Taj Burrow (AUS) vs. Roy Powers (HAW)
Heat 14: Mark Occhilupo (AUS) vs. Frederick Patacchia (HAW)
Heat 15: Bobby Martinez (USA) vs. Victor Ribas (BRA)
Heat 16: Phillip Macdonald (AUS) vs. Adriano de Souza (BRA)
Log onto www.aspworldtour.com or www.boostmobilepro.com now!
APS WCT Tour 2010 Schedule
Mens's Division
Quiksilver Pro Gold Coast
Feb 27-Mar 10, Gold Coast Qld-Australia
Rip Curl Pro Bells
March 30 -April 10, Bells Beach Victoria-Australia
Hang Loose Santa Catarina Pro
April 23-May 2, Santa Catarina Brazil
Billabong Pro J-Bay
Jly 15-25, Jeffreys Bay South Africa
Billabong Pro Teahupoo
Aug 23 - Sept 3, Teahupoo Taiarapu-Tahiti
Hurley Pro Trestles
Sep 12-21, Trestles California-USA
Quiksilver Pro France
Sep 25-Oct 5, South West Coast France
Rip Curl Pro
Oct 7-18, Peniche, Portugal
Rip Curl Pro Search
Oct 30-Nov. 10 - Somewhere?
Billabong Pipeline Masters
Dec 8-20, Banzai Pipeline Oahu-Hawaii
Women's Division
Roxy Pro Gold Coast
Feb 27-Mar 10, Gold Coast, Queensland, Australia
Rip Curl Women's Pro Bells
Mar 30-April 10, Bells Beach Victoria, Australia
TSB Bank Women's Surf Festival
Apr 11-16 Taranaki – New Zealand
Commonwealth Bank Beachly Classic
Apr 21-26, Dee Why,Northern Beaches, NSW-Australia
Movistar Peru Classic presented by Rip Curl
June 8-13, Lobitos-Peru
Rip Curl Pro
Oct 7-11, Peniche-Portugal
Rip Curl Search
Oct 30-Nov 4, Somewhere
Gidget Pro
Nov 24-Dec 6, Sunset Beach Oahu, Hawaii
Billabong Pro Maui
Dec 8-20 Honolua Bay, Maui, Hawaii