Header

By Press Release

Get Highlight and Interviews of the Billabong Pro Jeffery's Bay South Africa 2006
SATURDAY JULY 22, 2006
BILLABONG PRO
JEFFREYS BAY, SOUTH AFRICA
JULY 12 – 22, 2006
EVENT #6 ON THE 2006 FOSTER'S ASSOCIATION OF SURFING PROFESSIONALS (ASP) MEN'S WORLD TOUR
Live on www.billabongpro.com or www.aspworldtour.com
MICK FANNING WINS BILLABONG PRO JEFFREYS BAY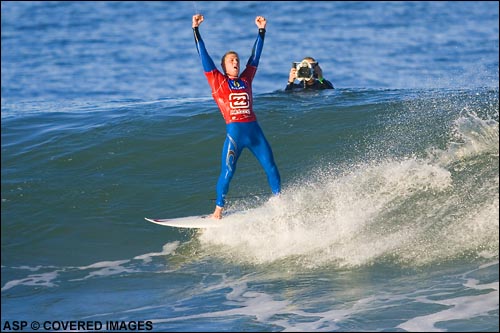 Mick Fanning Picture Credit ASP Tostee
After surfing a tremendous final in outstanding waves Mick Fanning (AUS) has defeated Taj Burrow (AUS) to win the 2006 edition of the Billabong Pro Jeffreys Bay.
The event, the sixth on the Foster's ASP Men's World Tour, earlier in the week was plagued by small and inconsistent swell but this morning organisers and competitors awoke to extra-clean one to 1.5 metre (three to four feet) J-Bay lines and from the first heat on the action was nothing short of spectacular.
The final itself was an incredibly exciting affair with the lead swapping and changing as the two friends went blow for blow on some amazing waves.
But in the end it was Fanning's day as he executed some searing carves and huge floaters to score an 8.73 with four minutes to go – which eventually scored him the win.
With Burrow sitting out in the lineup on his own with three minutes remaining many were having flashbacks to last year when Kelly Slater (USA) caught a wave on the bell to come back to defeat Andy Irons (HAW) by posting a near perfect score.
The same scenario was prevalent today and when a set pushed through Burrow launched into a wave that potentially could have delivered the 8.41 he required to take back the lead.
But after a few turns Burrow fell thus handing the win to a jubilant Fanning who was buzzing at being back on the podium for the first time this year after a slow start to the season.
"I had a really weird start to the year," said Fanning. "I was surfing really well but nothing ever came together. Today and the last few days have just really seemed to go my way so I'm stoked."
In the dying moments of the heat Fanning revealed the nerves and the memories of last year's final had him rattled.

"The wave Taj caught… I looked at the wave and I thought 'aw no, this just things have just got bad' and lucky for me he fell on the inside and I just ended up on top," said Fanning.

Fanning was also hoping that the win would now kick-start a solid second half to the season.
"I usually do all right from here on in," said Fanning. "But we'll just see what happens. I'm feeling really fit and my surfing has been good all year. It's just been a lucky break here or there."
Burrow meanwhile was lamenting about the one that got away.
"It was there for the taking," said Burrow "We both had an 8.0, then he got that 8.73 at the end. I only needed an 8.4 and it was pretty sick J-Bay, so I could have got the score. But I just took one and fell and I was all flustered then I took another one and I really wasn't calmed down enough and I did a couple of turns and then I stacked it.
"I had a chance and I can't blame anyone but myself. But it was good, it was good to be there and it's good to make some ground on the other guys at the top of the ratings. And yeah, congrats to Mick – he earned it, he was ripping."
With the second place Burrow has leapt into second place on the ratings and is now in a prime position to strike at his first world crown.
"This has just made me hungry to win an event, that's for sure," said Burrow. "It's kept my world title hunger alive. It's been a great event for me. I can catch him [Slater] for sure. There's a few events coming up that I feel comfortable in so I'm looking to win one and hopefully take out the big guy."
Finishing equal third in the event was Slater who throughout the event showed glimpses of his best form.
The seven-time Foster's ASP Men's World Tour champion had to miss the Fiji event due to incurring a rib injury while claiming victory at event two at Bells Beach back in April.
Since returning to the tour he has yet to really show the unbelievable form he is capable of.
Also coming in third was wildcard Jordy Smith (ZAF) who with the full crowd support demolished a host of seasoned pros then went within a whisker of claiming an upset over Burrow in semifinal two.
Landing what was possibly the manoeuvre of the event – a huge aerial into a floater – the 18-year-old truly let the surfing world know that he is here to stay and his result equaled the highest ever placing of a South African in a top tour event.
"It feels great," said a beaming Smith. "I would have loved to make the final but unfortunately my run had to stop there. Unfortunately it didn't go my way this year, but I'm still really stoked with a third place in my first top tour event ever."
The result has given the youngster inspiration to try harder on the ASP World Qualifying Series (WQS) so he can gain a permanent slot in the draw against the best of the best.
"I'd love to make the tour," said Smith "Unfortunately the WQS is held in poorer quality waves but maybe in two years I hope be mixing with these guys on a regular basis."
Given that the crowd were behind him right throughout the event Smith hoped that in the not too distant future he could reward them for their support with a victory.
"I definitely heard the crowd out there and it just sent shivers up my spine," said Smith. "It gets you super amped for the next turn, and if I was in the final I would have asked them to keep it up, so thanks to the crowd. To win in front of my home crowd… that would be amazing."
The top 10 Foster's ASP Men's World Tour ratings has changed somewhat after this event with Fanning and Tom Whitaker moving in at the expense of Bruce Irons (HAW) and CJ Hobgood (USA). Burrow has shifted to second with Andy Irons (HAW) dropping to third and Bobby Martinez (USA) to fourth.
The tour now has a six-week break before resuming in California on September 12 for the Boost Mobile Pro.
Check www.billabongpro.com or www.aspworldtour.com for comprehensive heat by heat outlines, audio downloads and athlete quotes.
Round four results:
Heat 1: Mick Fanning (AUS) 15.83 def Greg Emslie (ZAF) 7.83
Heat 2: Adriano de Souza (BRA) 12.83 def Joel Parkinson (AUS) 12.50
Heat 3: Peterson Rosa (BRA) 15.33 def Phil Macdonald (AUS) 13.50
Heat 4: Kelly Slater (USA) 17.16 def Nathan Hedge (AUS) 11.17
Heat 5: Taj Burrow (AUS) 18.34 def Pancho Sullivan (HAW) 10.83
Heat 6: Tom Whitaker (AUS) 16.83 def Danny Wills (AUS) 15.17
Heat 7: Jordy Smith (ZAF) 15.83 def Travis Logie (ZAF) 10.33
Heat 8: Tim Reyes (USA) 14. 67 def Mark Occhilupo (AUS) 14.67
Quarterfinal results:
Quarterfinal 1: Mick Fanning (AUS) 12.33 def Peterson Rosa (BRA) 9.30
Quarterfinal 2: Kelly Slater (USA) 15.34 def Peterson Rosa (BRA) 13.97
Quarterfinal 3: Taj Burrow (AUS) 17.50 def Tom Whitaker (AUS) 12.50
Quarterfinal 4: Jordy Smith (ZAF) 18.00 def Tim Reyes (USA) 13.66
Semifinal results:
Semifinal 1: Mick Fanning (AUS) 16.90 def Kelly Slater (USA) 14.50
Semifinal 2: Taj Burrow (AUS) 15.67 def Jordy Smith (ZAF) 15.17
Final:
Mick Fanning (AUS) 16.90 def Taj Burrow (AUS) 16.00
Current Top 10 Ratings After Event 6 – The Billabong Pro Jeffreys Bay
1. Kelly Slater (USA) 5109
2. Taj Burrow (AUS) 4682
3. Andy Irons (HAW) 4365
4. Bobby Martinez (USA) 4233
5. Taylor Knox (USA) 4060
6. Damien Hobgood (USA) 3767
7. Joel Parkinson (AUS) 3652
8. Mick Fanning (AUS) 3577
9. Tim Reyes (USA) 3575
10. Tom Whitaker (AUS) 3299

MEDIA CONTACTS