Header Back to The Billabong Pro Mundaka Index...

By Press Release:

ASSOCIATION OF SURFING PROFESSIONALS (ASP) INTERNATIONAL

EVENT #9 ON THE 2006 FOSTER'S ASSOCIATION OF SURFING PROFESSIONALS (ASP) MEN'S WORLD TOUR

Billabong Pro Mundaka
(October 2 – 14)

See the event LIVE on www.aspworldtour.com or www.billabongpro.com
TWO HEATS OF BILLABONG PRO MUNDAKA ROUND ONE COMPLETED TODAY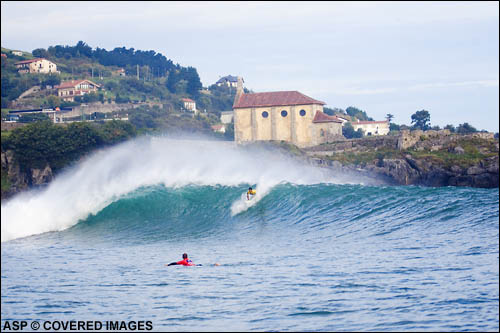 Picture Mundaka certainly has to be one of the most amazing backdrops on the tour – a huge church sits behind the contest setup while steep brown cliffs and green hills silently guard the opening to the river mouth. Not to mention the barreling lefthander... Credit ASP Tostee
MUNDAKA, Spain (Monday, October 2, 2006) – With the high tide swamping the early excellent waves at Mundaka, organizers of the Billabong Pro Mundaka have called the event off for the day after running only two heats of round one.
The tides in the region are extreme and when the high tide flows it has a drastic effect on the wave conditions.
Unfortunately today the swell that was present early this morning deteriorated throughout the day and the event was placed in a position where it had to call off heats after only just over an hour's surfing.
The two heats that were completed included round one heat one where Luke Stedman (AUS) defeated Pedro Henrique (BRA) and Tom Whitaker (AUS) and heat two in which Tim Reyes (USA) defeated Victor Ribas (BRA) and David Weare (ZAF).
The first heat of the day got underway in excellent conditions with some long overhead barrels on offer.
Stedman stole the lead after grabbing two great long rides where he put away some big turns.
His last scoring wave was ridden just seconds before the final hooter.
"I thought for a while there I might have blown it," said Stedman. "But a good set came through in the last minute. I got the wave and I knew what I had to do on it."
Like all the competitors on the Foster's ASP Men's World Tour Stedman welcomed the return of the Billabong Pro Mundaka back to the schedule.
"I'm really happy to be back at Mundaka," said Stedman "I've had a pretty good run here in past. Last time I was here I had a good event and that was a few years ago.
Stedman believes that the wave will favour the goofyfooters on tour who will surf on their forehand.
"It's a hard wave to surf on your backhand," said Stedman. "It's really quick and when you're out there you really have to pick your wave. You just have to slow it down, it's a long wave so you don't really have to rush it."
Reyes is relative newcomer to the area and was extremely happy to be surfing in such an amazing part of the world.
"It 's a mythical wave…Just to even surf it is cool," said Reyes. "It's just a really cool spot to just hang around. It's like you're in Disneyland but you're in Spain. The small streets… the people are rad… it's just such a different way of living to my home in America."
The pint-sized naturalfooter was also eager to weigh in on the ensuing race for the world title tipping that seven-time champion Kelly Slater (USA) may have the wood on his rivals.
"It's going to be a really big event for the guys in the top five trying to catch Kelly," said Reyes. "The way Kelly's surfing right now, he's really relaxed which could be really dangerous for everyone. I think that he's got it [an 8th world title] unless someone makes a really big move here."
Organizers will check conditions at first light tomorrow morning with the intention of running a few heats early before the tide fills in and spoils the party.
Stay tuned to www.aspworldtour.com and www.billabongpro.com for all the updates and to witness every heat LIVE!
Round one heat draw: (1st to round three 2nd and 3rd to round two)
Heat 1: Luke Stedman (AUS) 15.84; 2. Pedro Henrique (BRA) 13.00; 3. Tom Whitaker (AUS) 12.83
Heat 2: 1. Tim Reyes (USA) 10.83; 2. Victor Ribas (BRA) 6.90; 3. Davey Weare (ZAF) 6.83

Heat 3: Bobby Martinez (USA) vs Adriano de Souza (BRA) vs Mikael Picon (FRA)
Heat 4: Taylor Knox vs Trent Munro (AUS) vs Jarrad Howse (AUS)
Heat 5: Damien Hobgood (USA) vs Cory Lopez (USA) vs Toby Martin (AUS)
Heat 6: Joel Parkinson (AUS) vs Travis Logie (ZAF) vs Adrian Buchan (AUS)
Heat 7: Mick Fanning (AUS) vs Shaun Cansdell (AUS) vs Yuri Sodre (BRA)
Heat 8: Kelly Slater (USA) vs CJ Hobgood (USA) vs Hodei Collazo (ESP)
Heat 9: Andy Irons (HAW) vs Fred Patacchia (HAW) vs Hira Terinatoofa (PYF)
Heat 10: Taj Burrow (AUS) vs Greg Emslie (ZAF) vs Luke Egan (AUS)
Heat 11: Phil MacDonald (AUS) vs Nathan Hedge (AUS) vs Raoni Monteiro (BRA)
Heat 12: Dean Morrison (AUS) vs Mick Lowe (AUS) vs Roy Powers (HAW)
Heat 13: Danny Wills (AUS) vs Jake Paterson (AUS) vs Marcelo Nunes (BRA)
Heat 14: Bruce Irons (HAW) vs Chris Ward (USA) vs Troy Brooks (AUS)
Heat 15: Bede Durbidge (AUS) vs Pancho Sullivan (HAW) vs Paulo Moura (BRA)
Heat 16: Mark Occhilupo (AUS) vs Darren O'Rafferty (AUS) vs Peterson Rosa (BRA)
Foster's ASP Men's World Tour Top 10 Ratings after Event #8
1. Kelly Slater 7017
2. Taj Burrow 5968
3. Andy Irons 5841
4. Joel Parkinson 5584
5. Mick Fanning 5341
6. Taylor Knox 4880
7. Bobby Martinez 4868
8. Damien Hobgood 4777
9. Tim Reyes 4585
10. Tom Whitaker 4441