Header

Back to The Billabong Pro Mundaka Index...

By Press Releases:

ASSOCIATION OF SURFING PROFESSIONALS (ASP) INTERNATIONAL

EVENT #9 ON THE 2006 FOSTER'S ASSOCIATION OF SURFING PROFESSIONALS (ASP) MEN'S WORLD TOUR

Billabong Pro Mundaka
(October 2 – 14)

See the event LIVE on www.aspworldtour.com or www.billabongpro.com
BILLABONG PRO MUNDAKA ROUND ONE RESTARTS IN QUALITY WAVES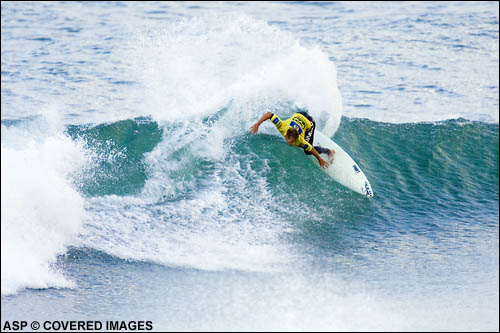 Trent Munroe Picture credit ASP Tostee
MUNDAKA, Spain (Tuesday, October 3, 2006) – Despite conditions looking slightly grey and unattractive this morning, contest director Mike Parsons has made the call to restart the Billabong Pro Mundaka where it left off yeserday at round one heat three.
Despite there being heavy skies, quality waves are pushing through the contest arena at around one to 1.5 metres (three to five feet) and surfers will enjoy the lengthy walls on offer.
Heats will be 30 minutes in duration and it is likely that at least two to three or more will be run before the high tide sweeps in and flatten things out like yesterday.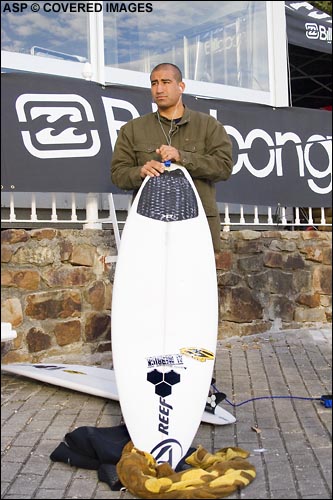 The event will restart with round one heat three containing Bobby Martinez (USA), Adriano de Souza (BRA) and Mikael Picon (FRA).
The winners of the first round heats go straight through to round three while second and third place getters move to round two.
Stay tuned to www.aspworldtour.com and www.billabongpro.com for all the updates and to witness every heat LIVE!
Round one heat draw: (1st to round three 2nd and 3rd to round two)
Heat 1: Luke Stedman (AUS) 15.84; 2. Pedro Henrique (BRA) 13.00; 3. Tom Whitaker (AUS) 12.83
Heat 2: 1. Tim Reyes (USA) 10.83; 2. Victor Ribas (BRA) 6.90; 3. Davey Weare (ZAF) 6.83

Bobby Martinez Picture Credit ASP Tostee
Heat 3: Bobby Martinez (USA) vs Adriano de Souza (BRA) vs Mikael Picon (FRA)
Heat 4: Taylor Knox vs Trent Munro (AUS) vs Jarrad Howse (AUS)
Heat 5: Damien Hobgood (USA) vs Cory Lopez (USA) vs Toby Martin (AUS)
Heat 6: Joel Parkinson (AUS) vs Travis Logie (ZAF) vs Adrian Buchan (AUS)
Heat 7: Mick Fanning (AUS) vs Shaun Cansdell (AUS) vs Yuri Sodre (BRA)
Heat 8: Kelly Slater (USA) vs CJ Hobgood (USA) vs Hodei Collazo (ESP)
Heat 9: Andy Irons (HAW) vs Fred Patacchia (HAW) vs Hira Terinatoofa (PYF)
Heat 10: Taj Burrow (AUS) vs Greg Emslie (ZAF) vs Luke Egan (AUS)
Heat 11: Phil MacDonald (AUS) vs Nathan Hedge (AUS) vs Raoni Monteiro (BRA)
Heat 12: Dean Morrison (AUS) vs Mick Lowe (AUS) vs Roy Powers (HAW)
Heat 13: Danny Wills (AUS) vs Jake Paterson (AUS) vs Marcelo Nunes (BRA)
Heat 14: Bruce Irons (HAW) vs Chris Ward (USA) vs Troy Brooks (AUS)
Heat 15: Bede Durbidge (AUS) vs Pancho Sullivan (HAW) vs Paulo Moura (BRA)
Heat 16: Mark Occhilupo (AUS) vs Darren O'Rafferty (AUS) vs Peterson Rosa (BRA)
Foster's ASP Men's World Tour Top 10 Ratings after Event #8
1. Kelly Slater 7017
2. Taj Burrow 5968
3. Andy Irons 5841
4. Joel Parkinson 5584
5. Mick Fanning 5341
6. Taylor Knox 4880
7. Bobby Martinez 4868
8. Damien Hobgood 4777
9. Tim Reyes 4585
10. Tom Whitaker 4441