Header

Back to The Billabong Pro Mundaka Index...

By Press Release:

ASSOCIATION OF SURFING PROFESSIONALS (ASP) INTERNATIONAL

EVENT #9 ON THE 2006 FOSTER'S ASSOCIATION OF SURFING PROFESSIONALS (ASP) MEN'S WORLD TOUR

Billabong Pro Mundaka
(October 2 – 14)

See the event LIVE on www.aspworldtour.com or www.billabongpro.com
FANNING AND PARKINSON DOMINATE IN BILLABONG PRO MUNDAKA ROUND ONE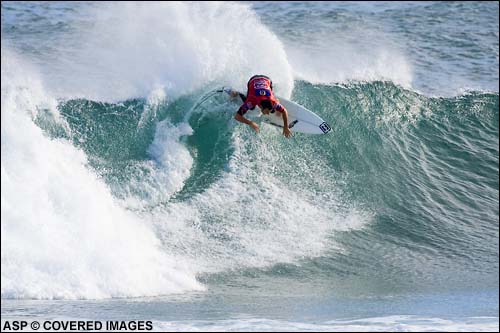 Joel Parkinson Picture Credit ASP Tostee
MUNDAKA, Spain (Tuesday, October 3, 2006) – After finishing first and second respectively in the last Foster's ASP Men's World Tour event in France, dynamic duo Joel Parkinson (AUS) and Mick Fanning (AUS) have maintained plenty of momentum with both blitzing their Billabong Pro Mundaka round one heats today.
Both surfers have obviously gained extra confidence from their results and their form today was nothing short of scintillating with both locking in excellent scores above 9.0 out of 10.
Parkinson consistently unleashed some devastating backhand re-entries in his heat where he defeated Travis Logie (ZAF) and Adrian Buchan (AUS).
"I'm definitely feeling good," said Parkinson. "I have way more confidence after France."
On his best wave of the heat he scored a massive 9.57 after punching his board through the lip of the wave no less than 10 times.
His foes simply had no answer for his enhanced desire to win and with Fanning he has plans for big things regarding the race for the world title with motivation drawn from stopping Kelly Slater (USA) grabbing his eighth crown.
"When I'm on I just want to keep going," said Parkinson. "Every day I wake up and I just want to surf my heat. Me and Mick [Fanning] had a chat and said 'let's make sure we win'. We can only change Slater's destiny by making sure we are at our best and keep winning."
Fanning reiterated that the two were now going to join to become an unstoppable force.
"Joel and I weren't even in contention and we know what we have to do," said Fanning. "We're going to back each other up all the way to the end. Hopefully one of us or both of us come Hawaii time will be seriously challenging for the crown."
Fanning demonstrated that he is certainly up to the task of giving the ratings front-runners a good shake, locking in a 9.50 to boost his total against Yuri Sodre (BRA) and Shaun Cansdell (AUS).
"The wave allowed me to get a couple of floaters in," said Fanning. "And it just went at a really good pace the whole way. Sometimes the waves out there look amazing and turn bad and sometimes they look bad and turn good. So you just have to go and give it your best."
Slater meanwhile was absent from his round one heat today leaving the gate open for CJ Hobgood to win a slow heat against wildcard Hodei Collazo ensuring a direct passage into round three for himself.
With no official explanation surrounding his whereabouts it is alleged that Slater is enjoying some free time in France before making his way down to Mundaka.
He will now be forced to compete in the Billabong Pro Mundaka round two.
Hobgood joked… "I gave him a hundred bucks earlier not to show, but I didn't know if that was going to be enough or not, but I guess it was."
Also finding form today was 2006 Billabong Pro Tahiti winner and 2006 tour rookie Bobby Martinez (USA).
Since winning back in May the talented goofyfooter has struggled to make it past the opening rounds but today displayed the goods that had him sitting in the top three on the ratings for the better part of this year.
"I'm just happy to surf and make it through this heat," said Martinez. "I'm just so excited to make that heat, cause it was tricky out there. Everything is part of the learning curve. I've experienced everything this year; I've had every placing from a first to a very last. It's been really up and down. I'm just hoping I can pull myself out of this slump. I'm just trying my best."
Similarly to yesterday the conditions were heavily tide affected and as a result the event was put on hold around lunchtime when the tide level became too high.
As a result the call was made to return tomorrow morning where round one, heat nine will hit the water containing Andy Irons (HAW), Fred Patacchia (HAW) and Hira Terinatoofa (PYF) should be paddling out at 7.30am local time (waves permitting).
Stay tuned to www.aspworldtour.com and www.billabongpro.com for all the updates and to witness every heat LIVE!
For heat-by-heat updates, athlete quotes both transcribed and for audio download plus TV news feed details check out the Media Centre in either of the above sites.
Round one heat draw: (1st to round three 2nd and 3rd to round two)
Heat 1: Luke Stedman (AUS) 15.84; 2. Pedro Henrique (BRA) 13.00; 3. Tom Whitaker (AUS) 12.83
Heat 2: 1. Tim Reyes (USA) 10.83; 2. Victor Ribas (BRA) 6.90; 3. Davey Weare (ZAF) 6.83
Heat 3: 1. Bobby Martinez (USA) 16.33; 2. Mikael Picon (FRA) 11.10; 3. Adriano de Souza (BRA) no show (injured)
Heat 4: 1. Jarrad Howse (AUS) 11.84; 2. Taylor Knox (USA) 9.20; 3. Trent Munro (AUS) 7.73
Heat 5: 1. Damien Hobgood (USA)15.00; 2. Toby Martin (AUS) 14.33; 3. Cory Lopez (USA) 10.77
Heat 6: 1. Joel Parkinson (AUS) 15.90; 2. Travis Logie (ZAF) 14.84; 3. Adrian Buchan (AUS) 14.07
Heat 7: 1. Mick Fanning (AUS) 16.83; 2. Yuri Sodre (BRA) 11.10; 3. Shaun Cansdell (AUS) 8.17
Heat 8: 1. CJ Hobgood (USA); 2. Hodei Collazo (ESP); 3. Kelly Slater (USA) no show

Remaining heats:
Heat 9: Andy Irons (HAW) vs Fred Patacchia (HAW) vs Hira Terinatoofa (PYF)
Heat 10: Taj Burrow (AUS) vs Greg Emslie (ZAF) vs Luke Egan (AUS)
Heat 11: Phil MacDonald (AUS) vs Nathan Hedge (AUS) vs Raoni Monteiro (BRA)
Heat 12: Dean Morrison (AUS) vs Mick Lowe (AUS) vs Roy Powers (HAW)
Heat 13: Danny Wills (AUS) vs Jake Paterson (AUS) vs Marcelo Nunes (BRA)
Heat 14: Bruce Irons (HAW) vs Chris Ward (USA) vs Troy Brooks (AUS)
Heat 15: Bede Durbidge (AUS) vs Pancho Sullivan (HAW) vs Paulo Moura (BRA)
Heat 16: Mark Occhilupo (AUS) vs Darren O'Rafferty (AUS) vs Peterson Rosa (BRA)