Header

Back to The Billabong Pro Mundaka Index...

By Press Release:

ASSOCIATION OF SURFING PROFESSIONALS (ASP) INTERNATIONAL

EVENT #9 ON THE 2006 FOSTER'S ASSOCIATION OF SURFING PROFESSIONALS (ASP) MEN'S WORLD TOUR

Billabong Pro Mundaka
(October 2 – 14)

See the event LIVE on www.aspworldtour.com or www.billabongpro.com
ANOTHER LAY DAY CALLED FOR BILLABONG PRO MUNDAKA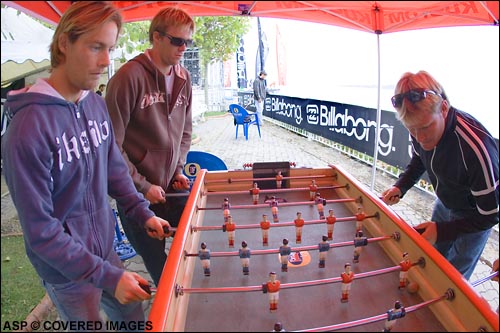 Whether its a heat or a game of Fuse Ball, pro-surfers never let up on their competitive edge. South Africans Davey Weare, Greg Emslie & Travis Logie taking their down time somewhat seriously. Picture credit ASP Tostee
MUNDAKA, Basque Country (Thursday, October 5, 2006) – With a repeat scenario to yesterday – ie no waves and howling offshore winds – organizers have declared that today (Thursday) will be another rest day for competitors in the Billabong Pro Mundaka.
After completing only eight heats of the first round it is anticipated that the event will resume within the next day or two as official forecasters www.surfline.com have predicted that solid swell is on the way, arriving Friday, to pump over the weekend and Monday and Tuesday.
When the ninth event on the Foster's ASP Men's World Tour restarts it will head straight into round one, heat nine containing Andy Irons (HAW), Fred Patacchia (HAW) and wildcard Hira Terinatoofa (PYF).
Yesterday most surfers left the town to go sight seeing and today it is assumed that they will do the same.
Currently ranked Foster's ASP Men's World Tour number two ,Taj Burrow (AUS) meanwhile remains focused and when the contest resumes he will be making an all out assault on chasing down front runner Kelly Slater (USA).
If Slater takes the win here at this event he will win an unprecedented eighth world crown.
"Yeah well he could win the title here," said Burrow. "But that's not going to happen! There's a few of us who are going to do our best to stop him that's for sure."
Event organizers will reconvene tomorrow morning and will make a call regarding continuing with round one at 7.30am sharp.
Stay tuned to www.aspworldtour.com or www.billabongpro.com for all the updates.
For heat-by-heat updates, athlete quotes both transcribed and for audio download plus TV news feed details check out the Media Centre in either of the above sites.
Round one heat draw: (1st to round three 2nd and 3rd to round two)
Heat 1: Luke Stedman (AUS) 15.84; 2. Pedro Henrique (BRA) 13.00; 3. Tom Whitaker (AUS) 12.83
Heat 2: 1. Tim Reyes (USA) 10.83; 2. Victor Ribas (BRA) 6.90; 3. Davey Weare (ZAF) 6.83
Heat 3: 1. Bobby Martinez (USA) 16.33; 2. Mikael Picon (FRA) 11.10; 3. Adriano de Souza (BRA) no show (injured)
Heat 4: 1. Jarrad Howse (AUS) 11.84; 2. Taylor Knox (USA) 9.20; 3. Trent Munro (AUS) 7.73
Heat 5: 1. Damien Hobgood (USA)15.00; 2. Toby Martin (AUS) 14.33; 3. Cory Lopez (USA) 10.77
Heat 6: 1. Joel Parkinson (AUS) 15.90; 2. Travis Logie (ZAF) 14.84; 3. Adrian Buchan (AUS) 14.07
Heat 7: 1. Mick Fanning (AUS) 16.83; 2. Yuri Sodre (BRA) 11.10; 3. Shaun Cansdell (AUS) 8.17
Heat 8: 1. CJ Hobgood (USA); 2. Hodei Collazo (EUK); 3. Kelly Slater (USA) no show

Remaining heats:
Heat 9: Andy Irons (HAW) vs Fred Patacchia (HAW) vs Hira Terinatoofa (PYF)
Heat 10: Taj Burrow (AUS) vs Greg Emslie (ZAF) vs Luke Egan (AUS)
Heat 11: Phil MacDonald (AUS) vs Nathan Hedge (AUS) vs Raoni Monteiro (BRA)
Heat 12: Dean Morrison (AUS) vs Mick Lowe (AUS) vs Roy Powers (HAW)
Heat 13: Danny Wills (AUS) vs Jake Paterson (AUS) vs Marcelo Nunes (BRA)
Heat 14: Bruce Irons (HAW) vs Chris Ward (USA) vs Troy Brooks (AUS)
Heat 15: Bede Durbidge (AUS) vs Pancho Sullivan (HAW) vs Paulo Moura (BRA)
Heat 16: Mark Occhilupo (AUS) vs Darren O'Rafferty (AUS) vs Peterson Rosa (BRA)