Header

Back to The Billabong Pro Mundaka Index...

By Press Release:

ASSOCIATION OF SURFING PROFESSIONALS (ASP) INTERNATIONAL

EVENT #9 ON THE 2006 FOSTER'S ASSOCIATION OF SURFING PROFESSIONALS (ASP) MEN'S WORLD TOUR

Billabong Pro Mundaka
(October 2 – 14)

See the event LIVE on www.aspworldtour.com or www.billabongpro.com
ANTICIPATION BUILDS FOR BILLABONG PRO MUNDAKA RESTART TOMORROW
IRONS AND MONTEIRO WIN IN FOSTER'S EXPRESSION SESSION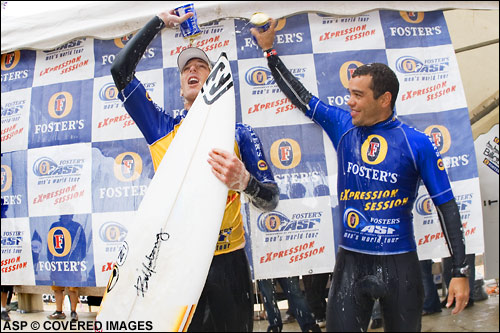 Andy Irons (Haw) won best air & Raoni Monteiro (Brs) won best overall waves at the Fosters Expression Session. Picture credit ASP Tostee
MUNDAKA, Basque Country (Friday, October 6, 2006) – Anticipation is beginning to build at the Billabong Pro Mundaka as the first signs of the predicted new swell began to show around lunchtime today.
After two days of the ocean laying dormant, spectators and competitors in the event – the ninth of 11 of the Foster's ASP Men's World Tour – are now getting excited by the notion that the rest of competition could very well restart tomorrow at the famed long-walling left hander in prime conditions.
Today, however, organisers opted to move proceedings 15 minutes drive south to the back-up venue of Bakio – an open beach break, which is more susceptible to swell – where half to one metre peak waves were on offer.
But with consistency still being an issue, the remaining heats of round one were put on hold while the Foster's Expression Session took centre stage.
The sessions take place at all ASP top tour events and in the nominated time frame, which today was 40 minutes, surfers are encouraged to execute futuristic turns with cash prizes being awarded for the biggest aerial and the best overall wave.
With the hope of grabbing the dollars a squadron of the sport's biggest names including Bruce and Andy Irons, Cory Lopez, Mark Occhilupo, Luke Egan, Troy Brooks, Raoni Monteiro, Marcelo Nunes, and Adriano de Souza, just to name a few, pushed the limits and put on a show that had the local crowd cheering loudly.
At the completion of the Foster's Expression Session three-time former world champion Andy Irons (HAW) claimed the prize for the biggest aerial and Raoni Monteiro (BRA) took the cash for the best wave.
Organisers will reconvene tomorrow at 7.30am and conditions permitting will send out the remaining heats of round one.
There is approximately three and a half full days of competition needed to complete the event with the waiting period extending until October 14.
With that in mind, competition will only resume when waves are at a premium.
These are the round one heats done so far:
(1st to round three 2nd and 3rd to round two)
Heat 1: Luke Stedman (AUS) 15.84; 2. Pedro Henrique (BRA) 13.00; 3. Tom Whitaker (AUS) 12.83
Heat 2: 1. Tim Reyes (USA) 10.83; 2. Victor Ribas (BRA) 6.90; 3. Davey Weare (ZAF) 6.83
Heat 3: 1. Bobby Martinez (USA) 16.33; 2. Mikael Picon (FRA) 11.10; 3. Adriano de Souza (BRA) no show (injured)
Heat 4: 1. Jarrad Howse (AUS) 11.84; 2. Taylor Knox (USA) 9.20; 3. Trent Munro (AUS) 7.73
Heat 5: 1. Damien Hobgood (USA)15.00; 2. Toby Martin (AUS) 14.33; 3. Cory Lopez (USA) 10.77
Heat 6: 1. Joel Parkinson (AUS) 15.90; 2. Travis Logie (ZAF) 14.84; 3. Adrian Buchan (AUS) 14.07
Heat 7: 1. Mick Fanning (AUS) 16.83; 2. Yuri Sodre (BRA) 11.10; 3. Shaun Cansdell (AUS) 8.17
Heat 8: 1. CJ Hobgood (USA); 2. Hodei Collazo (EUK); 3. Kelly Slater (USA) no show
And these are the ones upcoming:
Heat 9: Andy Irons (HAW) vs Fred Patacchia (HAW) vs Hira Terinatoofa (PYF)
Heat 10: Taj Burrow (AUS) vs Greg Emslie (ZAF) vs Luke Egan (AUS)
Heat 11: Phil MacDonald (AUS) vs Nathan Hedge (AUS) vs Raoni Monteiro (BRA)
Heat 12: Dean Morrison (AUS) vs Mick Lowe (AUS) vs Roy Powers (HAW)
Heat 13: Danny Wills (AUS) vs Jake Paterson (AUS) vs Marcelo Nunes (BRA)
Heat 14: Bruce Irons (HAW) vs Chris Ward (USA) vs Troy Brooks (AUS)
Heat 15: Bede Durbidge (AUS) vs Pancho Sullivan (HAW) vs Paulo Moura (BRA)
Heat 16: Mark Occhilupo (AUS) vs Darren O'Rafferty (AUS) vs Peterson Rosa (BRA)
Stay tuned to www.aspworldtour.com and www.billabongpro.com for all the details of the event and for all the LIVE action.