Header

Back to Billabong Pro Teahupoo Tahiti Index...

By Press Release:

MONDAY 8 MAY, 2006, TEAHUPOO, TAHITI

$US270,000 BILLABONG PRO TAHITI
4-16 MAY 2006

EVENT #3 ON THE 2006 FOSTER'S ASSOCIATION OF SURFING PROFESSIONALS (ASP) MEN'S WORLD TOUR and ASP WOMEN'S WORLD TOUR

LIVE on www.billabongpro.com or www.aspworldtour.com
BILLABONG PRO TAHITI TO COMMENCE TODAY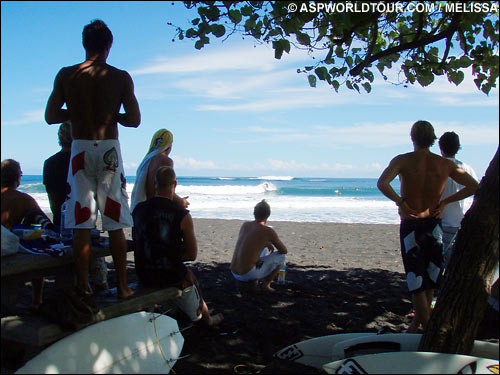 Watching the Surf Picture credit: ASP Melissa
Three-foot (1 metre) conditions are on offer at Teahupoo this morning, and round one of the Billabong Pro Tahiti women's division will commence around 7:30am; the men have been put on standby.
"We're going to run the first eight heats of the women, starting at 7:30 this morning and reassess conditions around midday, maybe earlier," contest director Luke Egan said. "Depending on the waves, we'll either run the first eight heats of the men's competition or get stuck into the women's event even further."
Today is day five of the 13-day waiting period that stretches until May 16, 2006. A minimum of six full days of competition are necessary to run the third event on both the Foster's ASP Men's and ASP Women's World Tour.
Media Contacts
Billabong and the ASP will be providing media information, images and vision from the Billabong Pro Tahiti. Please contact direct for any specific enquires.
Billabong Pro Tahiti Information Line: (689) 57 96 31 updated 7am daily
APS WCT Tour 2010 Schedule
Mens's Division
Quiksilver Pro Gold Coast
Feb 27-Mar 10, Gold Coast Qld-Australia
Rip Curl Pro Bells
March 30 -April 10, Bells Beach Victoria-Australia
Hang Loose Santa Catarina Pro
April 23-May 2, Santa Catarina Brazil
Billabong Pro J-Bay
Jly 15-25, Jeffreys Bay South Africa
Billabong Pro Teahupoo
Aug 23 - Sept 3, Teahupoo Taiarapu-Tahiti
Hurley Pro Trestles
Sep 12-21, Trestles California-USA
Quiksilver Pro France
Sep 25-Oct 5, South West Coast France
Rip Curl Pro
Oct 7-18, Peniche, Portugal
Rip Curl Pro Search
Oct 30-Nov. 10 - Somewhere?
Billabong Pipeline Masters
Dec 8-20, Banzai Pipeline Oahu-Hawaii
Women's Division
Roxy Pro Gold Coast
Feb 27-Mar 10, Gold Coast, Queensland, Australia
Rip Curl Women's Pro Bells
Mar 30-April 10, Bells Beach Victoria, Australia
TSB Bank Women's Surf Festival
Apr 11-16 Taranaki – New Zealand
Commonwealth Bank Beachly Classic
Apr 21-26, Dee Why,Northern Beaches, NSW-Australia
Movistar Peru Classic presented by Rip Curl
June 8-13, Lobitos-Peru
Rip Curl Pro
Oct 7-11, Peniche-Portugal
Rip Curl Search
Oct 30-Nov 4, Somewhere
Gidget Pro
Nov 24-Dec 6, Sunset Beach Oahu, Hawaii
Billabong Pro Maui
Dec 8-20 Honolua Bay, Maui, Hawaii