Header

Back to Billabong Pro Teahupoo Tahiti Index...

By Press Release:

TUESDAY 9 MAY, 2006
TEAHUPOO, TAHITI

BILLABONG PRO TAHITI
4-16 MAY 2006

EVENT #3 ON THE 2006 FOSTER'S ASSOCIATION OF SURFING PROFESSIONALS (ASP) MEN'S WORLD TOUR and ASP WOMEN'S WORLD TOUR

LIVE on www.billabongpro.com or www.aspworldtour.com
WILDCARDS EXCEL AT AMAZING TEAHUPOO IN BILLABONG PRO ROUND ONE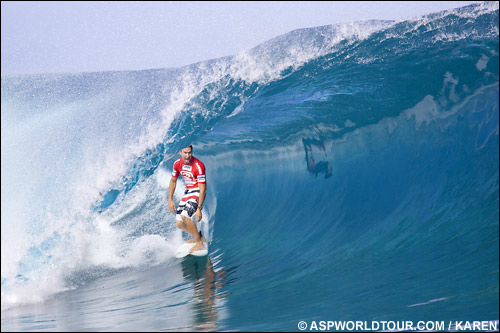 Joel Parkinson Picture credit: ASP Karen
Spectators viewing the Billabong Pro Tahiti were treated to an incredible display of tube riding today as the infamous Teahupoo served up waves of amazing quality.
Taking advantage of the one to 1.5 metre (four to six foot) swells on offer were the contingent of wildcard contestants, in particular local and crowd favourite Manoa Drollet (PYF) as well as Hawaiian tube maestro Danny Fuller.
Both contestants defeated two of the biggest names of the sport in Andy Irons (HAW) and Mick Fanning (AUS) who both finished second and third respectively on the 2005 Foster's ASP Men's World Tour.
Drollet threw caution to the wind given he had possibly the hardest heat of the round one draw, being up against Irons, who won this event in 2002 and Cory Lopez (USA) who also scored a victory here in 2001.
Using his local knowledge, the ever stylish Drollet opened up the heat with a solid 8.67 ride when he dropped into the wave with his patented side slipping rail grab, then rode the wave to the end tucked deep under the lip of the wave.
The pressure was then well and truly on Irons and Lopez and it took its toll on Irons who was trying to force the issue with Drollet by paddling to the inside of the break.
As both surfers were looking at a wave they became tangled and went over the falls, narrowly escaping injury and broken boards.
A few minutes later the two were involved in another situation where they collided while paddling and Irons was handed a penalty for interfering.
Drollet, while relishing in his win today, was wary that Irons won't be taking the defeat lightly.
"That was a tough heat for sure," said Drollet. "But it is always good to have a win in that situation against the best in the world. But I know Andy won't be taking that episode lightly. He'll now be eager to get through the next round just in the hope that he can draw me and pay me back!"
Fuller, who posted the highest score of the day in his upset win over Fanning and pocket rocket Brazilian Adriano de Souza, was aggressive in his display, showing no fear of the reef which was often barely covered by water below him.
Launching into his bottom turns with pure grit and determination, Fuller punched through section after section on some of the deepest tubes of the day, and despite his achievements has never seen himself as a competitive animal.
"I've actually made the semis three times here as a trialist and I missed out so finally to make this main event was a charm," said Fuller. "I'm not much of a competitive surfer, I'm not really good at battling with people and luckily in that heat a couple waves came from the west peak right to me and was able to get a 9.1 and a high seven."
Fuller is now hoping that some larger waves come through over the next few days so the pack can be separated and he can excel even further on a wave that he loves returning to each year.
"Hopefully the waves get bigger tomorrow as it will be man on man next time I surf so I can relax a little bit more," said Fuller. "I've been to Tahiti 14 times. I love this wave. If it gets bigger I'll be comfortable out here. I'd like to draw Andy or Slater in the next round. Andy is one of my best friends and for me personally it would be like surfing in the final. Win or lose I'm just stoked to be here."
In earlier heats of the day, Australian Joel Parkinson was looking more at home here in the Teahupoo tube than he does at his homebreak of the esteemed Snapper Rocks.
The likeable natural footer was stylishly twisting his elastic frame under some heavy lips and not even the huge local support for his foe, Hira Terinatoofa (PYF) could diminish Parko's confidence as he locked in three scores above 7.0.
"There weren't too many waves in that heat and I got the best two, which makes me pretty happy," said Parkinson. "Conditions were inconsistent you could end up with a nine and a zero so two sevens was great."
Parkinson, who finished in second place at the previous Foster's ASP Men's World Tour event at Bells Beach Australia also indicated he was eager to close the gap on current ratings leader Kelly Slater (USA).
"Every event is really crucial right now," said Parkinson. "We can't let Kelly get even further ahead. Hopefully someone beats him."
South African Travis Logie was another to impress early in the day with the slightly-built goofyfooter taking full advantage of the clean conditions that were present early.

"The conditions are really perfect – good wind and the waves are really fun," said Logie. "It's not too big but there are barrels out there to be had. It's only my second time here and I've surfed a couple solid waves out there, so I'm stoked to get a couple of heat wins under the belt. Hopefully this can become a place where I start getting some good results."
Organisers will reconvene tomorrow morning at 6am and will be aiming for a 7am start.
For the full rundown of the day's play go to www.aspworldtour.com or www.billabongpro.com and check the news section and the media centre for quotes and further information.
Heat 1: 1. Bruce Irons (HAW) 14.50; 2. Danny Wills (AUS) 7.33; 3. Davey Weare (ZAF) 2.27
Heat 2: 1. Travis Logie (ZAF) 9.00; 2. Mikael Picon (FRA) 5.50; 3. Phil Macdonald (AUS) 5.50
Heat 3: 1. Dean Morrison (AUS) 11.17; 2. Taylor Knox (USA) 6.50; 3. Jarrad Howse (AUS) 1.00
Heat 4: 1. Bobby Martinez (USA) 16.17; 2. Bede Durbidge (AUS) 9.67; 3. Pedro Henrique (BRA) 7.83
Heat 5: 1. Damien Hobgood (USA); 2. Nathan Hedge (AUS) 2.00; 3. Yuri Sodre (BRA) 1.37
Heat 6: 1. Joel Parkinson (AUS) 15.00; 2. Hira Terinatoofa (PYF) 11.30; 3. Marcelo Nunes (BRA) 6.33
Heat 7: 1. Danny Fuller (HAW) 16.34; 2. Mick Fanning (AUS) 13.33; 3. Adriano de Souza (BRA) 3.67
Heat 8: 1. Kelly Slater (USA) 14.50; 2. Heiarii Williams (PYF) 2.00; 3. Paulo Moura (BRA) 0.00
Heat 9: 1. Manoa Drollet (PYF) 10.73; 2. Cory Lopez (USA) 10.07; 3. Andy Irons (HAW) 6.30
Heat 10: 1. Taj Burrow (AUS) 7.57; 2. Luke Stedman (AUS) 6.50; 3. Steven Pierson (PYF) 1.50
Heat 11: 1. Shaun Cansdell (AUS) 13.00; 2. Trent Munro (AUS) 11.83; 3. Roy Powers (HAW)9.60
Heat 12: 1. Mark Occhilupo (AUS) 15.83; 2. Troy Brooks (AUS) 13.47; 3. Kevin Johnson (PYF) 6.50
Heat 13: 1. Chris Ward (USA) 14.50; 2. Darren O'Rafferty (AUS) 9.90; Greg Emslie (ZAF) 7.16
Heat 14: 1. Tim Reyes (USA) 16.34; 2. Tom Whitaker (AUS) 13.16; 3. Jake Paterson (AUS) 8.90
Heat 15: 1. CJ Hobgood (USA) 16.16; 2. Fred Patacchia (HAW) 12.66; 3. Peterson Rosa (BRA) 4.00
Heat 16: 1. Mick Lowe 10 .33; 2. Victor Ribas (BRA) 10.17; 3. Pancho Sullivan (HAW) 9.83
Media Contacts
Billabong and the ASP will be providing media information, images and vision from the Billabong Pro Tahiti. Please contact direct for any specific enquires.
Billabong Pro Tahiti Information Line: (689) 57 96 31 updated 7am daily