Header

Back to Billabong Pro Teahupoo Tahiti Index...

By Press Release:

THURSDAY 11 MAY, 2006
TEAHUPOO, TAHITI

BILLABONG PRO TAHITI
4-16 MAY 2006

EVENT #3 ON THE 2006 FOSTER'S ASSOCIATION OF SURFING PROFESSIONALS (ASP) MEN'S WORLD TOUR and ASP WOMEN'S WORLD TOUR

LIVE on www.billabongpro.com or www.aspworldtour.com
DAY OF DRAMA AT BILLABONG PRO TAHITI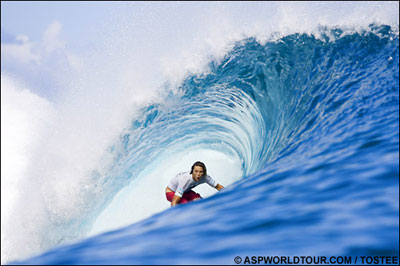 Danny Fuller Picture credit: ASP Tostee
It was edge of the seat action in almost every heat today at the Billabong Pro Tahiti, as top seeds were eliminated and underdogs prevailed in amazing, two metre (six foot) and flawless Teahupoo barrels.
With two heats still to be run in round four and heading into the quarter-finals, there are only two competitors from last year's Foster's ASP Men's World Tour top 10 remaining in the event – Kelly Slater (USA) and CJ Hobgood (USA).
So good was the day, that event commentator, big-wave legend and former Foster's ASP Men's World Tour competitor, Mike Parsons called it "… the best day for competitive surfing he has ever seen at this location", so close and so spectacular were the bulk of the heats.
Among the many highlights from the day's play, none were better than the explosive heat of round four heat five, between Andy Irons (HAW) and Dean Morrison (AUS) which went down late in the afternoon.
Irons, who is considered one of, if not the best surfer at the break, was ousted by Morrison literally in the final seconds of the heat, when Morrison scored an 8.50 after free-falling into a beefy Teahupoo tube.
Irons, who launched himself into the second wave of the set, which was a bigger and even better wave, was "spat" into the channel in front of Morrison and made a "shot gun" gesture at Morrison believing he had done enough to win the encounter when he scored a 9.50.
Adding to the drama wass the fact that Irons had actually snapped his board right before the end of the heat and had to race into the lineup for his last wave.
While both surfers were sitting in the channel, with Morrison congratulating the three-time world champion for his assumed victory, it was announced that it would be Morrison and not Irons who would progress through to the quarter finals.
"I knew I had a good wave at the end there and after the heat I asked a mate whether my wave was as good as Andy's," said Morrison. "He told me that Andy's wave was a bit better and I instantly thought that he had won. I then did a bit of math in my head and I realised for him to win he needed a score that was a point and a half more than mine.
"At this time he had come off his wave and he shot gunned me to rub in the fact that he'd won and I went up and congratulated him because the results hadn't been announced and we were still thinking he'd won.
"I was just glad at that stage that I'd put in a good showing. They announced that I'd won and I didn't hear it at first and then they said it again and I said to him 'I think I won'. We then realised the outcome and he was really humble about it and congratulated me."
Morrison was full of praise for his counterpart and was more amazed that he had beaten Irons for the second year in a row in the same round of the same event.
"To me he is the greatest surfer out here," said Morrison. "No one even touches him and for me to beat him twice is a huge thing for me and I'm just extremely stoked."
In a heat one of round four, which turned out to be the highest scoring match-up of the day, Damien Hobgood (USA) and Fred Patacchia (USA) didn't just push the limits… they smashed them.
The highly dramatic heat had both competitors pitted deep inside the barrel on some of the biggest and best waves of the day.
Going blow for blow the lead swapped and changed as both surfers registered scores at the high end of the 10 point wave score maximum.
Hobgood locked in a 9.77 to claim the lead, then shortly after Patacchia upped the ante and locked in 9.90 and came home with the bacon.
"I knew that we were going to have a pretty solid heat if there were waves," said Patacchia. "Myself and Damien actually had two 9.0s in our heat last year here and he beat me, so it was basically a crapshoot. My hat goes off to him because he is an amazing surfer."
On Patacchia's 9.90, the top score of the event to date, the nuggetty Hawaiian spectacularly pushed himself deep into a tube and wrestled with the foam ball.
"I needed a score, I was still in second with a 9.7, so I pushed myself as deep as possible down the peak," said Patacchia. "I tried to take off as late as possible so I could get really as deep in the barrel as I could. I was riding the foam ball for a little bit and it was a little sketchy, but I stood my ground and told myself, 'If you make this wave you'll win the heat, if you don't you won't, but at least you're in this one, at least you've got the chance and there'll be now what ifs.'"
For seven-time Foster's ASP Men's World Tour champion Kelly Slater, his first win today in round three was a nail biting affair where local hot shot Heiarri Williams went within a whisker of sending Slater packing his bags for home.
Cheered on by a massive support group floating in numerous types of watercraft in the channel, Williams' local knowledge came to the fore and he instantly had his superstar rival playing catch-up after scoring an incredibly deep tube ride on a wave of about two metres (six feet) high.
Slater is notorious for lifting his game in the face of adversity and it was no different here today as he managed to rise to the occasion to post a total of 18.74 over Williams' 17.36.
Taking off deep on waves and using his unique stalling technique of pressing his body into the wave face, the Floridian kept striking back at whatever Williams threw at him and while Williams was within striking distance in the 30 minute encounter Slater actually was in front for the whole affair.
"He's a specialist out here and I'm sure he'll be in this event for many years to come," said Slater. "I had to pay attention there. There's not a lot I could do. He had a couple of really good waves that he fell on, I think he was trying to get a little deeper than he needed to. But he kept himself in the heat. I got two 9.17s and that would have put most guys in a combination situation, but I was just sitting there hoping no waves came, no sets."
Slater then progressed through to take on Danny Wills (AUS) in round four. While this heat was a little more in Slater's favour it was a challenge given that the wind had come in from on onshore direction.
"It's not too often you're just doing turns out at Teahupoo with a 10-day waiting period," said Slater.
Also powering through to round four was wildcard Hira Teriinatoofa (PYF) who added another big-name notch to his belt when he took out Joel Parkinson (AUS).
His local knowledge came to the fore as he gracefully glided down the butter-smooth faces on offer.
And while Parkinson didn't hand over the prize easily – he held the lead for the bulk of the early part of the heat – Teriinatoofa's wave magnet was turned up to the max as like in early round heats the waves just went straight to him.
Speaking about his more seasoned rivals, Teriinatoofa will has been going into the event with a no fear approach.
"I have no fear at all," said Teriinatoofa. "It's just a matter of the ocean and you and thirty-minutes. The guy who gets the best waves is going to make the heat, doesn't matter if you are a good surfer or not, catch the best waves and you'll to win."
Also being knocked out of the event in round three was Taj Burrow (AUS) who fell at the hand of another wildcard in Hawaiian Danny Fuller.
With Slater having two tour wins under his belt so far, and with all of his closest rivals being eliminated, the door is now open for Slater to put a huge buffer between him and those rivals.
Organisers are confident that the event will continue again at 7am sharp tomorrow.
For all the results of round three and four head to www.billabongpro.com or www.aspworldtour.com and click on the results and media centre buttons.
Remaining round four match-ups:
Heat 7: Danny Fuller (Haw) vs Darren O'Rafferty (Aus)
Heat 8: Bobby Martinez (USA) vs C.J. Hobgood (USA)
Quarter Final match-ups
Heat 1: Fred Patacchia (HAW) vs Hira Teriinatoofa (PYF)
Heat 2: Bruce Irons (HAW) vs Kelly Slater (USA)
Heat 3: Dean Morrison (AUS) vs Taylor Knox (USA)

Media Contacts
Billabong and the ASP will be providing media information, images and vision from the Billabong Pro Tahiti. Please contact direct for any specific enquires.
Billabong Pro Tahiti Information Line: (689) 57 96 31 updated 7am daily