Header

Back to Billabong Pro Teahupoo Tahiti Index...

By Press Release:
WCT rookie Bobby Martinez takes out 2004 Chopes champion CJ Hobgood
Updated Friday May 12, 9pm (local time):
Just the 2 heats run today but what heats they were. To close off round 4, Danny Fuller defeated Darren O'Rafferty with some amazing tube riding.
Heat 8 of the round saw WCT rookie Bobby Martinez take out 2004 Chopes champion CJ Hobgood. Bobby showed amazing barrel riding skills to post a 2 wave score of 19 out of 20 against a fighting Hobgood who scored 18 out of 20.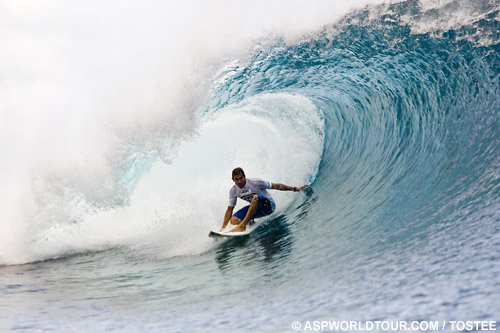 Dean Morrison Picture credit: Tostee
Coming up in the quarter finals we have;

Fredrick Patacchia vs Hira Terinatoofa
Bruce Irons vs Kelly Slater
Dean Morrison vs Taylor Knox
Danny Fuller vs Bobby Martinez
Also today Melanie Redman-Carr was crowned Queen of Chopes in the womens event. Mel defeated Chelsea Georgenson to take out her 3rd event win for the year. Visit the girls website for all the news, videos, photos from the event.
Come back tomorrow at 7am sharp as organisers are hopeful that they will be able to complete the men's as there is a predicted pulse in swell due to arrive tonight and tomorrow.
In the meantime check on the video highlight packages from throughout the event.
See you on the morrow!
APS WCT Tour 2010 Schedule
Mens's Division
Quiksilver Pro Gold Coast
Feb 27-Mar 10, Gold Coast Qld-Australia
Rip Curl Pro Bells
March 30 -April 10, Bells Beach Victoria-Australia
Hang Loose Santa Catarina Pro
April 23-May 2, Santa Catarina Brazil
Billabong Pro J-Bay
Jly 15-25, Jeffreys Bay South Africa
Billabong Pro Teahupoo
Aug 23 - Sept 3, Teahupoo Taiarapu-Tahiti
Hurley Pro Trestles
Sep 12-21, Trestles California-USA
Quiksilver Pro France
Sep 25-Oct 5, South West Coast France
Rip Curl Pro
Oct 7-18, Peniche, Portugal
Rip Curl Pro Search
Oct 30-Nov. 10 - Somewhere?
Billabong Pipeline Masters
Dec 8-20, Banzai Pipeline Oahu-Hawaii
Women's Division
Roxy Pro Gold Coast
Feb 27-Mar 10, Gold Coast, Queensland, Australia
Rip Curl Women's Pro Bells
Mar 30-April 10, Bells Beach Victoria, Australia
TSB Bank Women's Surf Festival
Apr 11-16 Taranaki – New Zealand
Commonwealth Bank Beachly Classic
Apr 21-26, Dee Why,Northern Beaches, NSW-Australia
Movistar Peru Classic presented by Rip Curl
June 8-13, Lobitos-Peru
Rip Curl Pro
Oct 7-11, Peniche-Portugal
Rip Curl Search
Oct 30-Nov 4, Somewhere
Gidget Pro
Nov 24-Dec 6, Sunset Beach Oahu, Hawaii
Billabong Pro Maui
Dec 8-20 Honolua Bay, Maui, Hawaii