Header

Back to Billabong Pro Teahupoo Tahiti Index...

By Press Release:

SATURDAY 13 MAY, 2006
TEAHUPOO, TAHITI

BILLABONG PRO TAHITI
4-16 MAY 2006

EVENT #3 ON THE 2006 FOSTER'S ASSOCIATION OF SURFING PROFESSIONALS (ASP) MEN'S WORLD TOUR and ASP WOMEN'S WORLD TOUR

LIVE on www.billabongpro.com or www.aspworldtour.com

MARTINEZ WINS BILLABONG PRO TAHITI AND SHOOTS TO SECOND ON THE RATINGS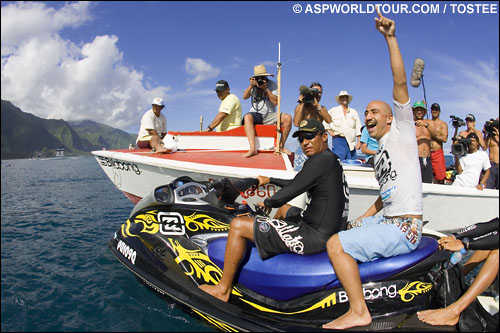 Bobby Martinez Picture credit: ASP Tostee
Rookie Bobby Martinez (USA) has turned the surfing world on its ear today by pushing past a host of established pro tourers to claim his first-ever major event win at the Billabong Pro Tahiti.
Defeating the 2005 Foster's ASP Men's World Tour Rookie Of The Year Fred Patacchia Jr. (HAW) in the 40 minute and extremely tight affair, Martinez scored a total of 16.27 to Patacchia's 16.07.
Held in two metre (four to six foot) and near perfect waves at the infamous break of Teahupoo, Martinez was the form surfer of the event and in the lead up to the final he scored some of the deepest and longest tube rides ever seen in competition.
While the waves were few and far between at the beginning of the final, when the swell did begin to pump toward the end, Patacchia and Martinez were literally on fire, mixing up tube riding with scintillating top turns and incredibly committed lip bashes – all just above the razor sharp reef.
The lead swapped and changed on numerous occasions as the two went blow for blow and despite Patacchia landing a huge aerial manoeuvre right at the end Martinez had done enough to claim first place.
"I'm on cloud nine. To have a win is… I can't even talk… it just feels fake," said Martinez. "I didn't know how I was going to do this year. To have a win has taken me by surprise. It's amazing…
"My head was tossing and turning, [after Patacchia scored an 8.10 for his huge last wave] just wondering if I blew it, blew the opportunity," said Martinez. "I didn't see the barrel but I saw him do that air. And luckily he didn't get the score and I won."
Martinez was elated at the fact that he has claimed his first win at such a prestigious event.
"You have the best surfers in the world competing here on this tour and to win here at Teahupoo… it can't get any better," said Martinez. "To win here even though the waves weren't crazy Teahupoo… is just amazing. It hasn't sunk in yet but when it does…"
The win has also catapulted Martinez into second place on the ratings and places him well within striking distance for a full on assault at the 2006 crown.
Patacchia meanwhile was equally ecstatic about his second placing – his best result since joining the tour last year.
Having come so close to claiming his first win was enough to have the likable Hawaiian grinning from ear to ear.
His performance on the last wave of the heat was something that won't be forgotten in a hurry by anyone fortunate enough to witness it.
"I knew I needed and 8.1 and I was lucky enough that Bobby actually gave me the wave," said Martinez. "And I knew that that was going to be the last wave ridden in the final. I felt like I had to put it all on the line, right then and there, no matter what. I got a little barrel right off the takeoff, did a pretty good snap and then an air and a cutback. I was able to fit some pretty good turns in in a small period of time. I just barely didn't get the score, but not to take anything away from Bobby, he was surfing great the whole event.
"I was getting really heated earlier in the event about scores, but that I left that last wave up to the judges," said Patacchia. "I didn't really want to get too emotional about it because I know when you surf Teahupoo you have to get good barrels, and Bobby got the best barrels of the heat. But if you look at the judging criteria, I did everything in the book on that wave. That's what I tried to do and I knew I had to do it. It could have gone either way, they could have given it to me, they obviously didn't but I'm satisfied with the result I had and I think the judges made a good decision."
It was also a dramatic day for Kelly Slater (USA) when he finished in third place after being beaten by the rampaging Patacchia.
In the action packed semi, both surfers were pushing themselves to the limits and Slater so much so, that he broke both himself and his board in the encounter.
With the emphasis shifting from the tube to big turns when the tide slightly affected the wave shape, Patacchia and Slater attacked the break like dogs on a piece of raw meat.
Patacchia was scintillating on one wave where he executed some sizzling top turns and cut backs and gaining motivation from seeing that wave, Slater took off on five footer and drove hard off the bottom in order to execute a big backside floater.
But coming into the turn too late and with the lip being heavy and thick he landed awkwardly smashing onto his board in a hideous fashion.
It was immediately obvious that Slater was injured and first messages from the channel back to the tower indicated that he had done some rib damage, which was later confirmed by the medical staff.
Then to rub salt into the wound he took off on another wave late, threw his board away only to come up and see it floating in two pieces.
"It was an injury I did in the last event at Bells in the final on one of my last waves," said Slater. "I just fell out there today and came down square on my ribs, right on my board. It was the second or third wave I had in that heat, and at that point I was basically out of it. I couldn't really paddle, couldn't breathe very deep, so I probably shouldn't have surfed anymore, I don't know if I injured it any more, but there's definitely some strange kind of pain going on in there."
The injury will place a cloud over Slater's fitness for the next event at Fiji and at this stage the seven-time world champion is looking like being a no-show.
"I probably won't go to Fiji if I feel this way a week or five days from now. That would give me a break until Mexico comes at the end of June so I'll just see how we go. Fiji can get pretty big waves – you get some serious thrashings at Cloudbreak, so I wouldn't want to be feeling like this and do more internal damage."
Also finishing in equal third was Foster's ASP Men's World Tour veteran Taylor Knox.
The likable Californian was standout all throughout the event and put on a tremendous show in the second semi final where he was beaten by Martinez.
For Knox the third placing was his best result for quite some time and it will augur well for a strong 2006 campaign as he now has been rocketed into third place on the ratings.
Results:
Quarter finals
Quarter final 1: Fred Patacchia (HAW) 14.27 def. Hira Teriinatoofa (PYF) 14.17
Quarter final 2: Kelly Slater (USA) 14.83 def Bruce Irons (HAW) 9.23
Quarter final 3: Taylor Knox (USA) 15.07 def. Dean Morrison (AUS) 14.60
Quarter final 4: Bobby Martinez (USA) 14.84 def. Danny Fuller (HAW) 8.84
Semi finals
Semi final 1: Fred Patacchia (USA) 10.24 def Kelly Slater 5.10 (USA)
Semi final 2: Bobby Martinez (USA) 17.97 def. Taylor Knox (USA) 16.73
Final:
Bobby Martinez (USA) 16.27 def. Fred Patacchia (HAW) 16.07

Ratings after event #3 on the Foster's ASP Men's World Tour:
1. Kelly Slater (USA) 5276
2. Bobby Martinez (USA) 2676
3. Taylor Knox (USA) 2208
4. Andy Irons (HAW) 2064
5. Taj Burrow (AUS) 2042
5. Joel Parkinson (AUS) 2042
7. Damien Hobgood (USA) 1742
7. Bruce Irons (HAW) 1742
9. Fred Patacchia (HAW) 1667
10. Greg Emslie (ZAF) 1610

Media Contacts
Billabong and the ASP will be providing media information, images and vision from the Billabong Pro Tahiti. Please contact direct for any specific enquires.
Billabong Pro Tahiti Information Line: (689) 57 96 31 updated 7am daily