FOR IMMEDIATE RELEASE
FRIDAY 12 MAY, 2006
TEAHUPOO, TAHITI
BILLABONG PRO TAHITI
4-16 MAY 2006
EVENT #3 ON THE 2006 FOSTER'S ASSOCIATION OF SURFING PROFESSIONALS (ASP) MEN'S WORLD TOUR and ASP WOMEN'S WORLD TOUR
LIVE on www.billabongpro.com or www.aspworldtour.com
REDMAN-CARR WINS BILLABONG PRO TAHITI AND MAKES IT THREE IN A ROW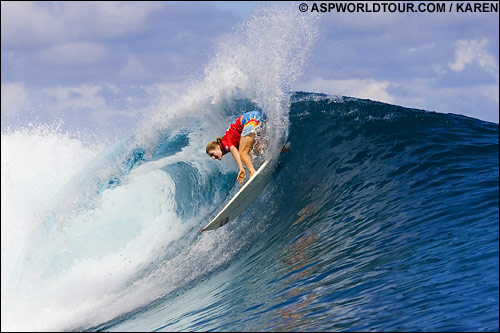 Melanie Redman-Carr Picture credit: ASP Karen
Melanie Redman-Carr (AUS) dethroned defending event champion Chelsea Georgeson (AUS) to claim victory at the Billabong Pro Tahiti today.
The win has put her in strong contention to strip the reigning world champion of her world title as well.
Executing revenge of sorts after losing to Georgeson in the Billabong Pro Tahiti final last year, Redman-Carr easily won the final in four to six foot (1.5 – 2 metre) waves at Teahupoo to claim her third back-to-back win on the 2006 Association of Surfing Professionals (ASP) World Tour.
"It's incredible. I'm really thankful and just amazed that it's happened," Redman-Carr said.
The 30-year-old tour veteran has now amassed a sizeable ratings lead and cemented a dream start to her 2006 season.
"I hadn't even dreamed of this! The support came flooding in after I won the first event on the Gold Coast and I've used that to help me keep winning," Redman-Carr said.
"I know the world title is within reach now but I can't discount anybody. There are still five events left and a lot of the girls are capable of winning multiple events."
Despite beating her today, Redman-Carr still considers Georgeson her biggest competition for a world title.
"I know Layne's had better results so far but I feel Chelsea's the one I have to watch. She's a good surfer in all conditions and that's a major part of it. She would have won the event today if the waves were barreling." Redman-Carr said.
Georgeson made a critically late drop into a six-foot (two-metre) wave, tucked into a deep barrel and came out turning to earn the only 10-point ride of the event in her semifinal heat against Layne Beachley (AUS).
Unfortunately the wind swung slightly onshore during the final, dimming Georgeson's chances for another epic tuberide.
"I was just unlucky after that semi where the waves were so good. It's always disappointing to come second in a final but it's good for me because I needed a result."
Georgeson now sits third in the ratings, and having struck late in the season last year, is still wholly capable of defending her world title.
"It's always hard to go into the year as defending world champion and now that Mel has won three events in a row straight-up I'm thinking: 'Can I catch her?' Losing is always harder than winning but there's five contests left and I think anything is possible," Georgeson said.
"I had a really good year last year and I actually didn't make any finals until right at the end of the year so I guess it's a bit of repeat – a slow start and now I hope I can start making a few finals."
Beachley, who still sits in second on the ASP ratings, lost to Georgeson in semifinal two. The former six-time world champion enjoyed final berths at each of the two previous events on this year's tour, but was left needing a combination of score after Georgeson added the 10-point ride to a previous 8.0 for a total of 18.00 points out of 20.00.
"It's impossible to beat a 10.00 unless you get a 10.00 and in that semi I was lucky just to get a 3.00!" Beachley said. "I heard her claim it was going to be payback time for me today after I beat her in the quarters Fiji and low and behold it was."
Heather Clark (ZAF) now finds herself sitting equal fifth on the ratings after earning a semifinal berth and an equal third placing when she was beaten by Redman-Carr.
"We had such good waves in our semi final and surfing against Mel… well I've surfed against her before and she is a really good competitive surfer. She can make you go waves that you really don't want to go on given that she is just so competitive," Clark said.
Sofia Mulanovich, Rebecca Woods, Claire Bevilacqua and Keala Kennelly were eliminated in the quarterfinals.
The world's best women surfers will now enjoy a three-month break. The next stop on the 2006 ASP Women's World Tour is the Billabong Pro Brazil, which runs from August 21-28, 2006.
BILLABONG PRO TAHITI RESULTS
FINAL: 1st earns US$10,600, 2nd earns US$6,600
FINAL: Melanie Redman-Carr (AUS) 13.50 def. Chelsea Georgeson (AUS) 10.44
SEMIFINALS: 1st advances to FINAL, 2nd finishes equal 3rd and earns US$4,850
HEAT 1: Melanie Redman-Carr (AUS) 14.90 def. Heather Clark (ZAF) 12.27
HEAT 2: Chelsea Georgeson (AUS) 18.00 def. Layne Beachley (AUS) 6.43
QUARTERFINALS: 1st advances to the SEMIFINALS, 2nd finishes equal 5th and earns US$4,100
Heat 1: Heather Clark (ZAF) 12.66 def. Sofia Mulanovich (PER) 12.10
Heat 2: Melanie Redman-Carr (AUS) 14.94 def. Rebecca Woods (AUS) 11.17
Heat 3: Layne Beachley (AUS) 11.00 def. Keala Kennelly (HAW) 9.60
Heat 4: Chelsea Georgeson (AUS) 14.67 def. Claire Bevilacqua (AUS) 10.50
CURRENT ASP WOMEN'S WORLD TOUR RATINGS
1. Melanie Redman-Carr (AUS) 3600 points
2. Layne Beachley (AUS) 2700 points
3. Chelsea Georgeson (AUS) 2088 points
4. Rebecca Woods (AUS) 1668 points
5. Rochelle Ballard (HAW) 1476 points
5. Samantha Cornish (AUS) 1476 points
5. Heather Clark (ZAF) 1476 points
8. Sofia Mulanovich (PER) 1464 points
8. Keala Kennelly (HAW) 1464 points
8. Claire Bevilacqua (AUS) 1464 points
11. Silvana Lima (BRA) 1284 points
12. Megan Abubo (HAW) 1272 points
12. Trudy Todd (AUS) 1272 points
14. Jessi Miley-Dyer (AUS) 1080 points
14. Julia Christian (USA) 1080 points
16. Jacqueline Silva (BRA) 720 points
16. Serena Brooke (AUS) 720 points

Media Contacts
Billabong and the ASP will be providing media information, images and vision from the Billabong Pro Tahiti. Please contact direct for any specific enquires.
Billabong Pro Tahiti Information Line: (689) 57 96 31 updated 7am daily