Header

ASSOCIATION OF SURFING PROFESSIONALS (ASP) NORTH AMERICA

EAST COAST SURFING CHAMPIONSHIPS
Virginia Beach, VA
August 23 – 27, 2006
ASP NORTH AMERICA WOMEN'S TOUR SET TO WRAP AT EAST COAST SURFING CHAMPIONSHIPS
VIRGINIA BEACH, Virginia (Wednesday, August 16, 2006) – The final event of the 2006 Association of Surfing Professionals (ASP) North America Women's tour will kick off at the 44th annual East Coast Surfing Championships (ECSC) held at Virginia Beach from August 23 – 28, 2006.
The ECSC will feature a $25,000 two-star World Qualifying Series (WQS) men's event, a $5,000 grade-one Pro Junior event, a $5,000 one-star Longboard event and a $5,000 one-star WQS women's event.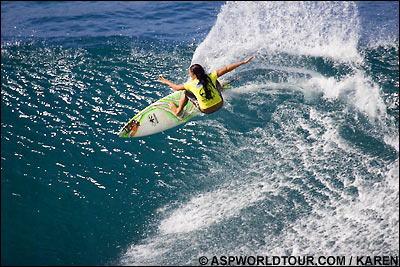 Melanie Bartels Picture Credit ASP Tostee
Although Melanie Bartels (Westside, Oahu) sealed up the ASP North America Women's title at last month's U.S. Open, the ECSC will still feature an East Coast showdown between current top-10 residents on the ASP North America ratings Lindsey Baldwin (New Smyrna Beach, FL) and Karina Petroni (Atlantic Beach, FL), sitting seventh and tenth respectively.
Baldwin possesses a substantial lead over her East Coast sparring partner, but knows better than to underestimate the dangerous natural-footer.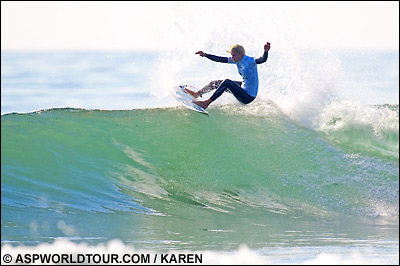 "Karina (Petroni) is an awesome competitor," Baldwin said. "She has the experience and is able to get herself where she needs to be inheats – she always finds the waves that produce big scores."
Baldwin has had an excellent season in 2006, recently securing an impressive seventh-place finish at a three-star WQS event in Europe.
Karina Patroni Picture Credit ASP Tostee
"This season has been amazing," Baldwin said. "I had hoped to be in the top 20, so being in the top 10 has been incredible."
Petroni has had a sterling season on the international stage and presently sits one position out of qualifying for the elite ASP Women's World Tour in 2007. Her experience at the ECSC will no doubt prove invaluable as she heads into the event.
"I have always loved Virginia and the ECSC is such a fun contest," Petroni said. "I approach this event trying to just have a good time, as I do all of them."
Running in conjunction with the women's event, the two-star WQS men's, grade-one Pro Junior and one-star Longboard events will feature some of the hottest up-and-coming talent the continent has to offer.
With several high-rated WQS events luring surfers to Europe during the same time, the ECSC provides the perfect opportunity for junior surfers to get a taste of the WQS competitive format – otherwise reserved to higher-rated WQS surfers.
Several surfers competing in the grade-one Pro Junior event are also scheduled to compete in the two-star WQS men's event which opens the door for a potential dual-event winner.
Action is scheduled to commence on Wednesday, August 23, 2006, and will run through Sunday August 28, 2006.
For daily updates and results, log onto www.aspnorthamerica.org.
EVENT SCHEDULE: check www.surfecsc.com for specific times
Wednesday, August 23rd, 2006 –
ASP $25,000 Two-Star WQS Men
ASP $5,000 Grade-One Pro Junior
Thursday, August 24th, 2006 –
ASP $5,000 One-Star Longboard
ASP $25,000 Two-Star WQS Men
ASP $5,000 Grade-One Pro Junior
ASP $5,000 One-Star WQS Women
Friday, August 25th, 2006 –
ASP $25,000 Two-Star WQS Men
ASP $5,000 One-Star WQS Women
ASP $5,000 Grade-One Pro Junior
ASP $5,000 One-Star Longboard
Saturday, August 26th, 2006 – Semifinals (All divisions – order not specified)
ASP $25,000 Two-Star WQS Men
ASP $5,000 Grade-One Pro Junior
ASP $5,000 One-Star Longboard
ASP $5,000 One-Star WQS Women
Sunday, August 27th, 2006 – Finals (All divisions – order not specified)
ASP $25,000 Two-Star WQS Men
ASP $5,000 Grade-One Pro Junior
ASP $5,000 One-Star Longboard
ASP $5,000 One-Star WQS Women