Header Back to the Havaianas Beachley Classic Index...

By Press Release:

ASSOCIATION OF SURFING PROFESSIONALS (ASP) INTERNATIONAL

Havaianas (Hav-eye-ahn-ahs) Beachley Classic
Event No. 6 on the ASP Women's World Tour
Manly Beach, Sydney, Australia
October 9-15, 2006
HAVAIANAS BEACHLEY CLASSIC SLATED TO HEAT UP SYDNEY NEXT WEEK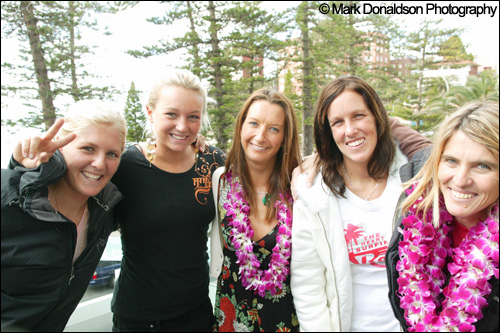 Jessi Miley-Dyer, Stephanie Gilmore, Layne Beachley, Chelsea Georgeson, Pam Burridge.
COOLANGATTA, Australia (Tuesday, October 3, 2006)With the Havaianas Beachley Classic slated to kick off in Sydney next week, Layne Beachley's to-do list probably reads something like this: orchestrate world's richest women's surfing event, win world's richest women's surfing event, use momentum from running and winning world's richest women's surfing event to clinch seventh ASP Women's World Title.
October 9-15, 2006 are going to be a very busy days for the former six-time world champ.
Held at her home break of Manly in Sydney, Australia, the US$100,000 Havaianas Beachley Classic is the product of Beachley's hard-fought battle to bring an ASP Women's World Tour event back to Sydney and up the ante on prize money awarded to professional female surfers.
"Staging the event is just as important as winning a world title because I'm very attached to it and want nothing more than for it to be a success," Beachley said. "The world title will take care of itself but my name isn't attached to it like it is to Manly so there are different levels of expectation and pressure that I am very prepared for and aware of."
Currently sitting second on the ASP Women's World Tour ratings, Beachley is well and truly in contention to win her seventh world title in 2006. With only three events left, victory over world No. 1 Melanie Redman-Carr (AUS) and reigning world champion and world No. 3 Chelsea Georgeson (AUS) in Sydney will aid her exponentially. Only two events, both held in Hawaii, are left on the 2006 tour post the Havaianas Beachley Classic.
"We are at the business end of the tour now so Manly is actually a crucial event for the over-all ratings," Beachley said. "It could make or break careers so I hope it's pumping! Considering how strong Mel (Redman-Carr), Chelsea (Georgeson) and I have performed in Hawaii over the years, I think all of us will be looking for any opportunity to get a step ahead of each other leading into the last two events with a win here."
Rookies Jessi Miley-Dyer (AUS) and Brazilian power-house Silvana Lima, who sit fourth and fifth on the ASP ratings respectively, will continue their blow by blow battle for ASP Rookie of the Year. Should they maintain their recent momentum, both girls could easily thwart the world title campaigns of the veterans sitting in spots one, two and three.
Stephanie Gilmore (AUS), the wildcard who defeated Beachley wildcard to win last year's Roxy Pro Gold Coast, will headline the Beachley Trials – arguably the toughest trials fields ever assembled for a ASP Women's event.
Gilmore, who is currently ranked second behind Miley-Dyer on the World Qualifying Series (WQS), will more than likely qualify for next year's elite tour and would benefit from the additional elite tour exposure.
"It's ridiculous," Gilmore said. "The trials are going to be as hard as the main event, the field is stacked and there's only one wildcard on offer. I've only been in one ASP Women's World Tour event this year and I need to get more experience for next year. I really want to win the trials and I'm feeling good, but it's going to be tough."
ASP WQS No. 6 ranked surfer Leilani Gryde (USA), 1993 world champion Pauline Menczer (AUS), ASP Europe champion Pauline Ado (FRA), along with Nicola Atherton (AUS), Sally Fitzgibbons (AUS), Airini Mason (NZ), Kirra Townsend (AUS), Angela Keighren (AUS), Melissa Burt (AUS), Jess Grimworld (AUS) and local star Elle Black (AUS), are the invited Beachley Trialists.
The Beachley Trials will be staged on Oct. 9 with the winning trialist earning a main event berth against current world No.1 Redman-Carr and another yet to be confirmed surfer in the opening non-elimination round of the Havaiana's Beachley Classic.
APS WCT Tour 2010 Schedule
Mens's Division
Quiksilver Pro Gold Coast
Feb 27-Mar 10, Gold Coast Qld-Australia
Rip Curl Pro Bells
March 30 -April 10, Bells Beach Victoria-Australia
Hang Loose Santa Catarina Pro
April 23-May 2, Santa Catarina Brazil
Billabong Pro J-Bay
Jly 15-25, Jeffreys Bay South Africa
Billabong Pro Teahupoo
Aug 23 - Sept 3, Teahupoo Taiarapu-Tahiti
Hurley Pro Trestles
Sep 12-21, Trestles California-USA
Quiksilver Pro France
Sep 25-Oct 5, South West Coast France
Rip Curl Pro
Oct 7-18, Peniche, Portugal
Rip Curl Pro Search
Oct 30-Nov. 10 - Somewhere?
Billabong Pipeline Masters
Dec 8-20, Banzai Pipeline Oahu-Hawaii
Women's Division
Roxy Pro Gold Coast
Feb 27-Mar 10, Gold Coast, Queensland, Australia
Rip Curl Women's Pro Bells
Mar 30-April 10, Bells Beach Victoria, Australia
TSB Bank Women's Surf Festival
Apr 11-16 Taranaki – New Zealand
Commonwealth Bank Beachly Classic
Apr 21-26, Dee Why,Northern Beaches, NSW-Australia
Movistar Peru Classic presented by Rip Curl
June 8-13, Lobitos-Peru
Rip Curl Pro
Oct 7-11, Peniche-Portugal
Rip Curl Search
Oct 30-Nov 4, Somewhere
Gidget Pro
Nov 24-Dec 6, Sunset Beach Oahu, Hawaii
Billabong Pro Maui
Dec 8-20 Honolua Bay, Maui, Hawaii