Header

Back to the Havaianas Beachley Classic Index...

By Press Release:


ASSOCIATION OF SURFING PROFESSIONALS (ASP) INTERNATIONAL

Havaianas Beachley Classic
Event No. 6 on the ASP Women's World Tour
Manly Beach, Sydney, Australia
October 9-15, 2006
HAVAIANAS BEACHLEY CLASSIC BODES WELL FOR BEACHLEY, REDMAN-CARR AND GEORGESON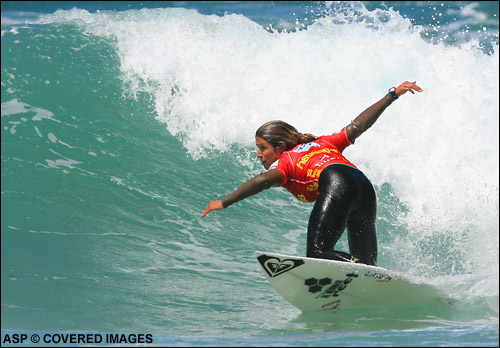 Exciting surfing from Sofia Mulanovich (Peru) today. In the wind swept waves at Manly she posted a strong heat score of 16 out of a possible 20 to easily win through to round three where she'll face Trudy Todd (Aus) Picture Credit ASP Tostee
COOLANGATTA, Australia (Monday, October 9, 2006) – If Layne Beachley's performance in Round One of the inaugural Havaianas Beachley Classic is any indication of what's still to come from the former six-time ASP World Champion, she may be writing her own name on the US$20,000 winner's check.
Beachley not only masterminded and engineered the richest event in the history of women's professional surfing; she also equalled its highest heat total, 18.50 out of 20 possible points, to beat Rochelle Ballard (HAW) and Jacqueline Silva (AUS) today.
"I guess local knowledge paid off in that heat," Beachley, who hails from the event location of Manly, Australia, said. "I watched the other girls drift toward the middle of the beach and because I've been surfing this left and right corner over here for years, I know it starts to turn on as the tide drops. I was lucky and managed to pull off a couple of really nice open-faced waves and surf really well on them."
Despite her strong performance, the stress and circumstance of organizing the event may be taking their toll on Beachley.
"I'm completely exhausted," Beachley said. "I've got some kind of bronchial infection now. I've really stretched myself trying to get this event off the ground along with the very small team of people that have worked on it but I am really proud of it. I am like a proud mum walking around seeing all this happening and now I just have to focus on the job at hand which is surfing my best and concentrating on winning the contest."
Current ratings leader Melanie Redman-Carr (AUS), who also commanded her Round One heat over Beachley Trials winner and wildcard Stephanie Gilmore (AUS) and Keala Kennelly (HAW), is no doubt hoping that Beachley's ailment will aid her in maintaining her ratings lead, though she is wary of world No. 3 Chelsea George son (AUS) as well.
"It's not just Layne (Beachley) I'm concerned about; Chelsea (Georgeson) is right there as well, Redman-Carr said. "I can't just pinpoint one person and worry about them because I think they're both going to do really well out here and it's just up to me to do well."
Having already won three ASP Women's World Tour events (on the Gold Coast, Fiji and Tahiti) this year, the '06 title-contender is one step closer to achieving her world title dream but knows that Beachley is a savvy competitor not to be underestimated.
"I think Layne is really clever to put on an event at home," Redman-Carr said. "This is the ideal situation that everyone jokes about, 'Oh imagine having an event at my home break that I surf everyday, it'd be that easy to win.' At the same time, she's had to put so much work and effort into it; she's probably not in the ideal situation. That said, after growing up here, she has to surf it better than everyone. I expect her to do really well here."
Reigning world champion Georgeson, bounced back from an opening round loss with electrifying round two performance that saw her equal Beachley's heat score of 18.15 and put her '06 campaign back on track.
Defeating Trudy Todd (AUS) and Ballard in the repercharge round, Georgeson, who won the last tour event in France, put herself back in Havaianas Beachley Classic contention.
"I'm not making it easy on myself," Georgeson said. "I got knocked into the second round like I did in France and I get so frustrated with myself, but in a way it is kind of good because you get to go out and warm up again and get rid of those nerves. I got a couple of fun waves out there and really wanted to get through the heat so tried to give it everything I had."
Just Georgeson, Beachley and Redman-Carr remain in contention for the 2006 ASP Women's World Title. Georgeson.
"I'm just cruising, trying to stay relaxed," Georgeson said. "I know there are three events left and I have to try to win all of them to defend my world title, but that's my goal, just to get out there and win them all and win the title."
Sofia Mulanovich (PER) was another Round One standout today. Despite being out of contention for her second world title in 2006, Mulanovich would like to post a win and get in on the increased earnings in Sydney.
"Yes, that's why I want to win here, because it means I'll win more money!" Mulanovich joked. "It's amazing what Layne has done and Havaianas and everybody else sponsoring the contest. It's such a good contest and I'm actually really impressed with everything they've done."
Hawaiian veterans Ballard and Kennelly were eliminated in Round Two today and will leave Sydney with equal 17th finishes.
Sean Collins of Surfline.com has indicated that conditions may drop but should clean up for tomorrow, Tuesday, October 8. It's a strong possibility that Round Three of the Havaianas Beachley Classic will resume tomorrow morning. A call will be made at roughly 7:30am local time.
Round Two Results: (1st and 2nd advance to the Round Three; 3rd finishes equal 17th)
Heat 1: Chelsea Georgeson (AUS) 18.15, Trudy Todd (AUS) 12.95, Rochelle Ballard 10.15
Heat 2: Rebecca Woods (AUS) 14.00, Silvana Lima (BRA) 13.75, Keala Kennelly (HAW) 10.40
Round One Results: (1st and 2nd advance to Round Two; 3rd surfs Round Two)
Heat 1: Julia Christian (USA) 14.40, Jessi Miley-Dyer (AUS) 9.25, Rebecca Woods (AUS) 8.65
Heat 2: Sofia Mulanovich (PER) 16.00, Claire Bevilacqua (AUS) 12.00, Trudy Todd (AUS) 11.30
Heat 3: Melanie Redman-Carr (AUS) 16.25, Stephanie Gilmore (AUS) 12.50, Keala Kennelly (HAW) 6.25
Heat 4: Heather Clark (ZAF) 10.25, Serena Brooke (AUS) 9.65, Chelsea Georgeson (AUS) 7.75
Heat 5: Layne Beachley (AUS) 18.15, Jacqueline Silva (BRA) 14.30, Rochelle Ballard (HAW) 12.75
Heat 6: Samantha Cornish (AUS) 11.25, Megan Abubo (HAW) 11.25, Silvana Lima (BRA) 10.15
APS WCT Tour 2010 Schedule
Mens's Division
Quiksilver Pro Gold Coast
Feb 27-Mar 10, Gold Coast Qld-Australia
Rip Curl Pro Bells
March 30 -April 10, Bells Beach Victoria-Australia
Hang Loose Santa Catarina Pro
April 23-May 2, Santa Catarina Brazil
Billabong Pro J-Bay
Jly 15-25, Jeffreys Bay South Africa
Billabong Pro Teahupoo
Aug 23 - Sept 3, Teahupoo Taiarapu-Tahiti
Hurley Pro Trestles
Sep 12-21, Trestles California-USA
Quiksilver Pro France
Sep 25-Oct 5, South West Coast France
Rip Curl Pro
Oct 7-18, Peniche, Portugal
Rip Curl Pro Search
Oct 30-Nov. 10 - Somewhere?
Billabong Pipeline Masters
Dec 8-20, Banzai Pipeline Oahu-Hawaii
Women's Division
Roxy Pro Gold Coast
Feb 27-Mar 10, Gold Coast, Queensland, Australia
Rip Curl Women's Pro Bells
Mar 30-April 10, Bells Beach Victoria, Australia
TSB Bank Women's Surf Festival
Apr 11-16 Taranaki – New Zealand
Commonwealth Bank Beachly Classic
Apr 21-26, Dee Why,Northern Beaches, NSW-Australia
Movistar Peru Classic presented by Rip Curl
June 8-13, Lobitos-Peru
Rip Curl Pro
Oct 7-11, Peniche-Portugal
Rip Curl Search
Oct 30-Nov 4, Somewhere
Gidget Pro
Nov 24-Dec 6, Sunset Beach Oahu, Hawaii
Billabong Pro Maui
Dec 8-20 Honolua Bay, Maui, Hawaii