Header

Back to the Havaianas Beachley Classic Index...

By Press Release:

ASSOCIATION OF SURFING PROFESSIONALS (ASP) INTERNATIONAL

Havaianas Beachley Classic
Event No. 6 on the ASP Women's World Tour
Manly Beach, Sydney, Australia
October 9-15, 2006
REDMAN-CARR ELIMINATED FROM THE HAVAIANAS BEACHLEY CLASSIC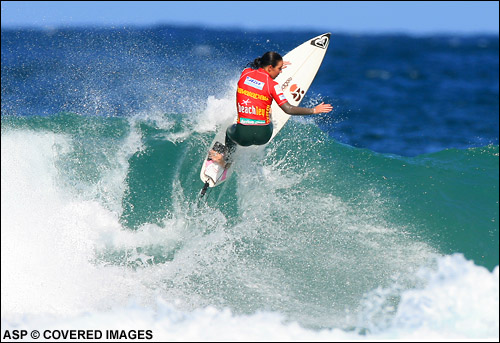 Chelsea Georgeson (Aus) is gaining momentum at the Havaianas Beachley Classic and is through to tomorrows semi finals where she'll face six time world champion Layne Beachley. Picture credit ASP Tostee
MANLY, Australia (Tuesday, October 10, 2006) – The shock elimination of ASP ratings leader Melanie Redman-Carr (AUS) in Round Three of the Havaianas Beachley Classic has left Layne Beachley (AUS) and Chelsea Georgeson (AUS) on the beach to battle it out for the World No. 1 spot.
Beachley, former six-time world champion, and Georgeson, reigning world champion, disposed of their Round Three and Quarterfinal compatriots in Manly, Australia today and will now meet in Havaianas Beachley Classic Semifinal Two.
Event wildcard Stephanie Gilmore (AUS), who sent Redman-Carr packing in Round Three, and former world champion Sofia Mulanovich (PER) will meet in the first Semifinal.
With three former world champions and a wildcard who has beaten every one of them in ASP Women's World Tour competition still in contention, the business end of the Havaianas Beachley Classic should boast some of the most exciting surfing ever seen in the history of the women's discipline.
"The semis are going to be tough," Beachley said. "Sofia and Steph are going to have a corker of a heat and Chels and I will be battling it out for ratings points. We always said this event was going to be crucial, we just didn't realize how crucial. The fact that Mel lost in the early rounds and Chelsea and I are still up against each other on the same side of the draw makes it that much more exciting."
Though failing to post performances as explosive as her Round One showing, Beachley used her local prowess to ultimately advance today; first over Jacqueline Silva (BRA) and again to take out Samantha Cornish (AUS).
"I'm really happy, very relieved and completely exhausted," Beachley said after her Quarterfinal. "I'm just really glad it's over. Sam is such a tough competitor, she's obviously consistent and gets great scores and I knew she only needed a 6.0. I am lucky it closed out with eight minutes to go and that she fell off."
Beachley, who is the brainchild behind bringing an ASP Women's World Tour event back to Sydney and tacking on an additional US$40,000 worth of prize money to the winnings, seems relieved just to have made it this far.
"I would walk happy with a semifinal finish; I am walking away happy now," Beachley said. "I walked away from the first round happy to even have this event off the ground. At the end of the week I'll be happy just to sit back and go, "Wow, I can't believe I did that! I can't believe I pulled off the richest event in women's history."
Georgeson has indicated that she'll be disappointed with anything less than a win.
"It is a good result and I just have to keep going," Georgeson said. There are two more rounds to go so hopefully I can do it. I'm pretty fired up so we'll have to wait and see."
Should she eliminate Beachley in the next round and go on to win the event, Georgeson will take the ratings lead for the first time since winning her first world title in Maui last December.
"You can't count yourself out or get bummed because Mel (Redman-Carr) won the first three events of the year and Sofia (Mulanovich) won three in a row last year so anything is possible," Georgeson said. "You've got to give it everything you've got and never give up."
Georgeson eliminated Hawaiian Megan Abubo (AUS) in Quarterfinal Three today.
"Megan and I have had quite a few good battles so I was pretty amped at the start of that heat," Georgeson said. "I went all out on my first two waves and got some good scores. I didn't surf so well the rest of the heat, I fell off almost every wave, but because I gave it everything at the start it just happened to be enough."
Mulanovich was elated she did enough to make it out of her first quarterfinal duel in five events. Her victory over Julia Christian (USA) will see Mulanovich surf her first 2006 semifinal.
"It's my best result for the year so far," Mulanovich said. "I'm in the semis and hoping to make the final, so we'll see how it goes. I surfed pretty well in the other contests too, but I just kept getting knocked in the quarters. It's not that I didn't feel confident in my surfing, it just came down to bad tactics and things like that."
Mulanovich will meet Gilmore for the first time this year after drawing the wildcard several times in 2005.
"I actually haven't surfed a heat against Steph for a while," Mulanovich said. "But last year we met in almost every heat! We'll just have to see what happens."
After ending Redman-Carr's Sydney showing in their wave-starved Round Three heat, Gilmore went on to eliminate Rebecca Woods (AUS) in the Quarters.
"I had my own little plan which was to go up the beach and get a quick couple of waves under my belt which worked out well," Gilmore said. "Luck was on my side and I guess if Bec had more time she might have made it. She got that 7.0 in the last minute, so if she had more time she probably would have gotten me."
Gilmore, who won an ASP Women's World Tour event as a wildcard last year, and looks likely to qualify for the elite tour next year, has beaten Mulanovich before, but most recent bouts have seen the Peruvian come out on top.
"The year I won on the Gold Coast and then had wildcards into multiple events, I didn't make it past the third round; Sofia kept beating me," Gilmore said. It's going to be a hard heat, she's been surfing great all week, but I'll do my best. I'm really hungry to get out there and get some more experience."
Also bowing out of the Havaianas Beachley Classic with equal ninth place finishes were Trudy Todd (AUS), Jessi Miley-Dyer (AUS), Claire Bevilacqua (AUS), Serena Brooke (AUS), Heather Clark (ZAF) and Silvana Lima (BRA).
It looks likely that the remaining three heats of competition will be run tomorrow morning and the first-ever Havaianas Beachley Classic winner will be crowned by noon local time.
Contest officials will make an official call at 7am tomorrow, Oct. 11, 2006.
Semifinal Match-Ups:
Heat 1: Sofia Mulanovich(PER) vs. Stephanie Gilmore (AUS)
Heat 2: Chelsea Georgeson (AUS) vs. Layne Beachley (AUS)
Quarterfinal Results: (1st advances to the Semifinals; 2nd finishes equal 5th)
Heat 1: Sofia Mulanovich (PER) 13.00 def. Julia Christian (USA) 9.25
Heat 2: Stephanie Gilmore (AUS) 15.25 def. Rebecca Woods (AUS) 11.25
Heat 3: Chelsea Georgeson (AUS) 15.25 def. Megan Abubo (HAW) 9.50
Heat 4: Layne Beachley (AUS) 14.25 def. Samantha Cornish (AUS) 14.00
Round Three Results: (1st advances to the Quarterfinals; 2nd finishes equal 9th)
Heat 1: Sofia Mulanovich (PER) 12.00 def. Trudy Todd (AUS) 6.00
Heat 2: Julia Christian (USA) 13.75 def. Jessi Miley-Dyer (AUS) 10.00
Heat 3: Rebecca Woods (AUS) 12.75 def. Claire Bevilacqua (AUS) 12.50
Heat 4: Stephanie Gilmore (AUS) 10.45 def. Melanie Redman-Carr (AUS) 6.25
Heat 5: Chelsea Georgeson (AUS) 15.75 def. Serena Brooke (AUS) 11.50
Heat 6: Megan Abubo (HAW) 16.50 def. Heather Clark (ZAF) 10.00
Heat 7: Samantha Cornish (AUS) 11.50 def. Silvana Lima (BRA) 5.60
Heat 8: Layne Beachley (AUS) 13.35 def. Jacqueline Silva (BRA) 9.25