Header

By Press Release:

Roxy Surf Team News – August 28th 2006
Lee Ann Curren, 2006 ASP European Pro Junior Champion.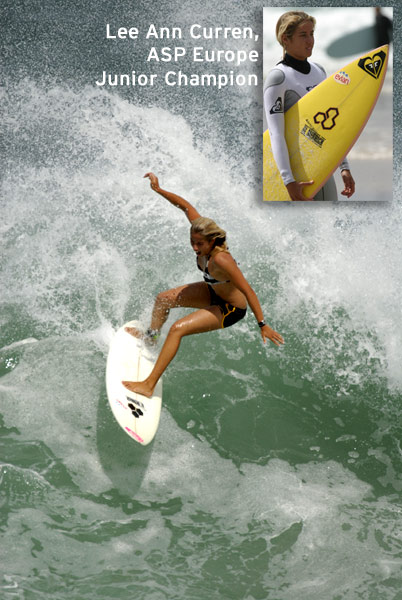 The young French surfer of the Roxy Team had already posted big options on the European pro-junior title with three victories in a row in Portugal's Roxy Pro Junior and Buondi Pro Junior, and in the United States' Huntington Beach (California) Target Women's Pro Junior this summer. She has just topped it up by finishing second to fellow Roxy rider Alizé Arnaud in the Ericeira Pro Junior in Portugal.
Lee Ann Curren and Alizé Arnaud are both qualified for the World Junior Championships to be held in Narrabeen, Australia coming January 2007.
Lee Ann Curren
Nationality: French
Born June 23rd 1989 in Biarritz, France
Lives in Anglet, France
Sponsors: Roxy, Evian
Latest achievements:
2006 – ASP Pro Junior European Champion
2006 – Roxy Pro Junior winner (Portugal)
2006 – Buondi Pro Junior winner (Portugal)
2006 – Target Women's Pro Junior winner (USA)
2005 – Fist selection in the French nationals surf team
2005 – 2nd at the Quiksilver Maider Arosteguy (France)
2005 – 2nd at the Ericeira Pro Junior (Portugal)
Joan Duru, the 17-year-old Quiksilver team rider from South West France is officially the 2006 ASP European Pro Junior Champion.
Joan Duru won the Pro Junior Contest in Hossegor last week, and despite an early loss in Ericeira, Portugal, the French national champion follows in the footsteps of Jeremy Flores as European Professional Surfing Champion. Joan thus confirms his participation in the ASP Pro Junior World Championship that will be held at Narrabeen, Sydney, Australia from January 1st7th 2007
Joan Duru
Nationality: French
Born April 24th 1989
Club: Hossegor Surf Club
Sponsors: Quiksilver – DC Shoes
Titles:
2006 – European ASP Pro Junior Champion
2005 – Overall French Champion
APS WCT Tour 2010 Schedule
Mens's Division
Quiksilver Pro Gold Coast
Feb 27-Mar 10, Gold Coast Qld-Australia
Rip Curl Pro Bells
March 30 -April 10, Bells Beach Victoria-Australia
Hang Loose Santa Catarina Pro
April 23-May 2, Santa Catarina Brazil
Billabong Pro J-Bay
Jly 15-25, Jeffreys Bay South Africa
Billabong Pro Teahupoo
Aug 23 - Sept 3, Teahupoo Taiarapu-Tahiti
Hurley Pro Trestles
Sep 12-21, Trestles California-USA
Quiksilver Pro France
Sep 25-Oct 5, South West Coast France
Rip Curl Pro
Oct 7-18, Peniche, Portugal
Rip Curl Pro Search
Oct 30-Nov. 10 - Somewhere?
Billabong Pipeline Masters
Dec 8-20, Banzai Pipeline Oahu-Hawaii
Women's Division
Roxy Pro Gold Coast
Feb 27-Mar 10, Gold Coast, Queensland, Australia
Rip Curl Women's Pro Bells
Mar 30-April 10, Bells Beach Victoria, Australia
TSB Bank Women's Surf Festival
Apr 11-16 Taranaki – New Zealand
Commonwealth Bank Beachly Classic
Apr 21-26, Dee Why,Northern Beaches, NSW-Australia
Movistar Peru Classic presented by Rip Curl
June 8-13, Lobitos-Peru
Rip Curl Pro
Oct 7-11, Peniche-Portugal
Rip Curl Search
Oct 30-Nov 4, Somewhere
Gidget Pro
Nov 24-Dec 6, Sunset Beach Oahu, Hawaii
Billabong Pro Maui
Dec 8-20 Honolua Bay, Maui, Hawaii