Header

By Press Release :
JEEP(r) SIGNS ON AS PRESENTING SPONSOR OF THE 2006 MACY'S CALIFORNIA
TRIFECTA SURF SERIES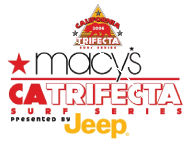 San Clemente Calif., August 28, 2006- In a major show of support for
professional surfing in California, Jeep(r) brand has signed on as
presenting sponsor of the 2006 Macy's California Trifecta Surf Series as
well as the presenting sponsor of the Newport Pro and the O'Neill Cold
Water Classic, it was announced today by Action Sports Group (ASG)
president, Don Meek.
"This is an exciting and encouraging development for American pro
surfing," said Meek. "Jeep is making it possible for us to expand
opportunities for World Qualifying Series (WQS) surfers who are chasing
their dreams of making the World Championship Tour (WCT), while ensuring
that fans get to see their favorite surfers more often. We're stoked to
have Jeep on board!"
Formed in 2005, the Macy's CA Trifecta Surf Series is part of a
three-year plan to strengthen surfing in America, uniting the Body Glove
Surfbout presented by Adio, the Newport Pro presented by Jeep, and the
O'Neill Cold Water Classic presented by Jeep under one banner. The
Trifecta offers a $33,333 prize purse to the surfer who takes first
place in three California WQS events. Dustin Cuizon (HAW), winner of
the Body Glove Surfbout, is in the top position to take home the Macy's
California Trifecta Surf Series title. Should he not take the win in
all three events, the Trifecta also awards an overall points-winner
bonus of $10,000, a second-place bonus of $3,500 and a third-place bonus
of $1,500.
"The O'Neill Cold Water Classic was such a great event last year, we
decided to take the next step and support ASG and the entire Macy's CA
Trifecta Series," said Jay Kuhnie, DirectorJeep Communications. "The
athletes who participate in this sport understand the meaning of
freedom, adventure, mastery and authenticity, the guiding principles of
the Jeep brand. We are proud to be a part of the movement to strengthen
professional surfing in America."
The Jeep brand first partnered with ASG last fall when it became the
presenting sponsor of the O'Neill Cold Water Classic. As part of its
involvement with the prestigious surf event, Jeep featured the event on
NBC's "Jeep World of Adventure Sports" program. The Jeep series
features an array of adrenalin- inspired feats and adventurous sporting
events from around the world. Anchored events are complemented by
behind-the-scenes features on athletes and the world of action-adventure
sports.
For more information on the Macy's Trifecta Surf Series visit
www.catrifecta06.asglive.com. Visit www.surfermag.com/events/oakleyjr06
for the most up-to-date Oakley Pro Junior news. Up-do-date news on the
Newport Beach Pro can be found at www.NewportBeachPro.com.
About the Jeep Brand
The Jeep brand's 65-year history of legendary capability has made it
synonymous with freedom, adventure, mastery and authenticity. In 2006,
the Jeep brand continues to deliver on its promise to provide rugged,
versatile, innovative four-wheel drive vehicles with the recently
introduced Jeep Wrangler, four-door Jeep Wrangler Unlimited, Jeep
Compass and Jeep Patriot.
This expansion of the Jeep brand grows its showroom from three to seven
sport-utility vehicles following last year's introduction of the Jeep
Commander. The other two Jeep vehicles are the Jeep Grand Cherokee and
Jeep Liberty.
About Macy's West
Macy's West, a division of Federated headquartered in San Francisco,
operates 174 stores in seven states and Guam, with annual sales of more
than $4 billion. At Macy's, we are committed to supporting the
communities where we live and work. In 2005, we raised and donated
nearly $14 million in community support through our fundraising efforts.
About PRIMEDIA'S Action Sports Group
Reaching more than two million enthusiasts, PRIMEDIA's Action Sports
Group (ASG) is the dominant force in the action sports and adventure
sports arenas. In addition to publishing leading lifestyle publications
such as Surfer, Surfing, Snowboarder, Skateboarder, Bike, Powder and
Canoe & Kayak, PRIMEDIA ASG delivers a cutting-edge network of online
properties, events and television programming.
APS WCT Tour 2010 Schedule
Mens's Division
Quiksilver Pro Gold Coast
Feb 27-Mar 10, Gold Coast Qld-Australia
Rip Curl Pro Bells
March 30 -April 10, Bells Beach Victoria-Australia
Hang Loose Santa Catarina Pro
April 23-May 2, Santa Catarina Brazil
Billabong Pro J-Bay
Jly 15-25, Jeffreys Bay South Africa
Billabong Pro Teahupoo
Aug 23 - Sept 3, Teahupoo Taiarapu-Tahiti
Hurley Pro Trestles
Sep 12-21, Trestles California-USA
Quiksilver Pro France
Sep 25-Oct 5, South West Coast France
Rip Curl Pro
Oct 7-18, Peniche, Portugal
Rip Curl Pro Search
Oct 30-Nov. 10 - Somewhere?
Billabong Pipeline Masters
Dec 8-20, Banzai Pipeline Oahu-Hawaii
Women's Division
Roxy Pro Gold Coast
Feb 27-Mar 10, Gold Coast, Queensland, Australia
Rip Curl Women's Pro Bells
Mar 30-April 10, Bells Beach Victoria, Australia
TSB Bank Women's Surf Festival
Apr 11-16 Taranaki – New Zealand
Commonwealth Bank Beachly Classic
Apr 21-26, Dee Why,Northern Beaches, NSW-Australia
Movistar Peru Classic presented by Rip Curl
June 8-13, Lobitos-Peru
Rip Curl Pro
Oct 7-11, Peniche-Portugal
Rip Curl Search
Oct 30-Nov 4, Somewhere
Gidget Pro
Nov 24-Dec 6, Sunset Beach Oahu, Hawaii
Billabong Pro Maui
Dec 8-20 Honolua Bay, Maui, Hawaii