Header

Back to No Fear Mexican Surf Fiesta Index...


By Press Release:

ASSOCIATION OF SURFING PROFESSIONALS (ASP) NORTH AMERICA

NO FEAR MEXICAN SURF FIESTA PRESENTED BY SOBE
San Miguel, Mexico
October 13-15, 2006
NO FEAR MEXICAN SURF FIESTA CALLED AFTER ROUND OF 64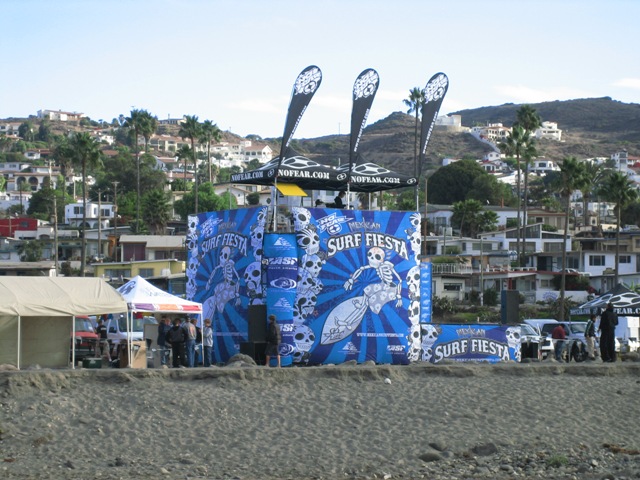 SAN MIGUEL, Mexico (Sunday, October 15, 2006) – The No Fear Mexican Surf Fiesta presented by Sobe was called off this afternoon following the completion of the Round of 64. The Association of Surfing Professional (ASP) World Qualifying Series (WQS) two-star event divided the $25,000 prize purse and ratings points up amongst the remaining 32 surfers.
Following two days of shortened schedules due to lack of waves, event organizers and surfers opted to run as many heats as possible today, beginning with the remaining three heats in the Round of 96 this morning.
Despite the unfortunate forecast and challenging conditions, the surfers once again proved that their desire to compete was stronger than their fear of injury as they went to town on the cobblestone pointbreak.
Chris Ropero (St. Augustine, Flor.), surfing in the Round of 96, navigated the difficult conditions this morning, sacrificing both his body and board in the process. Although sporting a bloodied face and broken board upon exiting the water, the young natural-footer beamed a huge grin for winning the heat.
"I got the waves I needed but I definitely got a beating too," Ropero said. "On one wave, I broke the nose off (of my surfboard) and the very next wave, I went under and the fin hit me in eye. It's alright though, I got through it. It's all worth it if you make a heat. I haven't surfed in over a week, so it was nice to get waves."
Kieran Horn (Santa Cruz, Calif.) may have taken out a little bit of weekend frustration in his Round of 64 heat this afternoon netting the event-high single-wave score of a 9.67 out of a possible 10. The O'Neill team rider suffered the misfortune of having the team van stolen this weekend and his dismantling of this afternoon's shifty righthanders may have served as a good release.
"We've had a bit of an interesting weekend with the van being stolen and all," Horn said. "I'm just stoked to finally go out and put in a decent performance and hopefully my luck will change next event."
Although most would agree that conditions were more than tricky, this especially rang true for goofy-footers who had to face the challenge on their backhand.
Dane Gudauskas (San Clemente, Calif.), led the charge today by posting an excellent 9.33 out of a possible 10.
"It's pretty difficult out there especially with the little wind wobble," Gudauskas said. "I was lucky to find that one that lined up for me and I'm stoked to build a little bit of momentum going into the business end of the season."
The next event on the ASP North America tour is the season closer O'Neill Cold Water Classic (ASP WQS four-star) and the Oakley Pro Junior (ASP grade-two) which begins this Tuesday, October 17, 2006 in Santa Cruz, Calif.
APS WCT Tour 2010 Schedule
Mens's Division
Quiksilver Pro Gold Coast
Feb 27-Mar 10, Gold Coast Qld-Australia
Rip Curl Pro Bells
March 30 -April 10, Bells Beach Victoria-Australia
Hang Loose Santa Catarina Pro
April 23-May 2, Santa Catarina Brazil
Billabong Pro J-Bay
Jly 15-25, Jeffreys Bay South Africa
Billabong Pro Teahupoo
Aug 23 - Sept 3, Teahupoo Taiarapu-Tahiti
Hurley Pro Trestles
Sep 12-21, Trestles California-USA
Quiksilver Pro France
Sep 25-Oct 5, South West Coast France
Rip Curl Pro
Oct 7-18, Peniche, Portugal
Rip Curl Pro Search
Oct 30-Nov. 10 - Somewhere?
Billabong Pipeline Masters
Dec 8-20, Banzai Pipeline Oahu-Hawaii
Women's Division
Roxy Pro Gold Coast
Feb 27-Mar 10, Gold Coast, Queensland, Australia
Rip Curl Women's Pro Bells
Mar 30-April 10, Bells Beach Victoria, Australia
TSB Bank Women's Surf Festival
Apr 11-16 Taranaki – New Zealand
Commonwealth Bank Beachly Classic
Apr 21-26, Dee Why,Northern Beaches, NSW-Australia
Movistar Peru Classic presented by Rip Curl
June 8-13, Lobitos-Peru
Rip Curl Pro
Oct 7-11, Peniche-Portugal
Rip Curl Search
Oct 30-Nov 4, Somewhere
Gidget Pro
Nov 24-Dec 6, Sunset Beach Oahu, Hawaii
Billabong Pro Maui
Dec 8-20 Honolua Bay, Maui, Hawaii