Header
STEAMER LANE ATTRACTS TOP SURFERS FOR THE 2006 O'NEILL COLD WATER CLASSIC PRESENTED BY JEEP AND THE OAKLEY PRO JUNIOR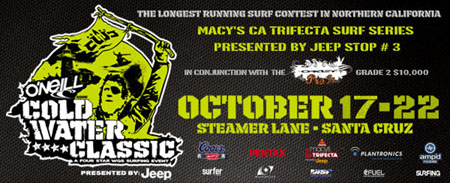 -Men's Four-Star World Qualifying Series Event Concludes the Macy's California Trifecta Surf Series-
Santa Cruz, Calif., October 2, 2006 – Premier surf professionals from all over the globe will converge on Santa Cruz, Calif. to compete in the Association of Surfing Professionals (ASP), four-star O'Neill Cold Water Classic Presented by Jeep. Santa Cruz's legendary Steamer Lane will host the World Qualifying Series (WQS) event October 17-22, 2006. One hundred-sixty of the world's most talented surfers will compete for the $75,000 prize purse in the final WQS event on the U.S. mainland. Touted as Northern California's premier surfing event, the O'Neill Cold Water Classic will run in conjunction with the Grade 2 Oakley Pro Junior ASP North American Championships with an elite field of 48 competitors vying for part of a $10,000 prize purse.
Since its inception in 1987, the O'Neill Cold Water Classic has been center stage for some of the world's best surfing talent. The cold, rugged conditions, arena-like setting and local pride surrounding the famous Steamer Lane break is stuff that legend is made of. Previous winners include Santa Cruz locals Kieran Horn and Adam Replogle, legends such as Martin Potter and Tom Curren, World Championship Tour (WCT) stand-outs Joel Parkinson, Taylor Knox, and the 2005 O'Neill Cold Water Classic Champion Bobby Martinez.
Event organizers have secured permits at Waddell Creek, located 30 minutes north of Steamer Lane, for use as an alternative contest location to ensure the contest will run should conditions fall short at Steamer Lane. "The O'Neill Cold Water Classic is a critical contest for American surfers looking to earn WQS points towards their year end rating before heading off to Brazil and Hawaii for the last few events on tour. With so few events on the North American tour it's important we provide an opportunity for the surfers looking to get closer to the WCT," says Mark Prefontaine, O'Neill marketing manager. "When the swell cooperates, Steamer Lane is a consistent near-perfect wave, but that's not always the caseso a back-up plan is very important."
Top local surfers will have the opportunity to compete in a trials round with the hopes of securing a berth into the event. A limited field will compete for one of four coveted slots into the WQS Men's round of 160. The Local's Trial round is sure to be exciting with the incredible amount of surfing talent and passionate fans in Santa Cruz.
The Cold Water Classic is the final stop of the Macy's California Trifecta Surf Series Presented by Jeep. Resulting from a fourth place finish at the NB Pro presented by Jeep, Dustin Cuizon (Ewa Beach, HAW), currently rated 19th on the WQS, lost the opportunity to win $33,333 and ignited a points race for the Trifecta year end points rating bonus among its top rated competitors. Cuizon's strong performances at the first two events of the Series has allowed him to maintain his position as the Macy's California Trifecta point leader with Nate Yeomans (San Clemente, CA) and Nathaniel Curran (Oxnard, CA) trailing close behind. All three will compete in hopes of winning the 2006 Trifecta bonus purse. The Trifecta, in association with Action Sports Group (ASG) and the ASP, will award the overall points-winner a bonus of $10,000, a second-place bonus of $3,500 and a third-place bonus of $1,500, now that no single competitor has the opportunity to win all three events for the $33,333. The Trifecta was formed in 2005 as part of a three-year plan to strengthen surfing in America by uniting the Body Glove Surfbout presented by Adio, the Newport Pro presented by Jeep and the O'Neill Cold Water Classic Presented by Jeep under one banner.
The Oakley Pro Junior ASP North American Championships at the O'Neill Cold Water Classic Presented by Jeep is the final opportunity for North America's elite junior competitors to advance to the Billabong Junior World Championships in Sydney Australia. The competition will be fierce as junior competitors chase points towards securing one of four ASP North America seeds into the World Championships. The small field of 48 and competitive draw will ensure an exciting and dramatic finish to the 2006 season.
For the first time in the events history fans will be able to catch all the excitement and drama of this year's contest with streaming video and live scoring starting October 17th at www.oneill.com: <http://www.oneill.com/> .
On Sunday October 22, Amp'd Mobile will broadcast the semi-final and final rounds of the O'Neill Cold Water Classic presented by Jeep and the Oakley Pro Junior live to Amp'd Mobile phones. Please visit www.ampd.com: <http://www.ampd.com> for more information.
Once again FUEL TV, the action sports lifestyle network, will telecast the O'Neill Coldwater Classic for dates and air times visit www.fuel.tv: <http://www.fuel.tv/> . The O'Neill Cold Water Classic is also supported by Oakley, Coors, Plantronics, Pentax, Surfer Magazine, Surfing Magazine,and ASP North America. Check out the O'Neill Cold Water Classic and all of the Macy's California Trifecta Surf Series surf breaks at www.WaveWatch.com. For more information on the Macy's Trifecta Surf Series visit www.catrifecta06.asglive.com: <http://www.catrifecta06.asglive.com> .
APS WCT Tour 2010 Schedule
Mens's Division
Quiksilver Pro Gold Coast
Feb 27-Mar 10, Gold Coast Qld-Australia
Rip Curl Pro Bells
March 30 -April 10, Bells Beach Victoria-Australia
Hang Loose Santa Catarina Pro
April 23-May 2, Santa Catarina Brazil
Billabong Pro J-Bay
Jly 15-25, Jeffreys Bay South Africa
Billabong Pro Teahupoo
Aug 23 - Sept 3, Teahupoo Taiarapu-Tahiti
Hurley Pro Trestles
Sep 12-21, Trestles California-USA
Quiksilver Pro France
Sep 25-Oct 5, South West Coast France
Rip Curl Pro
Oct 7-18, Peniche, Portugal
Rip Curl Pro Search
Oct 30-Nov. 10 - Somewhere?
Billabong Pipeline Masters
Dec 8-20, Banzai Pipeline Oahu-Hawaii
Women's Division
Roxy Pro Gold Coast
Feb 27-Mar 10, Gold Coast, Queensland, Australia
Rip Curl Women's Pro Bells
Mar 30-April 10, Bells Beach Victoria, Australia
TSB Bank Women's Surf Festival
Apr 11-16 Taranaki – New Zealand
Commonwealth Bank Beachly Classic
Apr 21-26, Dee Why,Northern Beaches, NSW-Australia
Movistar Peru Classic presented by Rip Curl
June 8-13, Lobitos-Peru
Rip Curl Pro
Oct 7-11, Peniche-Portugal
Rip Curl Search
Oct 30-Nov 4, Somewhere
Gidget Pro
Nov 24-Dec 6, Sunset Beach Oahu, Hawaii
Billabong Pro Maui
Dec 8-20 Honolua Bay, Maui, Hawaii