Header

Back to the O'neill Cold Water Classic Index...

By Press Release:


ASSOCIATION OF SURFING PROFESSIONALS (ASP) NORTH AMERICA

O'NEILL COLD WATER CLASSIC PRESENTED BY JEEP
Steamer Lane, Santa Cruz, California
October 17-22, 2006
COMPETITION INTENSIFIES AT O'NEILL COLD WATER CLASSIC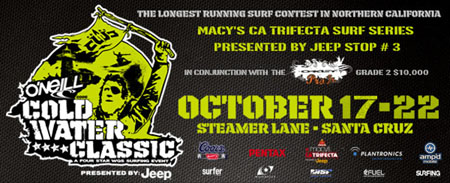 SANTA CRUZ, Calif. (Wednesday, October 18, 2006) – The O'Neill Cold Water Classic presented by Jeep went off again this morning with the opening heats of round two hitting the water in 1-3 foot waves at Steamer Lane in Santa Cruz, California.
The Association of Surfing Professionals (ASP) World Qualifying Series (WQS) four-star event ran all the way through the second round today narrowing it down to the final 96 competitors in the last event of both the 2006 ASP North America tour and the Macy's California Trifecta Surf Series presented by Jeep.
Josh Mulcoy (Santa Cruz, Calif.), capitalizing on his advancement through yesterday's trials heats, continued in excellent form today blasting his way into round three.
"I think the last time I surfed Steamer (Lane) was last year when I had the jersey on for this event," Mulcoy said. "I live on the other side of town so I don't surf here that much but it's still home and I feel comfortable out there. I feel like the momentum from yesterday's trials heats have helped and hopefully I can make it through a few more."
The locals continued their domination of the venue today, and as the tide dropped, conditions improved with big scores being dropped on the roping righthanders.
Peter Mel (Santa Cruz, Calif.), renowned for his big wave prowess, continued to show the world that he is the quintessential surfer by dominating his afternoon heat today. The big man surfed with style, punch and bite, incorporating an exciting blend of full rotational maneuvers with his signature power gouges.
"I have a really good board under my feet and I feel like I've generated a good rhythm for myself," Mel said. "There are still plenty of rippable waves out there and it's only supposed to get better as the week progresses."
Tonino Benson (Kona, Haw.) locked down the day's highest single-wave score of an 8.50 out of a possible 10 for a blistering series of hacks on his backhand.
"It's a pretty tricky wave to surf backside," Benson said. "Sometimes it's lumpy and sometimes it's dumpy. That wave kind of bowled out and I was able to hook a few turns in."
Tomorrow will see the top-seeded competitors hit the water for rounds three and four. Among them will be current ratings-leader on the Macy's California Trifecta Surf Series presented by Jeep, Dustin Cuizon (Ewa Beach, Haw.). Cuizon, who took down last April's Body Glove Surfbout presented by Adio and finished fourth at last month's Newport Beach Pro presented by Jeep, will be looking for an excellent result here to maintain his lead in the Trifecta. If he is able to stave off his opponents, the young Hawaiian will be awarded $10,000 prize.
The Oakley Pro Junior (an ASP grade-two event), running in conjunction with the O'Neill Cold Water Classic presented by Jeep, will commence on Friday, October 20th, 2006, featuring some of the best junior competitors (aged 20 and under) in world vying for their last opportunity at qualifying for the prestigious ASP World Junior Championships.
The top-four finishers on the ASP North America Pro Junior series, along with Alex Gray (Palos Verdes, Calif.) will be sent to the ASP World Junior Championships held in Narrabeen, New South Wales, Australia. Gray has already secured his entry by being the highest-ranked North America surfer of the WQS who is of junior age – Gray is currently ranked 43rd.
Event organizers and surfers will meet tomorrow morning to assess a possible 8:00 am start at Steamer Lane or a 9:00 am start at backup location Waddell Creek – depending on conditions.
For further information, log onto www.aspnorthamerica.org.