Header
Malia Manuel Wins O'Neill Island Girl Junior Pro
August 14, 2006Malia Manuel Wins O'Neill Island Girl Junior Pro, earning a round one slot in 2006 Triple Crown contest and $ 1,500.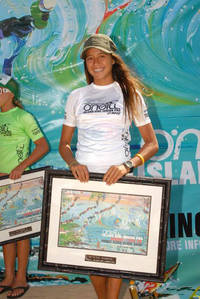 Thirteen-year-old Kauai surfer Malia Manuel won the 2006 Rochelle Ballard O'Neill Island Girl Junior Pro supported by Reef and Nukumoi Surf Co. today at PK's on the south shore of Kauai. Edging out former Pipeline Women's Pro champ, runner-up Alana Blanchard, Malia delivered a series of high-scoring rides with smooth top-to-bottom turns and a number of perfectly executed 360s during the heat on the clean 2- to 3-foot waves.
Besides the $ 1,500 cash prize, Malia wins a slot in the first round of the OP Pro Hawaii at Haleiwa, the first jewel of the prestigious Vans Triple Crown of Surfing. Finalists Alana Blanchard (Kauai), Leila Hurst (Kauai) and Coco Ho (Oahu) also receive slots into the trials for the Roxy Pro, the second jewel of the Triple Crown at Sunset Beach.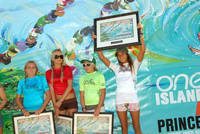 "The idea behind the junior pro and the ASP format is to take these girls to the next level. At the Triple Crown, they'll compete against the world's top female surfers," says Ballard, who was proud to host the event on her home island of Kauai. "The Hawaii girls are totally ripping right now. One day they're going to dominate the world tour."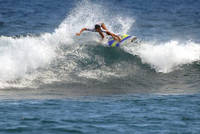 The girls surfed aggressively heat after stacked heat, pulling off manoeuvres and tricks typically seen more during free surf sessions than in competition. "I felt confident after I got a couple, so I just thought I'd go for it," said Malia, adding she was pleased with the 4-man, 20-minute heat format. "This was the best contest I ever surfed, and the only one I've ever surfed for money."
Brennecke's generously donated a luau lunch, and O'Neill, Reef and Nukumoi Surf Co. styled the girls out with goodie bags, T-shirts, stickers and posters.
"O'Neill is really pleased to see this event grow. The girls' surfing speaks for itself—they're pushing the boundaries more and more, and we're glad to provide an opportunity to showcase their talent," says O'Neill Juniors' Sports Marketing Manager Karin Kendrick.
Contest director Nelson Togioka emphasized what a positive event it is for Hawaii surfers. "It's a good self-esteem builder for all the kids, whether they ultimately make it to the pro level or not. It's great for Hawaii, makes us stronger," he said. "All these people—the judges, the helpers—they all came out of the system, and now they give back to the system."
The junior pro followed the 6th Annual Rochelle Ballard O'Neill surf camp. Overnight campers from Kauai, Oahu, Maui and the Big Island enjoyed a full day of fun, from surfing with Rochelle to hip hop lessons and a dance-off.
Taira Barron was the winner of the Rell Sunn Inspiration Award. "I'm honored to have been a part of it all." As a contest surfer and camp counselor, she was able to help advise the younger girls. "The girls learn from each other and the older girls can mentor them, not just surfing-wise, but attitude-wise, cleaning up, helping others."
An expression session featuring Kauai's top boys and special invitee Sena Seramur was held between the semis and finals. Kyle Ramey won 0 for best maneuver, and Aaron Swanson won 0 for best trick, landing an air-360 into a reverse.
APS WCT Tour 2010 Schedule
Mens's Division
Quiksilver Pro Gold Coast
Feb 27-Mar 10, Gold Coast Qld-Australia
Rip Curl Pro Bells
March 30 -April 10, Bells Beach Victoria-Australia
Hang Loose Santa Catarina Pro
April 23-May 2, Santa Catarina Brazil
Billabong Pro J-Bay
Jly 15-25, Jeffreys Bay South Africa
Billabong Pro Teahupoo
Aug 23 - Sept 3, Teahupoo Taiarapu-Tahiti
Hurley Pro Trestles
Sep 12-21, Trestles California-USA
Quiksilver Pro France
Sep 25-Oct 5, South West Coast France
Rip Curl Pro
Oct 7-18, Peniche, Portugal
Rip Curl Pro Search
Oct 30-Nov. 10 - Somewhere?
Billabong Pipeline Masters
Dec 8-20, Banzai Pipeline Oahu-Hawaii
Women's Division
Roxy Pro Gold Coast
Feb 27-Mar 10, Gold Coast, Queensland, Australia
Rip Curl Women's Pro Bells
Mar 30-April 10, Bells Beach Victoria, Australia
TSB Bank Women's Surf Festival
Apr 11-16 Taranaki – New Zealand
Commonwealth Bank Beachly Classic
Apr 21-26, Dee Why,Northern Beaches, NSW-Australia
Movistar Peru Classic presented by Rip Curl
June 8-13, Lobitos-Peru
Rip Curl Pro
Oct 7-11, Peniche-Portugal
Rip Curl Search
Oct 30-Nov 4, Somewhere
Gidget Pro
Nov 24-Dec 6, Sunset Beach Oahu, Hawaii
Billabong Pro Maui
Dec 8-20 Honolua Bay, Maui, Hawaii