Header
Andy Irons wins OP Pro Hawaii and gets a jump on the Vans Triple Crown of Surfing series ratings.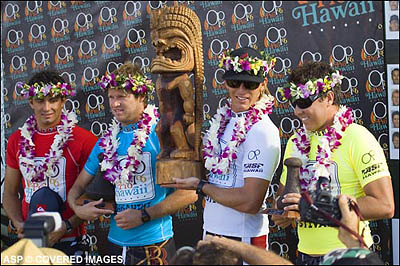 OP Pro Hawaii Winners Picture Credit ASP Tostee
Haleiwa, HAWAII(Tuesday, November 21, 2006)Hawaii's Andy Irons might have been beaten to the world title by Kelly Slater (Florida, USA) last month, but he hasn't wasted a moment dwelling on it. Picking up where he left off at Pipeline last December, Irons was back on the winner's stand today, taking out the Op Pro Hawaii final to get a jump on the Vans Triple Crown of Surfing Series ratings. Tapping back into the competitive fire that has fueled him to three world titles and three Vans Triple Crown of Surfing titles, the year is not over as far as Andy's concerned.
"The Triple Crown has its own niche in pro Surfing It's huge," said Irons. "It's three of the most respected spots in the world and everyone knows who does wellyou hear about it all year. Its an accomplishment in itself. I've followed it since I was eight years old. I live for it. It's something every guy on tour, no matter where they're from, wants to get."
Irons surfed four times to claim the final, even eliminating his own brother in the quarter finals in what became a day of cut-throat competition. With smaller-than-normal Hawaiian winter conditions, four-man heats and a split peak situation called for all competitors to put friendships on the side as they hunted down the bigger and better-scoring rides. Waves ranged from four to seven feet today.
Aware of the diminishing conditions, Irons set to work early in the 35-minute final, setting a tough pace for fellow finalists Taj Burrow (Australia), Joel Centeio (Hawaii), and Mikael Picon (France). It was a couple of early scores of 7.5 and 5.5, each out of a maximum 10 points for a 13 point total, that saw Irons distance himself from the field. The win earned him $15,000. Second-placed Burrow (12.63 points) took home $8,000; Centeio (9.9 points) earned $6,000, and Picon (8.5 points) $4,000.
"It was tough out there," Irons said. "Four-man heats in 20 minutes is so different, it's more of a sprint. It's a totally different strategygetting your scores up quick, staying out of trouble. This is my first WQS (World Qualifying Series) event all year, so it can be kind of weird. But I fought through the WQS to get to the WCT (World Championship Tour) in the first place, so I know how to do it. It just takes a couple of heats to get into the rhythm.
"This is a hard spot. Things go hot and cold. I've lost in my first heat here before. It's definitely a love/hate spot for me. But today I'm loving it."
Picon, a two-time European champion, has been a standout in the event but was running out of gas in the final, losing the higher-scoring rides to his three opponents.
"We all know the best surfers in the world are here for this contest so it was definitely prestigious to make the final," said Picon. "It has given me confidence because I didn't have so many good results on tour this year. Plus the prestige of paddling out with Taj and Andythey are my heroes."
The Vans Triple Crown of Surfing now moves seven miles north to Sunset Beach for stop number twothe men's O'Neill World Cup of Surfing and the women's Roxy Pro Hawaii.
The Op Pro Hawaii was the first stop on the annual Vans Triple Crown of Surfing Series that runs in its entirety from November 12 to December 20, on Oahu's famous North Shore in Hawaii. The Op Pro Hawaii was a 6-star World Qualifying Series event for both men and women, collectively offering $155,000 and critical points towards qualifying for the elite World Championship Tour of 2007. The women's division was won by Peru's Sofia Mulanovich last week. For a complete list of today's results, please go to: www.triplecrownofsurfing.com
APS WCT Tour 2010 Schedule
Mens's Division
Quiksilver Pro Gold Coast
Feb 27-Mar 10, Gold Coast Qld-Australia
Rip Curl Pro Bells
March 30 -April 10, Bells Beach Victoria-Australia
Hang Loose Santa Catarina Pro
April 23-May 2, Santa Catarina Brazil
Billabong Pro J-Bay
Jly 15-25, Jeffreys Bay South Africa
Billabong Pro Teahupoo
Aug 23 - Sept 3, Teahupoo Taiarapu-Tahiti
Hurley Pro Trestles
Sep 12-21, Trestles California-USA
Quiksilver Pro France
Sep 25-Oct 5, South West Coast France
Rip Curl Pro
Oct 7-18, Peniche, Portugal
Rip Curl Pro Search
Oct 30-Nov. 10 - Somewhere?
Billabong Pipeline Masters
Dec 8-20, Banzai Pipeline Oahu-Hawaii
Women's Division
Roxy Pro Gold Coast
Feb 27-Mar 10, Gold Coast, Queensland, Australia
Rip Curl Women's Pro Bells
Mar 30-April 10, Bells Beach Victoria, Australia
TSB Bank Women's Surf Festival
Apr 11-16 Taranaki – New Zealand
Commonwealth Bank Beachly Classic
Apr 21-26, Dee Why,Northern Beaches, NSW-Australia
Movistar Peru Classic presented by Rip Curl
June 8-13, Lobitos-Peru
Rip Curl Pro
Oct 7-11, Peniche-Portugal
Rip Curl Search
Oct 30-Nov 4, Somewhere
Gidget Pro
Nov 24-Dec 6, Sunset Beach Oahu, Hawaii
Billabong Pro Maui
Dec 8-20 Honolua Bay, Maui, Hawaii