Header

By Press Release:

WEDNESDAY SEPTEMBER 20, 2005
HOSSEGOR, FRANCE

QUIKSILVER PRO FRANCE (22 SEPTEMBER – 1 OCTOBER)

EVENT #8 ON THE FOSTER'S ASSOCIATION OF SURFING PROFESSIONALS (ASP) MEN'S WORLD TOUR

Live on www.quiksilver.com and www.aspworldtour.com
SLATER EAGER TO MAKE HIS MARK ON QUIKSILVER PRO FRANCE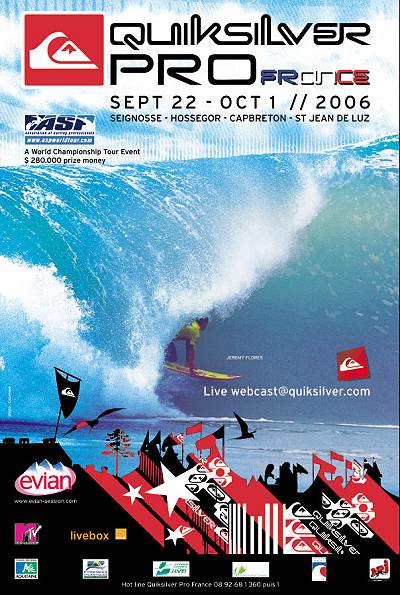 HOSSEGOR, FRANCE: September 20: – With less than six days and two continents separating events on the Foster's ASP Men's World Tour, there is no rest for the wicked as surfers board planes, trains and automobiles to get from San Clemente, California to Hossegor in the south of France to compete in the Quiksilver Pro France beginning on September 22.
The Boost Mobile Pro presented by Hurley was run and won by Australian underdog Bede Durbidge and there are many questions as to whether he can back up his result and become a real force on the 2006 Foster's ASP Men's World Tour.
And while that is a big possibility, the big concern at the moment is whether runner up in the that event held at Trestles (as aforementioned located in Southern California), and seven-time world champion Kelly Slater (USA) will take another win (his third this season) and in turn, put himself in a position where he can easily steal an unprecedented eighth world crown.
Slater, the phenomenon of the last decade and a half, is confident that he can go all the way, but at the same time he is wary that his rivals Taj Burrow (AUS) and three-time world champ Andy Irons (HAW), who sit in second and third on the ratings respectively could come home in front and steal his thunder.
"I'm honestly not too worried about it [the rankings]," said Slater. "I've looked at the points already. I know what the points are and where we stand. Realistically, Taj [Burrow] and I aren't that far apart. One slip up by me, and Taj can jump right past me. If both of us slip up, we can let Andy [Irons] right back in the door."
Slater knows he has to be at his best to take the win, given Irons has a three-year unbeaten record at Hossegor and will be brimming with confidence going into the event.
"France has proven to be Andy's event," said Slater. "Winning three years in a row... For some reason, it's just a contest that suits him pretty well."
On his mindset going into France and the rest of the tour in Mundaka, Spain, Imbituba, Brazil and then Pipeline, Hawaii, Slater is not showing any signs of weakness.
"I feel good," said Slater. "I've just been thinking about the next few events in my head. It's been years since… but I have won in Hossegor before. I've had thirds and I've won Mundaka, and I won Brazil a couple times so it's been a good little stretch for me... so if I can keep that up, by the end of the year I should be in good stead."
Stay tuned to all the action Live on www.quiksilver.com and www.aspworldtour.com
Foster's ASP Men's World Tour ratings going into event #8 Quiksilver Pro France:
1. Kelly Slater 6141
2. Taj Burrow 5558
3. Andy Irons 4965
4. Bobby Martinez 4643
5. Taylor Knox 4470
6. Joel Parkinson 4384
7. Damien Hobgood 4367
8. Mick Fanning 4309
9. Tim Reyes 4175
10. Bede Durbidge 3939