Header

By Press Release:

ASSOCIATION OF SURFING PROFESSIONALS (ASP) INTERNATIONAL

EVENT #8 ON THE 2006 FOSTER'S ASSOCIATION OF SURFING PROFESSIONALS (ASP) MEN'S WORLD TOUR

Quiksilver Pro France presented by Evian
September 22-October 1 2006

See the event LIVE on www.aspworldtour.com or www.quiksilver.com
UGLY CONDITIONS FORCE ANOTHER LAY DAY FOR QUIKSILVER PRO FRANCE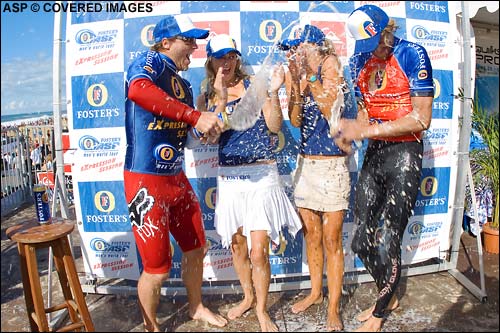 The Fosters Expression Session winners. Toby Martin (left) won best barrel while Luke Stedman (right) claimed best aerial. Photo credit ASP Tostee
HOSSEGOR, France (Monday, September 25, 2006) – The wind is howling onshore here at Hossegor this morning leaving no option but to call another lay day for the Quiksilver Pro France presented by Evian.
The swell, although still showing a little bit of size, is very lumpy and uninviting so organisers will return tomorrow morning (Tuesday Sept 26) at 8am to make another call.
"We always knew that this was going to be one of the worst days in the window," said Contest Director Rod Brooks. "From here on in we should see conditions improve and there's every chance that we could get underway in the next few days."
The massive crowd who turns up every day to witness the event – the eighth of 11 on this year's Foster's ASP Men's World Tour – are eager for round two to hit the water.
There are very few locations on the tour where the atmosphere is equalled.
Tens of thousands flock to the beach each day to get a glimpse of their surfing heroes and are very vocal when the typically deep tubes are ridden.
Enticing the crowd is the round two draw in which there are some very exciting matchups.
The opening heat of the round will include Taj Burrow (AUS) versus local wildcard Joan Duru (FRA).
Burrow, who is currently ranked second on the Foster's ASP Men's World Tour will be hungry for a win in order to keep his hopes of catching ratings leader Kelly Slater (AUS) alive.
Round two heat draw:
HEAT 1: Taj Burrow (AUS) vs Joan Duru (FRA)
HEAT 2: Mick Fanning (AUS) vs Patrick Bevan (FRA)
HEAT 3: Bobby Martinez (USA) vs Jeremy Flores (REU)
HEAT 4: Taylor Knox (USA) vs Tiago Pires (PRT)
HEAT 5: Bede Durbidge (AUS) vs Adrian Buchan (AUS)
HEAT 6: Tom Whitaker (AUS) vs Yuri Sodre (BRA)
HEAT 7: CJ Hobgood (USA) vs Pedro Henrique (BRA)
HEAT 8: Mark Occhilupo (AUS) vs Toby Martin (AUS)
HEAT 9: Shaun Cansdell (AUS) vs Roy Powers (HAW)
HEAT 10: Travis Logie (ZAF) vs Jarrad Howse (AUS)
HEAT 11: Cory Lopez (USA) vs Mikael Picon (FRA)
HEAT 12: Luke Stedman (AUS) vs Marcelo Nunes (BRA)
HEAT 13: Nathan Hedge (AUS) vs Jake Paterson (AUS)
HEAT 14: Chris Ward (USA) vs Mick Lowe (AUS)
HEAT 15: Victor Ribas (BRA) vs Paulo Moura (BRA)
HEAT 16: Darren O'Rafferty (AUS) vs Pancho Sullivan (HAW)

For heat-by-heat reports and athlete quotes both transcribed and for audio download check in news and the media section of both aforementioned sites.