Header

By Press Release:

ASSOCIATION OF SURFING PROFESSIONALS (ASP) INTERNATIONAL

EVENT #8 ON THE 2006 FOSTER'S ASSOCIATION OF SURFING PROFESSIONALS (ASP) MEN'S WORLD TOUR

Quiksilver Pro France presented by Evian
September 22-October 1 2006

See the event LIVE on www.aspworldtour.com or www.quiksilver.com
DURBIDGE TUMBLES OUT OF QUIKSILVER PRO FRANCE ROUND TWO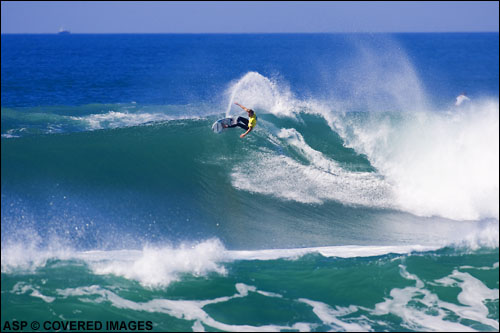 Bede Durbidge Picture Credit ASP Tostee
HOSSEGOR, France (Wednesday, September 27, 2006) – During a day where the conditions were very tricky and tide affected, the winner of the last event on the Foster's ASP Men's World Tour, Bede Durbidge (AUS) was a shock elimination and will take no further part in the Quiksilver Pro France presented by Evian.
The quiet spoken natural foot surfer was knocked out by tour rookie Adrian Buchan (AUS) in a very close affair.
The two were struggling to find big-scoring waves throughout the encounter and were left drifting in the shifty lineup at Les Culs Nus for quite some time.
And while Buchan held the lead Durbidge only needed a small score to come from behind to take the gong.
But his luck from his victory in California ran out today as a huge set of waves washed through the event arena leaving Durbidge without the score he needed to win.
Buchan meanwhile, in only his second event after returning from an ankle injury which sidelined him for over six months, had done enough and he now is anxiously awaiting his next top tour challenge – a third round duel with three-time Quiksilver Pro winner and three-time world champion, Andy Irons (HAW).
"You just have to back yourself," said Buchan. "I'm really looking forward to surfing against him (Irons). You come here to surf against the world's top guys… that's what it's all about."
Buchan also didn't seem too fazed about his lack of time in the water of late showing plenty of confidence and enthusiasm.
"I feel pretty comfortable," said Buchan. "When you're injured you have everything taken away from you. It makes you really appreciate being on the tour and being in France in September is always good!"
Also claiming a major scalp in Bobby Martinez (HAW) was 2007 Foster's ASP Men's World Tour recruit Jeremy Flores (REU).
The youngster is always exciting to watch and last year he turned many heads when he almost took seven-time world champion Kelly Slater (USA) out of the event.
Drawing on the huge crowd support he dug deep to come from behind in the dying seconds to win against Martinez who has been one of 2006's hottest prospects.
It was a hard heat," said Flores. "I can't say it was an exciting heat to watch really, the waves were really difficult. I'm just happy I made it, but I hope that in the next round I get to show more of my surfing, cause I couldn't really show anything out there."
Flores will have a chance to get even with Slater in round three wth the two being matched up yet again and by all indications he is expecting another tough heat where he hopes this time the balance will tip in his favour.
I've surfed against him a few times," said Flores. "I've gone close before, but I'm sure I'm going to have to surf my best to beat him. It's always exciting to surf against him. I felt really confident after I surfed against him the last couple of times."
On qualifying for next year Flores is excited about joining the top ranks, but he will take it all in his stride.
"I'm just learning," said Flores. "I'm still young so I still have a lot of things to learn. We'll see how it happens, but I'm really excited."
Another major upset for the day was that of pint-sized Pedro Henrique's disposal of 2001 world champion CJ Hobgood.
The two surfers went wave for wave when the event was restarted late in the afternoon after a layoff due to the tide becoming too low.
But it was all Henrique today and he cherished the victory he snatched on the last wave of the heat.
"The conditions are a little bit hard because the currents are so strong," said Henrique. But the last wave I rode was perfect. I just had to go and try hard. I just tried really hard to do strong maneuvers. I did my best…"
A good result is desperately needed by Henrique, who is looking to maintain a spot on the sport's elite tour.
"I need the points in this contest and that's a good start," said Henrique. "I just hope the waves stay good for the rest of the contest. I'm so stoked. I just need to maintain focus now for the rest of the events."
Tour veteran Taylor Knox (USA) was another to impress today after he accounted for wildcard Tiago Pires (PRT).
Knox, who began the year in great form, will be looking to stay in touch with the frontrunners by landing a solid result here over the next few days.
Going into the heat against the relatively unknown Pires, Knox indicated although he was wary of his ability he wasn't going to change any part of his game plan.
I wasn't really that nervous," said Knox. "Anything can happen surfing against these guys. Especially with someone like that – he's from Europe and he has a lot of crowd support. He's just a really solid surfer. You just have to stick to the plan."
Conditions are looking promising for the next few days and there is every chance the Quiksilver Pro presented by Evian could be wrapped up by Saturday.
Organisers will assess conditions again at first light and make a call at around 8am local time.
Heat 1: Taj Burrow (AUS) 14.00 def Joan Duru (FRA) 9.50
Heat 2: Mick Fanning (AUS) 13.50 def Patrick Bevan (FRA) 5.23
Heat 3: Jeremy Flores (REU) 10.17 def Bobby Martinez (USA) 9.50
Heat 4: Taylor Knox (USA) 15.33 def Tiago Pires (PRT) 13.26
Heat 5: Adrian Buchan (AUS) 10.67 def Bede Durbidge (AUS) 10.33
Heat 6: Tom Whitaker (AUS) 10.34 def Yuri Sodre (BRA) 5.33
Heat 7: Pedro Henrique (BRA) 16.17 def CJ Hobgood (USA) 12.43
Heat 8: Mark Occhilupo (AUS) 15.67 def Toby Martin (AUS) 13.90
Heat 9: Roy Powers (HAW) 10.84 def Shaun Cansdell (AUS) 9.50
Heat 10: Travis Logie (ZAF) 15.35 def Jarrad Howse (AUS) 7.00
Heat 11: Cory Lopez (USA) 12.34 def Mikael Picon (FRA) 12.03
For heat-by-heat reports and athlete quotes both transcribed and for audio download check in news and the media section of both aforementioned sites.