Header

By Press Release

ASSOCIATION OF SURFING PROFESSIONALS (ASP) INTERNATIONAL

EVENT #8 ON THE 2006 FOSTER'S ASSOCIATION OF SURFING PROFESSIONALS (ASP) MEN'S WORLD TOUR

Quiksilver Pro France presented by Evian
September 22-October 1 2006
QUIKSILVER PRO FRANCE FINAL DAY UNDERWAY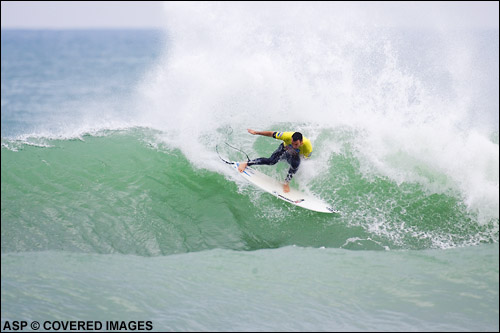 Joel Parkinson Picture credit ASP Tostee
HOSSEGOR, France (Saturday, September 30, 2006) – Click on the LIVE button of www.quiksilver.com now as round four of the Quiksilver Pro France presented by Evian will hit the water at first light this morning at Les Culs Nus, Hossegor, France.
It is hoped, conditions permitting, that the event will also actually wrap up later this evening with the final hitting the water around 5pm local time.
Conditions this morning are very similar to yesterday with a small swell hitting a sandbank serving up one metre (three foot) peaks.
The first heat of the day will contain Roy Powers (HAW) up against Danny Wills (AUS).
Stay tuned to www.aspworldtour.com and www.quiksilver.com for all the LIVE action.
Round four heat draw: (1st to the quarter finals; 2nd receives equal 9th placing)
Heat 1: Roy Powers (HAW) vs Danny Wills (AUS)
Heat 2: Bruce Irons (HAW) vs Mick Fanning (AUS)
Heat 3: Jake Paterson (AUS) vs Mick Lowe (AUS)
Heat 4: Travis Logie (ZAF) vs Kelly Slater (USA)
Heat 5: Andy Irons (HAW) vs Cory Lopez (USA)
Heat 6: Marcelo Nunes (BRA) vs Tom Whitaker (AUS)
Heat 7: Pedro Henrique (BRA) vs Fred Patacchia (HAW)
Heat 8: Joel Parkinson (AUS) vs Phil Macdonald (AUS)
APS WCT Tour 2010 Schedule
Mens's Division
Quiksilver Pro Gold Coast
Feb 27-Mar 10, Gold Coast Qld-Australia
Rip Curl Pro Bells
March 30 -April 10, Bells Beach Victoria-Australia
Hang Loose Santa Catarina Pro
April 23-May 2, Santa Catarina Brazil
Billabong Pro J-Bay
Jly 15-25, Jeffreys Bay South Africa
Billabong Pro Teahupoo
Aug 23 - Sept 3, Teahupoo Taiarapu-Tahiti
Hurley Pro Trestles
Sep 12-21, Trestles California-USA
Quiksilver Pro France
Sep 25-Oct 5, South West Coast France
Rip Curl Pro
Oct 7-18, Peniche, Portugal
Rip Curl Pro Search
Oct 30-Nov. 10 - Somewhere?
Billabong Pipeline Masters
Dec 8-20, Banzai Pipeline Oahu-Hawaii
Women's Division
Roxy Pro Gold Coast
Feb 27-Mar 10, Gold Coast, Queensland, Australia
Rip Curl Women's Pro Bells
Mar 30-April 10, Bells Beach Victoria, Australia
TSB Bank Women's Surf Festival
Apr 11-16 Taranaki – New Zealand
Commonwealth Bank Beachly Classic
Apr 21-26, Dee Why,Northern Beaches, NSW-Australia
Movistar Peru Classic presented by Rip Curl
June 8-13, Lobitos-Peru
Rip Curl Pro
Oct 7-11, Peniche-Portugal
Rip Curl Search
Oct 30-Nov 4, Somewhere
Gidget Pro
Nov 24-Dec 6, Sunset Beach Oahu, Hawaii
Billabong Pro Maui
Dec 8-20 Honolua Bay, Maui, Hawaii