Header

Back to Rip Curl Pro Bells Beach Index...

Thursday 20 April, 2006
Bells Beach, Victoria, Australia

RIP CURL PRO SURF AND MUSIC FESTIVAL
(11 April to 21 April)

EVENT #2 ON THE 2006 FOSTER'S ASSOCIATION OF SURFING PROFESSIONALS (ASP) MEN'S WORLD TOUR

Live on www.aspworldtour.com and www.ripcurl.com
SLATER RINGS THE RIP CURL PRO BELL IN 2006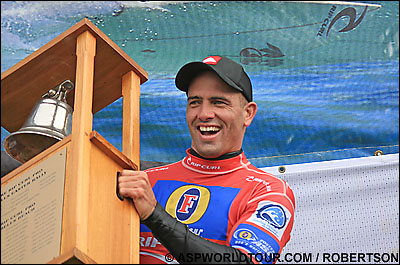 Kelly Slater Picture credit: ASP Robertson
In what has been called one of the best finishes to a pro surfing event ever, the Rip Curl Pro has been won by Kelly Slater (USA). Check out the Video. They are Ripping!
Defeating Joel Parkinson (AUS) in amazing three metre (eight to 10 feet) freight training waves at Bells Beach, Australia, it was the first time he has scored a victory at the event since 1994.
Slater showed his true class peaking just at the right time in the final.
"It's been years and years since I've had a good result here and it has been a little frustrating for me," said Slater. "But this year I stuck to my game plan and just worked with everything and relaxed.
"Luckily we had good surf for the event and I tend to do a lot better when it's big here rather than when its small," Slater continued. "I really went for it on that 9.67 but other than that it was really hard to score big with the wind picking up five to 10 knots or so in the final. It was just an awesome day and for sure the best day I've ever had at Bells in my lifetime."
Slater also achieved a few extra milestones in winning the event equalling Tom Curren's (USA) record for having won 33 Foster's ASP Men's World Tour events, the most in pro surfing history.
"I didn't think of it until after I got out of the water, but I tied Tom Curren's 33 event wins now," said Slater. "I'm just happy with that and to do it at Bells Beach is ironic since this is where Curren won his first title – he's just always been my hero so I'd like to dedicate this win to Tom."
As far as finishing the rest of the tour goes Slater did not give an indication regarding his thoughts either way.
"In a way [it makes sense to have a real dig at the world title this year] but it might also be fun not to…"
It was also the first time he has defeated Parkinson in a man on man heat on the Foster's ASP Men's World Tour.
Parkinson who had to surf four times today and had to hold off some strong challenges from Mick Fanning (AUS) in the quarter finals and then Mark Occhilupo (AUS) in the semi finals, admitted that he was "burnt out" come final time and couldn't find his best form.
Slater, however threw his all into the final notching up that 9.67 on a sizeable wave after he executed some scintillating top turns that threw loads of spray into the sky.
>From there Parkinson was on the back foot looking for a clean wall that would enable him to take it to the eventual champion.
A few passed by but it was evident that Parkinson had fallen victim to fatigue and the cold and could not get into the correct position to catch them.
"It was a hard final," said Parkinson. "The tide was starting to get to it and it was really about choice of waves. I started getting cramps yet I kept saying to myself, 'If that wave comes I'm going to give it 100 per cent,' but it never really came, so I sat there and let the time tick.
"It's really punishing on the body. Just when you finish the wave at Bells, you have to deal with the shore break on the paddle out… there's no let-up. Very rarely do you get out clean without having to make a few duck dives or taking a few on the head, so it definitely takes it out of you."
Parkinson is now sitting in number three on the ratings and will take the confidence from the finish here into the next event with the hope gaining a victory.
Finishing in third place and gaining his best career result to date was Luke Stedman (AUS) who was ousted by Slater in the first semi final.
Surfing with newfound confidence, Stedman was solid in his performance and had Slater on the ropes for part of the semi leaving him needing a big score to catch him.
Stedman took off on a solid wave that could have closed the door on Slater but faltered on a big turn. That mistake in turn gave Slater a clear passage into the final, but Stedman will use the experience as a learning curve for next time.
"Kelly is both a great surfer and great competitor and I really enjoyed surfing against him," said Stedman. "I'm sure he attacks each heat the same way I do. You're out there to get the best waves no matter what and that's all it takes to win semi finals. I've never been this far in an event before so it was a really good experience. I know how to tackle it next time and I'll go into it with a bit more aggression from the word go."
Now sitting in number 11 on the Foster's ASP Men's World Tour ratings Stedman is in the best position of his career and he now realises that a win is certainly not out of his grasp.
"I'm now in a great spot on the ratings and I'm going to get the sheet and show everyone [laughs]. It's given me confidence now as I know a win is achievable," said Stedman. "The intimidation is going now and I know what it takes to win heats. I used to look at the draw and go, 'wow Kelly Slater, Andy Irons' but now I feel much more confident. I'm just going to train and surf and get myself into a mental state so I can have consistency for the rest of year."
Also finishing equal third was the "Raging Bull" Mark Occhilupo (AUS) who at 40 years of age is surfing better than when he won the event in 1998.
His earlier event match-up with Andy Irons (HAW) in the quarterfinals has been claimed as being one of the best heats of all time.
Occhilupo was obviously disappointed in not going all the way, given he was so close to a shot at ringing the bell, but commented that he is still eager to compete in this event even if he decides to retire at the end of the 2006 season of the Foster's ASP Men's World Tour.
"I was a bit disappointed because I was having some problems with my equipment out there," said Occhilupo. "But I've really enjoyed surfing out here today and I reckon it won't be the last time I come back to Bells for this event. It was a great result for me at this stage of my career."
Occhilupo was clearly the sentimental favourite of the Rip Curl Pro and huge cheers went up every time he paddled for a wave.
He even took out the Ford Ute Wave Of The Event Award for his efforts in the quarterfinal and claimed an extra $AUS1,000 for his troubles.
When he left the water after his semi he was mobbed by all and sundry as they tried to get close to their hero.
"The support from the crowd here today has been amazing," said Occhilupo. "They've been behind me all the way and I'm also a little disappointed I couldn't give them something back. I love coming here… I'd like to congratulate Kelly and Joel and thank all the crowd for coming down here today."
All eyes will now turn to the next event on the Foster's ASP Men's World Tour, The Billabong Pro which kicks off in two weeks time in Tahiti.

Results:
Quarter Finals
Heat 1: Luke Stedman (AUS) 14.67 def Shaun Cansdell (AUS) 14.23
Heat 2: Kelly Slater (USA) 18.40 def Bede Durbidge (AUS) 12.57
Heat 3: Mark Occhilupo (AUS) 18.83 def Andy Irons (HAW) 11.77
Heat 4: Joel Parkinson (AUS) 17.00 def Mick Fanning (AUS) 16.40
Semi Finals
Heat 1: Slater 14.44 def Stedman 12.93
Heat 2: Parkinson 15.34 def Occhilupo 14.83
Final
Slater 15.44 def Parkinson 13.83
Ratings after event #2 on the Foster's ASP Men's World Tour:
1. Kelly Slater (USA)
2. Taj Burrow (AUS)
3. Joel Parkinson (AUS)
4. Bobby Martinez (USA)
5. Andy Irons (HAW)
6. Taylor Knox (USA)
7. Greg Emslie (ZAF)
7. Pancho Sullivan (HAW)
9. Mick Fanning (AUS)
9. Damien Hobgood (USA)

For the full ratings rundown and Rip Curl Pro results go to www.aspworldtour.com