Header

By Press Release:

ASSOCIATION OF SURFING PROFESSIONALS (ASP) INTERNATIONAL

Rip Curl Pro Mademoiselle
Event No. 5 on the ASP Women's World Tour Les Estagnots, Seignosse, France Aug. 31-Sept. 5, 2006

www.aspworldtour.com and www.ripcurl.com
GEORGESON AND REDMAN-CARR RELEGATED TO ROUND TWO IN THE RIP CURL PRO MADEMOISELLE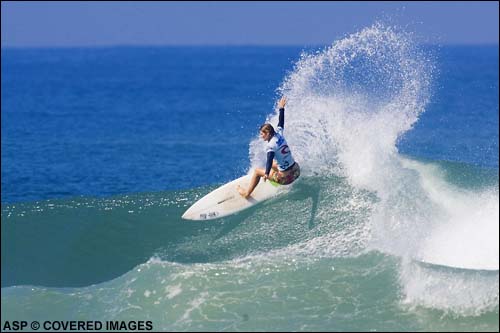 SEIGNOSSE, France (Friday, Sept. 1, 2006) – World No. 2 Melanie Redman-Carr (AUS) and world No. 3 Chelsea Georgeson (AUS) will surf the event's first elimination round when the Rip Curl Pro Mademoiselle reconvenes at Seignosse. Both surfers finished third in their Round 1 heats at Les Estagnots today.
Early morning conditions were perfect; a building four-foot swell and offshore winds were a welcome sight for the ASP Women's World Tour surfers who had to surf the often closed-out waves of Brazil last week. Unfortunately for Redman-Carr, the wind whipped onshore right before her heat and she was unable to advance over Brazil's Silvana Lima and French wildcard Pauline Ado.
Ado, who is the current ASP Europe champion was pleased to advance straight to round three: "I'm just very happy because they are the best girls in this contest. I got some good waves today and I hope I can continue to do well in the rest of my heats."
Only surfers who finish third in Round 1 have to surf Round 2 – two three woman heats in which the third place surfer is eliminated. Round 1 first and second place finishers automatically move to Round 3.
Redman-Carr, who won the first three events of the year, was forced to surf Round 2 in Brazil last week as well. She lost her heat, finished equal 17th and relinquished her ratings lead to Layne Beachley (AUS).
Georgeson, who is surfing on borrowed boards because her boards were lost in transit from Brazil, will join Redman-Carr in the unenviable Round 2 club. Both surfers are in jeopardy of hindering their world title campaigns should they fail to advance to Round 3.
Only one surfer has won each of her Round 1 heats to advance directly to Round 3 this year. That surfer is Jessi Miley-Dyer, who with a runner-up finish in Brazil, now sits fourth on the ratings. Miley-Dyer beat Jacquline Silva (BRA) and Georgeson today.
"I really don't want to be surfing in that second roundmore than anything," Miley-Dyer said. "I've had good Round 1 heats all year and have been kind of lucky. For this one I was just happy to get one good wave and get through. I'm stoked."
Also winning her heat today was former world champion Sofia Mulanovich (PER). Mulanovich, who was leading the ratings this time last year, sits equal 8th at present. Surfing in one of the early morning heats while the wind was still offshore, the Peruvian posted the day's highest heat total of a 15.75 out of a possible 20. She was stoked with the conditions after surfing in less desirable conditions last week.
"It feels good to surf here because there is more time to go down to the bottom and turn it hard off the top," Mulanovich said. "I'm pretty happy. Everytime I say I'm feeling good though I lose my next heat so I'm not even going to say it anymore! I'm just happy to have made it through."
Indications are strong that Rounds 2 and 3 will run tomorrow, Saturday, Sept. 2, 2006.

Round One Rip Curl Pro Mademoiselle Results: 1st and 2nd advance; 3rd surfs Round Two
Heat 1: Rebecca Woods (AUS) 7.75, Claire Bevilacqua (AUS) 5.50, Trudy Todd (AUS) 1.75
Heat 2: Sofia Mulanovich (PER) 15.75, Julia Christian (USA) 11.25, Heather Clark (ZAF) 9.65
Heat 3: Silvana Lima (BRA) 11.75, Pauline Ado (FRA) 11.50, Melanie Redman-Carr (AUS) 10.30
Heat 4: Keala Kennelly (HAW) 11.40, Layne Beachley (AUS) 11.35, Serena Brooke (AUS) 9.75
Heat 5: Jessi Miley-Dyer (AUS) 12.50, Jacqueline Silva (BRA) 9.00, Chelsea Georgeson (AUS) 8.00
Heat 6: Samantha Cornish (AUS) 8.85, Megan Abubo (HAW) 7.55, Rochelle Ballard (HAW) 6.50
MEDIA INFORMATION
Visit the media center on www.aspworldtour.com for images, surfer quotes, archived press releases and athlete profiles. Downloadable audio clips and TV news feed information also available there.
APS WCT Tour 2010 Schedule
Mens's Division
Quiksilver Pro Gold Coast
Feb 27-Mar 10, Gold Coast Qld-Australia
Rip Curl Pro Bells
March 30 -April 10, Bells Beach Victoria-Australia
Hang Loose Santa Catarina Pro
April 23-May 2, Santa Catarina Brazil
Billabong Pro J-Bay
Jly 15-25, Jeffreys Bay South Africa
Billabong Pro Teahupoo
Aug 23 - Sept 3, Teahupoo Taiarapu-Tahiti
Hurley Pro Trestles
Sep 12-21, Trestles California-USA
Quiksilver Pro France
Sep 25-Oct 5, South West Coast France
Rip Curl Pro
Oct 7-18, Peniche, Portugal
Rip Curl Pro Search
Oct 30-Nov. 10 - Somewhere?
Billabong Pipeline Masters
Dec 8-20, Banzai Pipeline Oahu-Hawaii
Women's Division
Roxy Pro Gold Coast
Feb 27-Mar 10, Gold Coast, Queensland, Australia
Rip Curl Women's Pro Bells
Mar 30-April 10, Bells Beach Victoria, Australia
TSB Bank Women's Surf Festival
Apr 11-16 Taranaki – New Zealand
Commonwealth Bank Beachly Classic
Apr 21-26, Dee Why,Northern Beaches, NSW-Australia
Movistar Peru Classic presented by Rip Curl
June 8-13, Lobitos-Peru
Rip Curl Pro
Oct 7-11, Peniche-Portugal
Rip Curl Search
Oct 30-Nov 4, Somewhere
Gidget Pro
Nov 24-Dec 6, Sunset Beach Oahu, Hawaii
Billabong Pro Maui
Dec 8-20 Honolua Bay, Maui, Hawaii