Header

Friday 23 June, 2006
Huatulco, Mexico

RIP CURL PRO SEARCH WCT
(20 June to 1 July)

EVENT #5 ON THE 2006 FOSTER'S ASSOCIATION OF SURFING PROFESSIONALS (ASP) MEN'S WORLD TOUR

Live on www.aspworldtour.com and www.ripcurl.com/searchwct
ANDY IRONS WINS RIP CURL PRO SEARCH WCT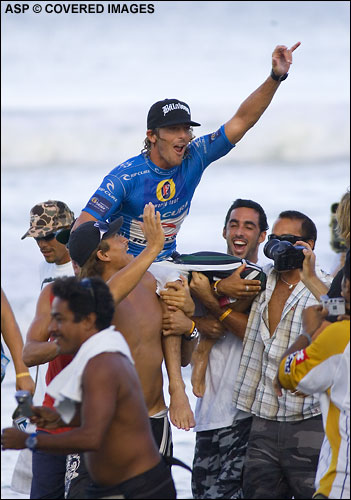 Andy Irons Picture credit ASP Tostee

Former Three-Time World Champ Now In Box Seat To Challenge Slater For World Crown
In a fantastic finish to a simply amazing event Andy Irons (HAW) has won the Rip Curl Pro Search WCT held "somewhere in Mexico" in incredible one to two metre (three to six feet) waves.
Held at the long and hollow wave known only as La Jolla, Irons was the form surfer of the day and was a well-deserved winner.
With the wind coming up slightly for the final of the fifth event on the Foster's ASP Men's World Tour, the focus shifted to big turns rather than big barrels and Irons stepped up to the task.
After a slow start for waves the two competitors were sitting for a while before a set pushed through.
Taylor Knox struck the first blow with a series of searing turns and locked in an 8.0.
Then Irons struck back with a massive air, which saw him launch approximately three feet off the top of the wave.
>From there on it was all Irons as he went to town on another solid wave to score a 7.93 and seal the win.
Right from round one Irons was showing the form that has earned him three world championship titles and is now back in serious contention for yet another Foster's ASP Men's World Tour title this year.
"I feel great!" said Irons. "Just being in the final is amazing. I make a point of trying to make a few finals a year and to actually get a win is even better. Taylor is a good friend of mine, it's a great wave and we've had such a good time here this week so this is a perfect ending. I couldn't have written it any better."
Speaking about his amazing return to the podium, Irons indicated he is eager to go on with the job from here.
"That's it, game on!" said Irons. "The momentum has begun and I know I need to capitalize on this win and carry it on into Jeffreys Bay at the next event and hopefully throughout the rest of the year."
Irons is now back in the position he finished in last year, second behind Kelly Slater (USA).
Runner-up Knox is in the best form of his 13-year top tour career, and with the second place finish he now sits in equal fourth place on the ratings.
He has adopted a much more relaxed approach to competitive surfing in 2006 and his improvement has been out of sight.
He was full of praise for his finals counterpart but felt he may have been able to perform a little better if his equipment was up to the task and he hadn't given Irons a wave in the heat that he should have rode.
"Andy surfed really well and he actually surfed really well all week," said Knox. "I felt like I could have won as well, but I gave him a good wave. I rode a broken board in every heat and since they are broken they are a little a heavier than I would have liked, so I was just lucky to get to this point."
Speaking on his rating he was very pleased with how the year is panning out.
"This year is coming along really nicely," said Knox. "This is the best start I've ever had because I really haven't been thinking too much about it. I've been having a lot fun on the road and at home and really not getting ahead of myself."
Finishing in equal third place was the ever-popular Taj Burrow (AUS) who narrowly went down to Knox in an extremely close affair. Burrow, along with Knox, now sits equal fourth on the ratings.
With the lead swapping and changing throughout the semi, Taj threw everything he could into his waves but failed to link together enough turns on sufficient waves to close the door on Knox, plus he fell on what was probably the best wave of the heat.
"It was good for turns out there," said Burrow. "But on my best wave I hit a big bump and it turned me into this walled-out floater, and I sacked it (fell). That was a really good wave and I was pretty upset that I blew it."
Desperate for a win so as to keep his title hopes alive, Burrow was obviously upset not to make it through to the final.
"It was just one of those things. I'm pretty devastated, but a semifinal placing isn't too bad," said Burrow. "I was pretty excited to go a little further obviously, but I'll take it. It's definitely a result to keep, but if you're gunning for the world title, you have to get a lot of finals berths. That's what I was aiming for."
Also finishing in equal third was an ecstatic Tim Reyes (USA) who throughout the event had been one of the standouts, notching up the highest total score of the event – a 19.60 in round three.
The diminutive youngster has equalled his career best result – he finished in equal third in Jeffreys Bay last year.
"To get third is really good at this level," said Reyes. "I felt like I was surfing pretty good and right now, it's kind of like a dream that I'm placing in the top 10 after this event. I thought I'd be there, but never thought I'd be there. Hopefully I could be top five or even top three by the end of the year.
Despite going out of the event in the quarterfinals Kelly Slater (USA) maintains his number one ranking.
His battle with his good friend Knox in that heat saw him make many uncharacteristic mistakes, in that he fell on quite a few occasions after maneuvers that weren't as critical as what is normal for him.
"I made a wave selection error that gave Taylor priority and that was the heat pretty much," said Slater. "But I'm stoked for Taylor. He's really on a roll and it's great to see him get such a good result."
Regarding the nature of Rip Curl's floating license which allows them to shift the event from year to year to new locations and the success of this extravaganza here "somewhere in Mexico" he was full of praise.
"I have always thought that the tour needed something like this," said Slater. "This event has been great. This is one of the best waves in the world and the whole thing was great for surfing and great for the tour."
While the Foster's ASP Men's World Tour will now shift its focus to the next event, the Billabong Pro at Jeffreys Bay, South Africa there is already banter about next year's location.
It will certainly be hard to top this year's Search and many of the competitors are eager to return to Mexico next year.
In the meantime Rip Curl will begin to hunt for the next Search destination.
FOSTER'S ASP MEN'S WORLD TOUR RATINGS AFTER EVENT #5 RIP CURL PRO SEARCH MEXICO
1. Kelly Slater (USA) 4233 points
2. Andy Irons (HAW) 4140 points
3. Bobby Martinez (USA) 40008 points
4. Taj Burrow (AUS) 3650 points
4. Taylor Knox (USA) 3650 points
6. Damien Hobgood (USA) 3542 points
7. Joel Parkinson (AUS) 3052 points
8. CJ Hobgood (USA) 2896 points
9. Bruce Irons (HAW) 2884 points
FINAL: Andy Irons (HAW) 16.86 def. Taylor Knox (USA) 11.33
SEMIFINAL ONE: Taylor Knox (USA) 15.00 def. Taj Burrow (AUS) 11.50
SEMIFINAL TWO: Andy Irons (HAW) 17.20 def. Timmy Reyes (USA) 11.33
QUARTERFINAL ONE: Taj Burrow (AUS) 15.17 def. Bede Durbidge (AUS) 13.83
QUARTERFINAL TWO: Taylor Knox (USA) 15.50 def. Kelly Slater (USA) 11.67
QUARTERFINAL THREE: Andy Irons (HAW) 18.10 def. Bruce Irons (HAW) 8.00
QUARTERFINAL FOUR: Timmy Reyes (USA) 12.53 def. Dean Morrison (AUS) 11.33
For heat by heat rundowns visit the news section on www.ripcurl.com/searchwct or www.aspworldtour.com and for athlete quotes and audio downloads visit the media centers on either site.