Header

Back to Roxy Pro Fiji Index...

Thursday 27 April, 2006

Tavarua & Namotu Islands, Fiji


ROXY PRO

(Competition window: 23 April to 28 April)

EVENT #2 ON THE 2006 ASSOCIATION OF SURFING PROFESSIONALS (ASP) WOMEN'S WORLD TOUR
News, results and images on www.aspworldtour.com/roxyprofiji
REDMAN-CARR POSTS BACK-TO-BACK ROXY PRO WINS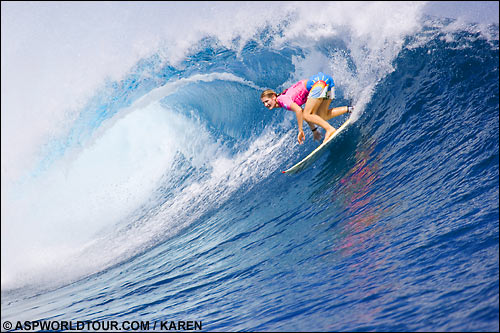 Melanie Redmann-Carr Picture credit: ASP Karen
In a déjà vu victory over six-time world champion Layne Beachley (AUS), Melanie Redman-Carr (AUS) has claimed her second title on the 2006 Association of Surfing Professionals (ASP) Women's World Tour calendar, the US$78,300 Roxy Pro in Fiji.
Redman-Carr, 30, first triumphed over Beachley, 33, in the Roxy Pro final on Australia's Gold Coast last month. Her second win was in perfect six to ten foot (two to three metre) conditions at Fiji's Cloudbreak Reef today. Several tour surfers said today was the best day in women's professional surfing ever.
"Everything is transpiring in my favor, I'm really pleased," Redman-Carr said. "Layne should have wanted to kill me after last time, but maybe she was tired. She surfed four heats today so I may have had the advantage having only surfed three times."
Asked about a world title, Redman-Carr said: "This could be the year, it's certainly possible. There's great waves on tour now and I'm looking forward to all of the new events."
Interestingly, both the ASP Women's World Tour and the Foster's ASP Men's tour have crowned repeat winners for the first two events of the year; seven-time world champion Kelly Slater's victories on the Gold Coast and Bells Beach have now been mirrored in Redman-Carr's Roxy Pro wins.
Beachley, who also lost last year's Roxy Pro final in Fiji to Sofia Mulanovich (PER), was disappointed: "It's so frustrating! You work so hard to get to a final, so to lose is really hard. I'm thrilled I made it to the final, but at the same time I'm really disappointed with the performance I put on out there," Beachley said.
"Mel was just on fire. Full credit to her, she's been the most consistent performer over the two events and that's why she's won them. There's every opportunity that Mel could be world champion at the end of the year, but I'll be doing everything in my power to stop her."
Beachley stopped reigning world champion Chelsea Georgeson (AUS) in the semi-finals to advance through to the final.
Georgeson said she found the conditions during her semi-final difficult: "The onshore wind that came up during the semis was putting a lot of bump on the face of the wave and when you're on your frontside it makes it really hard to get under the lip. I know that when I surf a bumpy wave I prefer to be on my backhand like Layne was, but she surfed a really good heat and has a lot of experience out here and deserved to be in the final."
The talented new crop of female surfers have now been officially put on notice that the veterans, who have 25 years of tour experience between them, have enjoyed back-to-back final berths.
"It's pretty crazy, they probably saw the headlines in Australia – 'Two Old Birds Have their Day' – or something, and it fired them up, it's pretty cool," Georgeson said. "These girls have been on tour for twice as long as some of us so they have a lot of experience but, on the other hand, the younger girls are fired up, we're fresh on tour, so it just makes it exciting."
Rebecca Woods (AUS), the other Roxy Pro semi-finalist, surfed well throughout the event but could not catch the consistent Redman-Carr.
"Conditions changed dramatically in the hour and a half since I surfed last. It got really bumpy on the face of the wave and you had to choose the right ones and not fall off. The falling off part was a struggle for me in that heat. I kept coming off the top and catching chop and catching rail and that was it," Woods said. "Mel got that 7.0 at the start, and that was the wave of the heat really. I just lost to a better surfer today, Melanie is on fire."
During her quarter-final heat, Redman-Carr got a front row seat to an incredibly entertaining and completely unprecedented jetski incident involving Keala Kennelly (HAW). Surfers are towed back into the lineup by jetski after their rides and Kennelly was on the back of the ski when the motor stalled and they were toppled onto the inside reef.
"Terry Ahue came to grab me with the jetski and I got on, but then the thing cacked out and flipped on the reef with me on the back. Terry flew off and I don't know how I hung onto the sled because we did a full 360 degree el rollo on the reef," Kennelly said.
"We were on dry reef, I couldn't see Terry and the ski was up on a coral head, so I jumped on and started it again and took myself back out. It wasn't going to drive itself and I was still trying to win!"
Rochelle Ballard (HAW) was the unluckiest surfer during the Roxy Pro when she was eliminated by Claire Bevilacqua (AUS) in round three. Ballard, who needed a 4.25 to advance, didn't find the barrel that alluded her during the 30-minute heat until seconds after the hooter.
Emerging from what her peers were touting the best tube they've ever seen ridden at Cloudbreak, the undisputed opinion was that Ballard would have earned a 10-point ride for the critically deep barrel-ride had she performed it during her heat.
The next leg of the ASP Women's World Tour will see the world's best women surfers charging heavy barrels in Teahupoo, Tahiti.
ROXY PRO RESULTS
FINAL: 1st earns US$10,600, 2nd earns US$6,600
FINAL: Melanie Redman-Carr (AUS)14.50 def. Layne Beachley (AUS) 9.50
SEMIFINALS: 1st advances to FINAL, 2nd finishes equal 3rd and earns US$4,850
HEAT 1: Melanie Redman-Carr (AUS) 12.25 def. Rebecca Woods (AUS) 6.95
HEAT 2: Layne Beachley (AUS) 16.25 def. Chelsea Georgeson (AUS) 10.60
QUARTERFINALS: 1st advances to the SEMIFINALS, 2nd finishes equal 5th and earns US$4,100
HEAT 1: Rebecca Woods (AUS) 14.50 def. Sofia Mulanovich (PER) 13.50
HEAT 2: Melanie Redman-Carr (AUS) 16.25 def. Keala Kennelly (HAW) 6.75
HEAT 3: Chelsea Georgeson (AUS) 13.75 Silvana Lima (BRA) 9.50
HEAT 4: Layne Beachley def. Claire Bevilacqua (AUS)
CURRENT ASP WOMEN'S WORLD TOUR RATINGS
1. Melanie Redman-Carr (AUS) 2400 points
2. Layne Beachley (AUS) 1944
3. Chelsea Georgeson (AUS) 1116
3. Rochelle Ballard (HAW) 1116
3. Samantha Cornish (AUS) 1116
3. Rebecca Woods (AUS) 1116
7. Silvana Lima (BRA) 1104
8. Sofia Mulanovich (PER) 912
8. Megan Abubo (HAW) 912
8. Trudy Todd (AUS) 912
8. Keala Kennelly (HAW) 912
8. Claire Bevilacqua (AUS) 912
13. Heather Clark (ZAF) 720
13. Jessi Miley-Dyer (AUS) 720
13. Julia Christian (USA) 720
16. Jacqueline Silva (BRA) 540
17. Serena Brooke (AUS) 360

MEDIA DETAILS
Roxy and ASP will be supplying full media services for TV, print, radio and Internet purposes. Please feel free to contact the media team for individual media requests.