Header

Thursday, 31 August 2006
TWO YEAR FUNDING DEAL FOR ROXY WOMEN'S SURF FESTIVAL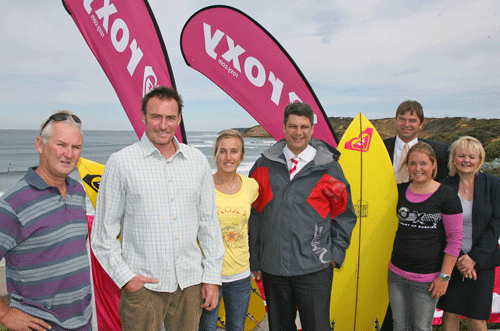 The Roxy Women's Surf Festival at Phillip Island has secured a new two-year deal with the Victorian Government Premier, Steve Bracks, said today.

Mr Bracks said the Roxy Women's Surf Festival is one of the world's largest women's participation surfing events.

"Another day, another major sporting deal secured by the Victorian Government," Mr Bracks said.

"The Roxy Women's Surf Festival attracts over 200 participants and we are pleased to be able to provide further Government support for the 2007 and 2008 events.

"This sponsorship will bolster the event on the women's World Qualifying Series tour schedule, promote participation in the sport and, most importantly, keep it in Victoria."

Mr Bracks said the announcement is another major boost for Phillip Island which could, by rights, be renamed Major Events Island.

"Today's Roxy Women's Surf Festival news follows announcements earlier this month of five year deals to keep the MotoGP and Superbikes at Phillips Island until at least 2011. These events will continue to provide a major economic boost to the region and are extremely important for Victoria.

"Surfing is an important industry for our State with Torquay hosting the Australian headquarters of many surfing brands, including Roxy and Quiksilver.

Attracting and supporting events such as the Roxy Women's Surf Festival provides significant branding and marketing opportunities for Australian surf retailers – an industry contributing around $200 million to the Victorian economy each year.

"We have supported the Roxy Women's Surf Festival since 2003 because it also provides development opportunities for local and junior competitors."

The event incorporates a total of seven divisions, making it the largest of its kind in the world, including:

· A six-star (maximum rating) women's World Qualifying Series division
· A 3A rated professional longboarding division
· A 6A rated pro junior division
· Fields for U/18, U/16 and U/13 year old female surfers

"We increased major events funding by $52 million over four years in the recent budget so we could keep the traditional events we already hold and attract new ones in the future," Mr Bracks said.
APS WCT Tour 2010 Schedule
Mens's Division
Quiksilver Pro Gold Coast
Feb 27-Mar 10, Gold Coast Qld-Australia
Rip Curl Pro Bells
March 30 -April 10, Bells Beach Victoria-Australia
Hang Loose Santa Catarina Pro
April 23-May 2, Santa Catarina Brazil
Billabong Pro J-Bay
Jly 15-25, Jeffreys Bay South Africa
Billabong Pro Teahupoo
Aug 23 - Sept 3, Teahupoo Taiarapu-Tahiti
Hurley Pro Trestles
Sep 12-21, Trestles California-USA
Quiksilver Pro France
Sep 25-Oct 5, South West Coast France
Rip Curl Pro
Oct 7-18, Peniche, Portugal
Rip Curl Pro Search
Oct 30-Nov. 10 - Somewhere?
Billabong Pipeline Masters
Dec 8-20, Banzai Pipeline Oahu-Hawaii
Women's Division
Roxy Pro Gold Coast
Feb 27-Mar 10, Gold Coast, Queensland, Australia
Rip Curl Women's Pro Bells
Mar 30-April 10, Bells Beach Victoria, Australia
TSB Bank Women's Surf Festival
Apr 11-16 Taranaki – New Zealand
Commonwealth Bank Beachly Classic
Apr 21-26, Dee Why,Northern Beaches, NSW-Australia
Movistar Peru Classic presented by Rip Curl
June 8-13, Lobitos-Peru
Rip Curl Pro
Oct 7-11, Peniche-Portugal
Rip Curl Search
Oct 30-Nov 4, Somewhere
Gidget Pro
Nov 24-Dec 6, Sunset Beach Oahu, Hawaii
Billabong Pro Maui
Dec 8-20 Honolua Bay, Maui, Hawaii