Header
Honda U.S. Open of Surfing Presented by O'Neill Returns to Surf City, USA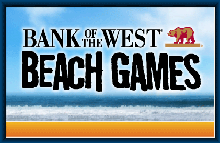 HUNTINGTON BEACH, Calif. – The massively popular Bank of the West Beach Games, with nearly 500,000 spectators and more than 500 world-class athletes, returns this July 24 to 30 to the Huntington Beach Pier. Sprawled across 12 oceanfront acres, north and south of Surf City USA's famed landmark, the "Bank of the West Beach Games Featuring the Honda U.S. Open of Surfing Presented by O'Neill" is California's quintessential action sport and lifestyle festival.

Anchored by the world's largest professional surfing competition, the Honda U.S. Open of Surfing, the Beach Games also features skateboarding, BMX, FMX and beach volleyball competitions. All of the action will be accessible live on www.bankofthewestbeachgames.com.

"We are especially pleased to sponsor the Bank of the West Beach Games for a third year, hosting 400,000 Southern Californians or more for a week of excitement," said Steve Glenn, Bank of the West Vice Chairman.

The $185,000 Honda U.S. Open of Surfing presented by O'Neill continues to set the worldwide standard for competitive surfing, boasting North America's only six-star World Qualifying Series (WQS)-rated men's and women's events which are critical to the hopes and dreams of Americans desiring to reach the elite World Tour. The Target Women's Junior Pro (ages 19 and under) and the Men's Lost Pro Junior provide clear platforms to the WQS while the O'Neill U.S. Open of Longboarding provides the best of two world's; stylish '60s surfing and modern high-performance maneuvers.

Freestyle Moto-Cross (FMX) fuels the Bank of the West Beach Games for the third consecutive year, electrifying crowds with daredevil double-seat grabs, cliffhangers and gravity-defying backflips. A custom-built course, within a stones throw of the Pacific Ocean, allows spectators to be within a few feet of top FMX stars, which may include Brian Deegan, Jeff Tilton, Mike Mason, Myles Richmond and more.

A slew of BMX superheroes and skateboard stars battle in The Bank of the West Soul Bowl, a unique action sports competition apparatus that combines the core or "soulful" elements and history of pool riding with the freestyle and modern attributes of half-pipe competition. Skaters and bikers drop into the 13 foot deep kidney-shaped "pool" and vie for $50,000 in prize money. Prior competitors include Brian Patch, Tony Magnusson, Cara-Beth Burnside, Mat "Condor" Hoffman, Dennis McCoy and Kevin Robinson.

The Bank of the West Beach Games also welcomes the second annual Kiraly Invitational, a six-team, four-person beach volleyball competition. Top male and female beach volleyball players from throughout California will be representing a designated city beach location along the California coastline to benefit the Keep California Beautiful organization.

Thousands of spectators will also enjoy the Bank of the West Beach Games' interactive festival featuring the TransWorld Rock City, Teen Vogue Fashion Live! and the Beach Games Concert Stage. More than 80 exhibits, athlete autograph signings, dance contests, DJs, live music, guest emcees and prize giveaways are among the myriad activities.

"The Beach Games have become a fixture in the Southern California cultural landscape and a staple in the action sports and surf industries," says James Leitz of IMG, Executive Producer of the Games. "IMG is proud that together with so many great athletes, our sponsor partners and the City of Huntington Beach, we can continue to bring this lifestyle happening to a broad audience year in and year out."

The Beach Games will be captured in three original one-hour programs that will air on the Outdoor Life Network (OLN) in September 2006. The Games will also be showcased in a one-hour "Best Of..." program that will air on Fox Sports Net also in September.

All events during the 2006 Bank of the West Beach Games are open to the public, free of charge. The early rounds of surfing begin on Friday, July 21 and run through Sunday, July 30. Festival activities, BMX and skate competitions begin on Thursday, July 27 with FMX starting on Friday, July 28. More extensive consumer information is available at www.bankofthewestbeachgames.com.


APS WCT Tour 2010 Schedule
Mens's Division
Quiksilver Pro Gold Coast
Feb 27-Mar 10, Gold Coast Qld-Australia
Rip Curl Pro Bells
March 30 -April 10, Bells Beach Victoria-Australia
Hang Loose Santa Catarina Pro
April 23-May 2, Santa Catarina Brazil
Billabong Pro J-Bay
Jly 15-25, Jeffreys Bay South Africa
Billabong Pro Teahupoo
Aug 23 - Sept 3, Teahupoo Taiarapu-Tahiti
Hurley Pro Trestles
Sep 12-21, Trestles California-USA
Quiksilver Pro France
Sep 25-Oct 5, South West Coast France
Rip Curl Pro
Oct 7-18, Peniche, Portugal
Rip Curl Pro Search
Oct 30-Nov. 10 - Somewhere?
Billabong Pipeline Masters
Dec 8-20, Banzai Pipeline Oahu-Hawaii
Women's Division
Roxy Pro Gold Coast
Feb 27-Mar 10, Gold Coast, Queensland, Australia
Rip Curl Women's Pro Bells
Mar 30-April 10, Bells Beach Victoria, Australia
TSB Bank Women's Surf Festival
Apr 11-16 Taranaki – New Zealand
Commonwealth Bank Beachly Classic
Apr 21-26, Dee Why,Northern Beaches, NSW-Australia
Movistar Peru Classic presented by Rip Curl
June 8-13, Lobitos-Peru
Rip Curl Pro
Oct 7-11, Peniche-Portugal
Rip Curl Search
Oct 30-Nov 4, Somewhere
Gidget Pro
Nov 24-Dec 6, Sunset Beach Oahu, Hawaii
Billabong Pro Maui
Dec 8-20 Honolua Bay, Maui, Hawaii