Header

By Press Release

ASSOCIATION OF SURFING PROFESSIONALS (ASP) NORTH AMERICA

HONDA MEN'S U.S. OPEN OF SURFINGASP WQS SIX-STAR
Huntington Beach, CA
July 21-30, 2006
MAIN EVENT KICKS OFF IN GREAT CONDITIONS AT DAY ONE OF THE U.S. OPEN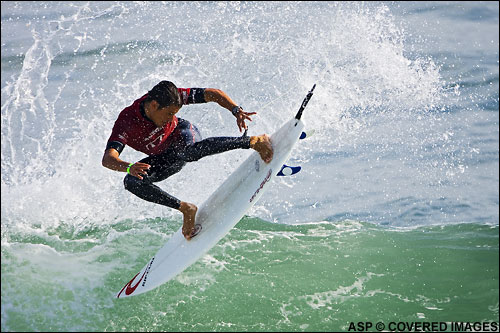 Jean Da Silva Picture credit ASP Tostee
HUNTINGTON BEACH, Calif. (Monday, July 25, 2006) – The Men's Honda U.S. Open of Surfing presented by O'Neill commenced this morning with round one hitting the water in clean three to four foot waves south of Huntington Beach pier.
An Association of Surfing Professionals (ASP) World Qualifying Series (WQS) six-star event, the U.S. Open has attracted 192 of the world's top surfers to Huntington Beach. Many hoping to qualify for the ASP's top-tiered Foster's Men's World Tour, commonly referred to as the 'Dream Tour.'
Pat O'Connell (Laguna Beach, CA), a former stalwart on the top-tier tour, started the day in great form posting a 14.34 out of a possible 20 to take the win in his opening round heat.
"The conditions are really deceiving out there right now," O'Connell said. "It looks fun, but it's actually really difficult to punctuate your maneuvers. Still fun though; this morning was one of the best days of surf I've ever seen at Huntington."
Although pseudo-retired from professional competition, O'Connell proved he's still in top form defeating the onslaught of up-and-comers.
"This event is so cool because it has the best of the younger guys competing and I'm just stoked to go out there and be a part of it." O'Connell said. "I'm really looking forward to doing well and it should be a good event."
After a short fog delay, competition resumed with some of the more anticipated heats of the day.
Heat 16 saw former U.S. Open champion Rob Machado (Cardiff, CA), Australian aerial-maestro Jock Barnes (Lennox Head), Brazilian ripper Robson Santos (Sao Paulo) and California wunderkind Dane Reynolds (Ventura) come together for the battle royale of the day.
Reynolds, in his highly-anticipated return to WQS competition, delighted the mid-day crowd with his deep repertoire of progressive maneuvers. Reynolds' "controlled recklessness" garnered him an excellent 17.06 out of a possible 20 with big aerials and exciting fin-free surfing.
"The heat went well. I was overly-psyched and was catching rails, but it worked out I suppose," Reynolds said. "I've got a good board but not necessarily for these conditions; it still managed to get through the flat spots and the chop and ended up alright."
Mike Losness (San Clemente, CA), who was originally in the trials, was seeded into the main event after a last-minute withdrawal of WCT campaigner Trent Munro (Scott's Head, AUS), wasted no time in capitalizing on his good fortune today.
"What I was watching in the trials was really good, young surfers who were hungry," Losness said, "and I think that some of the first trials heats were better than some of the first heats of the main event."
A former amateur champion, Losness has yet to see his previous competitive success translate to the WQS. However, a renaissance in 2006, sees the young goofy-foot steadily building momentum as he endeavors toward elite-tour qualification.
"Right now I'm trying to focus on doing some events so I can get some points," Losness said. "So next year, if I enter a contest like this, I don't have to do the trials. It's hard to fly across the globe and know that you're only starting in the trials. You could have a bad heat and you're away from home and I just don't want to be in that spot. I don't need to win every event, I just need to get some points in some events and I'll start getting seeded in the main events."
The Honda U.S. Open of Surfing presented by O'Neill will hit the water again tomorrow morning at 7:30 with the Round of 96.
Current Foster's Men's World Tour competitors Toby Martin (AUS) and Chris Ward (USA) will join 2001 ASP World Champion Sunny Garcia (HAW) and other former elite-tour surfers Shea Lopez (USA), Nathan Webster (AUS) Russell Winter (GBR), Tim Curran (USA) and Kalani Robb (HAW) in rounding out the top-notch talent competing in the Round of 96 tomorrow.
Live scores will be available on www.usopenofsurfing.com or www.aspnorthamerica.org.
For more information, log onto www.usopenofsurfing.com, www.aspnorthamerica.org or www.aspworldtour.com.
RESULTS DAY FOUR:
HONDA MEN'S US OPEN OF SURFING – ASP $125,000 WQS SIX-STAR
Round 1 (Heats 1 – 24): 192 competitors left (1st and 2nd advance)
Heat 1: Andre Silva (BRA) 15.17, Mason Ho (HAW) 8.57, Izuki Tanaka (JPN) 8.54, Love Hodel (HAW) 8.00
Heat 2: Eric Geiselman (USA) 16.17, Jason Shibata ( HAW) 12.17, Tyler Fox (USA) 6.13, Makua Rothman (HAW) 6.10
Heat 3: Dusty Payne (HAW) 15.50, Matt Jones (AUS) 8.90, Derek Ho (HAW) 8.37, Aaron Cormican (USA) 5.93
Heat 4: Dustin Barca (HAW) 13.10, Anthony Walsh (AUS) 10.53, Bron Heussenstamm (USA) 10.10, Gony Zibizareta (ESP) 8.93
Heat 5: Shaun Ward (USA) 13.17, Bobby Morris (USA) 11.67, Wesley Larsen (HAW) 10.34, Damon Harvey (AUS) 7.27
Heat 6: James Santos (BRA) 9.90, Dylan Graves (PRI) 9.83, Gavin Beschen (HAW) 8.70, Frederic Robin (REU) 8.63
Heat 7: Pat O'Connell (USA) 14.34, Hideyoshi Tanaka (JPN) 12.60 , Che Stang (USA) 10.56, Pablo Paulino (BRA) 7.53
Heat 8: Hank Gaskell (HAW) 10.50, Hodei Collazo (ESP) 9.67, Tyler Anderson (USA) 7.73, Alejandro Moreda (PRI) 4.76
Heat 9: Pablo Gutierrez (ESP) 12.90 , Teppei Tajima (JPN) 11.10, Kepa Acero (ESP) 8.47, Josh Fuller (AUS) 8.04
Heat 10: Michael Flores (BRA) 10.30, Dane Gudauskas (USA) 9.07, Jay Quinn (NZL) 8.43, Matt Keenan (USA) 8.20
Heat 11: Daniel Jones (HAW) 8.07, Ted Navarro (USA) 7.90, Abdel El Harim (MAR) 6.30, Mikey Bruneau (HAW) 6.03
Heat 12: Nathan Yeomans (USA) 12.17, Heitor Pereira (BRA) 9.56, Josh Lewan (AUS) 8.00, Noi Kaulukukui (HAW) 5.80
Heat 13: Michael Campbell (AUS) 13.33, Ryan Campbell (AUS) 11.44, Matt Hoar (AUS) 9.10, Jensen Hassett (HAW) 6.30
Heat 14: Darryll Goodrum (USA) 11.94, Julian Cuello (CNY) 10.37, Shaun Burrell (USA) 9.26, Austin Ware (USA) 8.83
Heat 15: T.J Barron (HAW) 12.66, Junior Faria (BRA) 10.57, Wesley De Souza (BRA) 7.43, Jamie O'Brien (HAW) 4.90
Heat 16: Dane Reynolds (USA) 17.06, Rob Machado (USA) 12.40, Robson Santos, (BRA) 9.84, Jock Barnes (AUS) 8.87
Heat 17: Myles Padaca (HAW) 11.50, Mike Losness (USA) 10.17, Jack Perry (AUS) 9.63, Chris Drummy (USA) 9.33
Heat 18: Kyle Garson (USA) 12.27, Anthony Petruso (USA) 12.00, Kyle Knox (USA) 11.57, Greg Cordeiro (BRA) 8.80
Heat 19: Dane Johnson (USA) 11.60, Peter Devries (CAN) 9.34, Darren Muschett (PRI) 8.86, Diego Rosa (BRA) 7.77
Heat 20: Rhys Bombaci (AUS) 11.84, Ricky Witlock (USA) 10.16, Raymond Reichle (HAW) 8.20, Brad Ettinger (USA) 6.37
Heat 21: Nick Coghlan (AUS) 12.54, Hira Teriinatoofa (PYF) 12.50, Josh Montgomery (USA) 12.50, Simon Marchand (FRA) 7.73
Heat 22: Beto Fernandes (BRA) 15.17, Federico Pilurzu (ITA) 13.16, Jano Belo (BRA) 10.50, Jeremy Ryan (USA) 7.93
Heat 23: Kieran Horn (USA) 12.17 (USA), Sam Page (AUS) 10.04, Ryan Helm (USA) 8.60, Travis Lynch (AUS) 8.10
Heat 24: Jean da Silva (BRA) 13.83, Matt King (USA) 9.57, Jadson Andre (BRA) 9.00, Marcus Hickman (HAW) 5.96
SCHEDULE FOR TUESDAY, JULY 25, 2006
Men's US Open Round 2 (Heats 1 – 24) 7:30 am to 4 pm
APS WCT Tour 2010 Schedule
Mens's Division
Quiksilver Pro Gold Coast
Feb 27-Mar 10, Gold Coast Qld-Australia
Rip Curl Pro Bells
March 30 -April 10, Bells Beach Victoria-Australia
Hang Loose Santa Catarina Pro
April 23-May 2, Santa Catarina Brazil
Billabong Pro J-Bay
Jly 15-25, Jeffreys Bay South Africa
Billabong Pro Teahupoo
Aug 23 - Sept 3, Teahupoo Taiarapu-Tahiti
Hurley Pro Trestles
Sep 12-21, Trestles California-USA
Quiksilver Pro France
Sep 25-Oct 5, South West Coast France
Rip Curl Pro
Oct 7-18, Peniche, Portugal
Rip Curl Pro Search
Oct 30-Nov. 10 - Somewhere?
Billabong Pipeline Masters
Dec 8-20, Banzai Pipeline Oahu-Hawaii
Women's Division
Roxy Pro Gold Coast
Feb 27-Mar 10, Gold Coast, Queensland, Australia
Rip Curl Women's Pro Bells
Mar 30-April 10, Bells Beach Victoria, Australia
TSB Bank Women's Surf Festival
Apr 11-16 Taranaki – New Zealand
Commonwealth Bank Beachly Classic
Apr 21-26, Dee Why,Northern Beaches, NSW-Australia
Movistar Peru Classic presented by Rip Curl
June 8-13, Lobitos-Peru
Rip Curl Pro
Oct 7-11, Peniche-Portugal
Rip Curl Search
Oct 30-Nov 4, Somewhere
Gidget Pro
Nov 24-Dec 6, Sunset Beach Oahu, Hawaii
Billabong Pro Maui
Dec 8-20 Honolua Bay, Maui, Hawaii