Header

ASSOCIATION OF SURFING PROFESSIONALS (ASP) NORTH AMERICA

HONDA MEN'S U.S. OPEN OF SURFINGASP WQS SIX-STAR
Huntington Beach, CA
July 21-30, 2006
EXPERIENCE PREVAILS AT DAY FIVE OF THE U.S. OPEN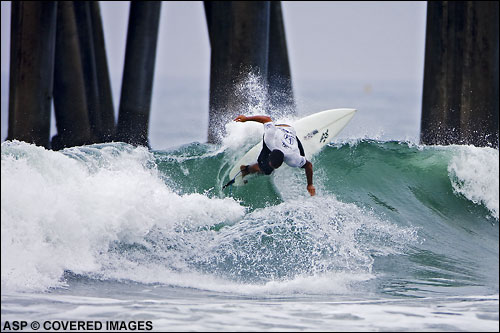 Sunny Garcia Picture credit ASP Tostee
HUNTINGTON BEACH, Calif. (Tuesday, July 25, 2006) – Round Two of the Men's Honda U.S. Open of Surfing presented by O'Neill, an Association of Surfing Professionals (ASP) six-star World Qualifying Series (WQS) event, resumed in two to three foot and slightly choppy conditions in Huntington Beach today.
With 144 of the original 192 competitors left vying for valuable qualifying series points and a piece of the $125,000 prize purse, it was the experienced veterans who were able to negotiate the at-times trying conditions to come out on top today.
Former World Champion Sunny Garcia (Oahu, HI), who at the end of last year announced his retirement from professional surfing, showed no signs of rustiness whilst executing his infamous power gouges en route to victory in the opening heat of the day.

"Huntington is one of my favorite spots, so I always like coming here," Garcia said. "I'm supposed to be retired, but I've had a really bad run with the IRS and some personal problems and figured the best thing is to get back to what I know best, which is surfing."
After decades of living as a touring professional, Garcia is finding adjustment to retired life difficult.
"To tell you the truth, I'm just bored," Garcia said. "I've been traveling for 20 years and the people I travel with are like my family. So I'm stoked to be here. I'm stoked to see all my friends again."
The powerful Hawaiian will get his chance tomorrow as he's drawn current Foster's Men's World Tour campaigners Damien Hobgood (Satellite Beach, FL) and Bobby Martinez (Santa Barbara, CA) in heat one of the Round of 96.
Mike Todd (Laguna Beach, CA) was in sterling form this morning as he secured an excellent 9.00 out of a possible 10 with a series of explosive forehand maneuvers on a long lefthander. Todd is currently ranked 24th on this season's WQS, and knows that a big result here will build the momentum and he campaigns through the upcoming months.
"This year I've got a good start and I'm right there in the hunt of it, "Todd said. "This is the leg of the year where we go to Japan and Europe. It's the meat a potatoes part of the year so I'm trying to get everything I can out of it, get some results and hopefully be on the ASP Foster's Men's World Tour next year."
The afternoon saw conditions deteriorate as strong south winds tore up the two to three foot surf.
Russel Winter (Great Britain), a former World Tour campaigner, navigated the difficult conditions with style, punch and bite as he muscled his way through Heat 16.
"It's really tricky, and I just thought I'd stick by the pier a bit," Winter said. "I had seen a few waves before my heat coming through there. I groveled on a couple, but managed to get a few turns in there."
Coming off a win at the WQS five-star event in Scotland, Winter is looking to capitalize at the U.S. Open as he works towards qualifying for ASP's elite tour in 2007.
"That was good start, but I still need really good results," Winter said. "If I can get through a few more rounds here, then I'll be on my way. I definitely want to make it back onto the World Tour."
Kekoa Bacalso (HI), current ASP World Junior Champion, was in blitzing form this afternoon securing a 14.00 out of a possible 20 for a convincing win. Although known for his phenomenal performances in big surf, Bacalso seemed to revel in the smaller afternoon surf.
"I've been working with my shaper a lot on some really light equipment – just specific stuff for Huntington," Bacalso said. "My board worked amazing and I had a lot of fun."
Bacalso has earned entry as a wildcard into both the Rip Curl Bells Beach Pro and the Rip Curl Search Pro on the season's ASP elite tour. After defeating World Tour stalwarts Nathan Hedge (Narrabeen, AUS) and Shaun Cansdell (Mullaway, AUS), the young natural-footer has already developed a taste for sticking it to the world's best.
"Surfing the Foster's Men's World Tour opens my eyes," Bacalso said. "Seeing the waves they surf and the way they're treated is just night and day compared with the WQS. It's the biggest inspiration for me to get on that tour. Slowly but surely though and hopefully this is just a short stop on my way there."
Competitors surfing on the ASP's World Qualifying Series (WQS) earn points towards a year-end ranking with their top seven finishes counting in their final tally. This ranking determines whether or not they qualify for the elite Foster's Men's World Tour with the top 15 ranked surfers gaining entry. WQS events are rated from one to six stars with six stars offering the most ASP ratings points. The U.S. Open is an ASP WQS six-star rated event and will offer huge points to those who do well.
The girls hit the water tomorrow for the opening round of the Honda Women's U.S. Open of Surfing presented by O'Neill at 7:30 am.
Julia Christian (Carlsbad, CA), 2005 Women's U.S. Open Champ and current campaigner on the ASP Women's World Tour, will be back to defend her title in the Round of 48.
Following the Rounds of 60 and 48 in the Honda Women's U.S. Open of Surfing presented by O'Neill, the men will hit the water for the first five heats of the Round of 96.
With 2005 Champion Andy Irons absent from this year's competition, the door will be wide open for a new U.S. Open Men's Champ.
Live scores will be available on www.usopenofsurfing.com or www.aspnorthamerica.org.
For more information, log onto www.usopenofsurfing.com, www.aspnorthamerica.org or www.aspworldtour.com.
RESULTS DAY FOUR:
HONDA MEN'S US OPEN OF SURFING – ASP $125,000 WQS SIX-STAR
Round 2 (Heats 1 – 24): 144 competitors left (1st and 2nd advance)
Heat 1: Sunny Garcia (HAW) 12.00, Leonardo Neves (BRA) 7.60, Jason Shibata (HAW) 6.84, Andre Silva (BRA) 5.70
Heat 2: Mason Ho (HAW) 13.24, Eneko Acero (ESP) 10.53, Alain Riou (PYF) 9.76, Eric Geiselman (USA) 9.13
Heat 3: Dusty Payne (HAW) 13.50, Simao Romao (BRA) 11.76, Jesse Merle-Jones (HAW) 9.10, Anthony Walsh (AUS) 6.24
Heat 4: Jonathan Gonzales (CNY) 13.83, 9.97 Ola Eleogram (HAW), Dustin Barca (HAW) 9.87, Matt Jones (AUS) 9.83
Heat 5: Mike Todd (USA) 16.50, Shaun Ward (USA) 10.60, Dylan Graves (PRI) 10.10, Toby Martin (AUS) 10.06
Heat 6: Corey Ziems (AUS) 12.50, Bobby Morris (USA) 10.70, James Santos (BRA) 9.83, Shaun Gossman (AUS) 8.60
Heat 7: Joel Centeio (HAW) 16.03, Tanio Barreto (BRA) 12.90, Pat O'Connell (USA) 11.20, Hodei Collazo (ESP) 8.14
Heat 8: Hideyoshi Tanaka (JPN) 12.33, Dunga Neto (BRA) 10.13, Hank Gaskell (HAW) 9.90, Daniel Redman (ZAF) 9.43
Heat 9: Pablo Gutierrez (ESP) 15.17, Warwick Wright (ZAF) 12.07, Dane Gudauskas (USA) 9.16, Ian Walsh (HAW) 6.46
Heat 10: Teppei Tajima (JPN) 10.90, Bruno Santos (BRA) 10.84, Michel Flores (BRA) 10.27, Sean Hayes (USA) 6.74
Heat 11: Heitor Pereira (BRA) 13.17, Justin Mujica (PRT) 9.34, Aritz Aranburu (ESP) 8.34, Daniel Jones (HAW) 7.70
Heat 12: Shea Lopez (USA) 14.50, Maz Quinn (NZL) 12.30, Nathan Yeomans (USA) 11.67, Ted Navarro (USA) 11.00
Heat 13: Michael Campbell (AUS) 16.50, Patrick Beven (FRA) 12.00, Julian Cuello (CNY) 6.13, Nathan Webster (AUS) 6.07
Heat 14: Marcelo Trekinho (BRA) 10.50, Antonio Bortolleto (ZAF) 8.77, Darryll Goodrum (USA) 7.93, Ryan Campbell (AUS) 7.93
Heat 15: Rob Machado (USA) 13.60, Samba Mann (AUS) 10.80, Alex Gray (USA) 10.03, TJ Barron (HAW) 9.00
Heat 16: Junior Faria (BRA) 12.77, Russell Winter (GBR) 12.10, Dane Reynolds (USA) 7.90, Marcelo Nunes (BRA) 7.10
Heat 17: Leigh Sedley (AUS) 14.00, Tim Curran (USA) 7.53, Myles Padaca (HAW) 7.17, Anthony Petruso (USA) 6.47
Heat 18: Mike Losness (USA) 13.67, Asher Nolan (USA) 9.33, Kyle Garson (USA) 8.60, Guilherme Herdy (BRA) 7.80
Heat 19: Kekoa Bacalso (HAW) 14.00, Nathaniel Curran (USA) 11.43, Dane Johnson (USA) 8.10, Ricky Whitlock (USA) 4.67
Heat 20: Heitor Alves (BRA) 12.50, Rhys Bombaci (AUS) 10.83, Peter Devries (CAN) 10.47, Zander Morton (USA) 7.33
Heat 21: Dustin Cuizon (HAW) 10.04, Federico Pilurzu (ITA) 9.34, Nick Coghlan (AUS) 9.16, Danilo Costa (BRA) 8.26
Heat 22: Odirlei Coutinho (BRA) 12.50, Hira Teriinatoofa (PYF) 7.47, Beto Fernandes (BRA) 7.14, Michel Bourez (PYF) 7.04
Heat 23: Matt King (USA) 10.13, Renato Galvao (BRA) 9.80, Kieran Horn (USA) 9.44, Sean Moody (HAW) 5.94
Heat 24: Nic Muscroft (AUS) 13.50, Jean da Silva (BRA) 10.93, Sam Page (AUS) 7.10, Kalani Robb (HAW) 5.03
SCHEDULE FOR WEDNESDAY, JULY 26, 2006
Women's U.S. Open Round 1 (Heats 1 – 6) 7:30 am to 9:30 am
Women's U.S. Open Round 2 (Heats 1 – 12) 9:30 am to 1:30 pm
Men's U.S. Open Round 3 (Heats 1 – 5) 1:30 pm to 3:35 pm
APS WCT Tour 2010 Schedule
Mens's Division
Quiksilver Pro Gold Coast
Feb 27-Mar 10, Gold Coast Qld-Australia
Rip Curl Pro Bells
March 30 -April 10, Bells Beach Victoria-Australia
Hang Loose Santa Catarina Pro
April 23-May 2, Santa Catarina Brazil
Billabong Pro J-Bay
Jly 15-25, Jeffreys Bay South Africa
Billabong Pro Teahupoo
Aug 23 - Sept 3, Teahupoo Taiarapu-Tahiti
Hurley Pro Trestles
Sep 12-21, Trestles California-USA
Quiksilver Pro France
Sep 25-Oct 5, South West Coast France
Rip Curl Pro
Oct 7-18, Peniche, Portugal
Rip Curl Pro Search
Oct 30-Nov. 10 - Somewhere?
Billabong Pipeline Masters
Dec 8-20, Banzai Pipeline Oahu-Hawaii
Women's Division
Roxy Pro Gold Coast
Feb 27-Mar 10, Gold Coast, Queensland, Australia
Rip Curl Women's Pro Bells
Mar 30-April 10, Bells Beach Victoria, Australia
TSB Bank Women's Surf Festival
Apr 11-16 Taranaki – New Zealand
Commonwealth Bank Beachly Classic
Apr 21-26, Dee Why,Northern Beaches, NSW-Australia
Movistar Peru Classic presented by Rip Curl
June 8-13, Lobitos-Peru
Rip Curl Pro
Oct 7-11, Peniche-Portugal
Rip Curl Search
Oct 30-Nov 4, Somewhere
Gidget Pro
Nov 24-Dec 6, Sunset Beach Oahu, Hawaii
Billabong Pro Maui
Dec 8-20 Honolua Bay, Maui, Hawaii