Header

by Press Release:

ASSOCIATION OF SURFING PROFESSIONALS (ASP) NORTH AMERICA

HONDA MEN'S U.S. OPEN OF SURFINGASP WQS SIX-STAR
Huntington Beach, CA
July 21-30, 2006
MARTINEZ & GARCIA ADVANCE AS ACTION HEATS AT U.S. OPEN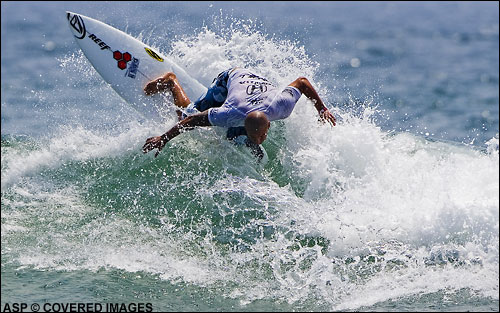 Bobby Martinez Picture credit ASP Tostee
HUNTINGTON BEACH, Calif. (Wednesday, July 26, 2006) – Surfers from the elite Foster's ASP Men's World Tour, as well as the highest-rated competitors on the World Qualifying Series (WQS), hit the water this afternoon for the first five heats in Round Three of the Men's Honda U.S. Open of Surfing presented by O'Neill.
Bobby Martinez (Santa Barbara, CA), currently fourth in the world, looked sharp in heat one of the Round of 96, advancing in the first spot over 2000 ASP World Champion, Sunny Garcia. A rookie on the Foster's Men's World Tour this season, Martinez enjoyed the opportunity to surf against the legendary Hawaiian, who retired from elite tour competition at the end of last year.
"It was cool," Martinez said. "I had a heat with him at Haleiwa (Hawaii). He's everyone's hero and he's going to make the heat no matter what. You've got to count on him getting the right waves. I mean, it's Sunny – he's a world champ."
Garcia (Oahu, HI), was in blazing form dismantling a long lefthander for the day's high score honor, 9.00 out of a possible 10. A staple on the men's world tour for the last 20 years, Garcia's recent retirement has seen him consumed in legal battles, but the popular natural-footer looks very comfortable back in the water and back in the jersey.
"With everything that's been going on in my life in the past month or so, it feels really good to come back here and compete," Garcia said. "I entered the event a couple of months ago just in case and I wasn't necessarily planning on doing this. Fortunately for me, with everything going on, I did enter – it's the one thing I have to look forward to."
Mason Ho (Haleiwa, HI), who came to the U.S. Open concentrating on the Lost Pro Junior, earned a last minute spot as an alternate in the trials garnering one of eight spots in main event. Ho is one of two trialists still in contention after three rounds of competition – the other being former world no. two Mick Campbell (AUS).
Ho punctuated the afternoon with an amazing come-from-behind victory in heat two of the Round of 96. Sitting in fourth place with the clock counting down, Ho took off on a speedy right-hander, executed two big aerial maneuvers and obtained an 8.67 out of a possible 10, rocketing him from fourth to first.
"I just did the same thing I've been doing all summer," Ho said of his heat-winning wave. "Just surfing and launching, doing airs and what not. I try not to change anything. I'm having fun with all my heroes and the up-and-comers. I love all this too much and I definitely want to be here for a while."
The Women's Honda U.S. Open presented by O'Neill got underway this morning with the opening round hitting the water in clean two to three foot surf.
Rebecca Woods (Copacabana, AUS), current no. four on the ASP Women's World Tour, coasted to a confident win in her Round of 48 heat posting a 14.50 out of a possible 20 with a series of aggressive forehand hacks.
Woods, the 2005 ASP WQS Champion, is no stranger to the qualifying circuit and understands the impact that a six-star event such as the Honda U.S. Open has on one's ratings total.
"The U.S. Open is pretty much the pinnacle of the WQS season," said Woods. "So you have to get a result here or you're buggered the rest of the year. It's an ASP six-star as well, so you really need those points."
Julia Christian (Carlsbad, CA), 2005 Honda U.S. Open Champion, came from behind this morning to steal the win away from her fellow competitors. As defending champion at the U.S. Open, Christian looks forward to the event bolstering both her WQS rating and momentum.
"I won this event last year and because it's a six-star – it is really the reason that I re-qualified for the ASP Women's World Tour," Christian said. "It really gave me a huge boost in the ratings."
The top seeds in the Men's Honda U.S. Open of Surfing presented by O'Neill will hit the water again tomorrow for the completion of the Round of 96.
With marquee surfers Ben Dunn (AUS), Cory Lopez (USA), Troy Brooks (AUS), Dean Morrison (AUS), Rob Machado (USA), CJ Hobgood (USA), Huntington Beach local Tim Reyes (USA) and a swath of others competing, it will surely be an action-packed event.
Following the Round of 96, the Boost Mobile/Hurley Shootout will run its first heat with four invited surfers aiming for a wildcard in the upcoming Boost Mobile Pro of Surf presented by Hurley, a Foster's ASP Men's World Tour event held at Trestles, Calif. in September.
Live scores will be available on www.usopenofsurfing.com or www.aspnorthamerica.org.
For more information, log onto www.usopenofsurfing.com, www.aspnorthamerica.org or www.aspworldtour.com.
RESULTS DAY FOUR:
WOMEN'S HONDA U.S. OPEN OF SURFING PRES. BY O'NEILL – ASP $125,000 WQS SIX-STAR
Round 1 (Heats 1 – 6):
Heat 1: Stephanie Gilmore (AUS) 14.00, Stacey Guy (ZAF) 11.90, Cecilia Enriquez (USA) 5.94, Tahara Hiroe (JPN) 3.94
Heat 2: Courtney Conlogue (USA) 13.03, Kaori Mayaguchi (JPN) 11.20, Tais Almeida (BRA) 10.34, Maili Rohner (USA) 6.80
Heat 3: Lindsey Baldwin (USA) 9.40, Lisbeth Vindas Diaz (CRI) 7.63, Ashley Bobb (USA) 5.57, Katie Coryell (USA) 4.56
Heat 4: Alana Blanchard (HAW) 12.27, Nikita Robb (ZAF) 11.10, Marili Sugiura (JPN) 9.90, Juliana Quint (BRA) 7.90
Heat 5: Rosanne Hodge (ZAF) 13.17, Erina Taniguchi (JPN) 7.83, Lexi Von Der Leith (USA) 4.17, 1.60 Sarrah Hoffert (USA) 1.60
Heat 6: Claudia Goncalves (BRA), 12.84, Kim Mayer (USA) 11.66, Mizuki Hagiwara (JPN) 7.87, Allison Arvizu (USA) 7.23
Round 2 (Heats 1 – 12)
Heat 1: Sheridan Shields (AUS) 11.07, Suelen Naraisa (BRA) 9.53, Samantha Cornish (AUS) 7.00, Stephanie Gilmore (AUS) 5.93
Heat 2: Laurina McGrath (AUS) 16.70, Claire Bevilacqua (AUS) 15.17, Stacey Guy (ZAF) 6.77, Falina Spires (USA) 3.57
Heat 3: Melanie Bartels (HAW) 13.83, Anastasia Ashley (USA) 9.10, Courtney Conlogue (USA) 8.93, Karina Petroni (USA) 5.30
Heat 4: Sofia Mulanovich 16.50, Lauren Sweeney (USA) 12.66, Kaori Mayaguchi (JPN) 8.83, Connie Arias (USA) 8.27
Heat 5: Rebecca Woods (AUS) 14.50, Lindsey Baldwin (USA) 8.66, Amandine Sanchez (FRA) 7.33, Sarah Beardmore (AUS) 5.16
Heat 6: Jacqueline Silva (BRA) 14.10, Tammy Lee Smith (ZAF) 10.34, Lisbeth Vindas Diaz (CRI) 9.17, Kira Sheppard (USA) 5.43
Heat 7: Julia Christian (USA) 10.00, Leilani Gryde (HAW) 9.40, Serena Brooke (AUS) 9.20, Alana Blanchard (HAW) 1.07
Heat 8: Rochelle Ballard (HAW) 11.06, Nicola Atherton (AUS) 6.87, Nikita Robb (ZAF) 4.17, Lyndsay Noynes (AUS) 3.03
Heat 9: Megan Abubo (HAW) 10.57, Holly Beck (USA) 9.66, Rosanne Hodge (ZAF) 9.43, Erica Hosseini (USA) 7.83
Heat 10: Caroline Sarran (FRA) 10.37, Jessi Miley-Dyer (AUS), 10.33, Erina Taniguchi (JPN) 5.43, Sage Erickson (USA) 4.94
Heat 11: Amee Donohoe (AUS) 10.73, Heather Clark (ZAF) 10.46, Silvana Lima (BRA) 8.70, Claudia Goncalves (BRA) 7.47
Heat 12: Kim Mayer (USA) 10.67, Keala Kennelly (HAW) 7.90, Kyla Langen (USA) 5.93, Kim Wooldridge (AUS) 5.02
MEN'S HONDA U.S. OPEN OF SURFING PRES. BY O'NEILLASP $125,000 WQS SIX-STAR
Round 3 (Heats 1 – 5)
Heat 1: Bobby Martinez (USA) 12.83, Sunny Garcia (HAW) 12.67, Damien Hobgood (USA) 10.84, Eneko Acero (ESP) 9.93
Heat 2: Mason Ho (HAW) 13.00, Royden Bryson (ZAF), Leonardo Neves (BRA) 11.40, Jarrad Howse (AUS) 8.87
Heat 3: Gabe Kling (USA) 13.50, Rodrigo Dornelles (BRA) 12.50, Dusty Payne (HAW) 11.40, Ola Eleogram (HAW) 7.87
Heat 4: Jihad Khodr (BRA) 12.33, Simao Romao (BRA) 10.10, Dayyan Neve (AUS) 9.17, Jonathan Gonzalez (CNY) 5.30
Heat 5: Adriano de Souza (BRA) 14.93, Mike Todd (USA) 13.93, Jay Thompson (AUS) 11.10, Bobby Morris (USA) 8.07
SCHEDULE FOR THURSDAY, JULY 27, 2006
Men's U.S. Open Round 3 (Heats 6 – 24) 8:00 am to 3:25 pm
Boost Mobile/Hurley Shoot Out (Heat 1) 3:30 pm to 3:50 pm
APS WCT Tour 2010 Schedule
Mens's Division
Quiksilver Pro Gold Coast
Feb 27-Mar 10, Gold Coast Qld-Australia
Rip Curl Pro Bells
March 30 -April 10, Bells Beach Victoria-Australia
Hang Loose Santa Catarina Pro
April 23-May 2, Santa Catarina Brazil
Billabong Pro J-Bay
Jly 15-25, Jeffreys Bay South Africa
Billabong Pro Teahupoo
Aug 23 - Sept 3, Teahupoo Taiarapu-Tahiti
Hurley Pro Trestles
Sep 12-21, Trestles California-USA
Quiksilver Pro France
Sep 25-Oct 5, South West Coast France
Rip Curl Pro
Oct 7-18, Peniche, Portugal
Rip Curl Pro Search
Oct 30-Nov. 10 - Somewhere?
Billabong Pipeline Masters
Dec 8-20, Banzai Pipeline Oahu-Hawaii
Women's Division
Roxy Pro Gold Coast
Feb 27-Mar 10, Gold Coast, Queensland, Australia
Rip Curl Women's Pro Bells
Mar 30-April 10, Bells Beach Victoria, Australia
TSB Bank Women's Surf Festival
Apr 11-16 Taranaki – New Zealand
Commonwealth Bank Beachly Classic
Apr 21-26, Dee Why,Northern Beaches, NSW-Australia
Movistar Peru Classic presented by Rip Curl
June 8-13, Lobitos-Peru
Rip Curl Pro
Oct 7-11, Peniche-Portugal
Rip Curl Search
Oct 30-Nov 4, Somewhere
Gidget Pro
Nov 24-Dec 6, Sunset Beach Oahu, Hawaii
Billabong Pro Maui
Dec 8-20 Honolua Bay, Maui, Hawaii