Header

By Press Release

ASSOCIATION OF SURFING PROFESSIONALS (ASP) NORTH AMERICA

HONDA MEN'S U.S. OPEN OF SURFINGASP WQS SIX-STAR
Huntington Beach, CA
July 21-30, 2006
HUNTINGTON BEACH HERO TIMMY REYES TRANSLATES WORLD TOUR FORM TO US OPEN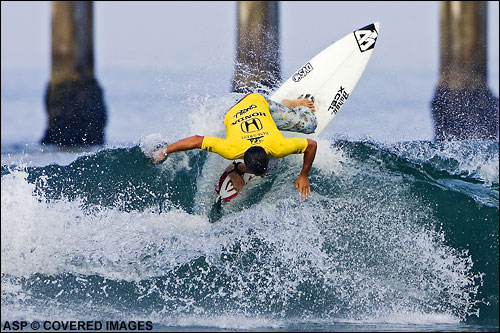 Gabe Kling Picture Credit ASP Tostee
HUNTINGTON BEACH, Calif. (Thursday, July 27, 2006) – Local surfer Timmy Reyes (Huntington Beach, CA), current no. nine on the Association of Surfing Professionals (ASP) Foster's Men's World Tour, won the last heat of the day to advance to the next round of competition in the Honda U.S. Open of Surfing presented by O'Neill.
"It's definitely different than competing on the World Tour because I'm never really in my home town," Reyes, who now spends very little time at his home break, said. "It feels good to perform well in front of your friends and family. You don't really get that when you're gone – the closest thing I have is my girlfriend when she is able to come along with me."
Narrowly beating 2001 ASP World Champ CJ Hobgood (advancing in second), Reyes was able to adapt to both the difficult conditions and the World Qualifying Series (WQS) format this afternoon.
"I think it's a completely different feeling than surfing the World Tour," Reyes said. "You have three other guys who are out there trying to beat you instead of just one. You have to try really hard because these guys are amped. Today was all about catching the right waves."

Rob Machado Picture Credit ASP Tostee
Rob Machado (Cardiff, CA), former event champion and 2005 U.S. Open runner-up, has been in top form all week – surfing from the first round and easily advancing through his round three heat today. Currently in semi-retirement from pro surfing, Machado competes selectively.
"The U.S. Open is the biggest qualifying event on the West Coast – it's just fun to come out and compete at Huntington," Machado said. "I've been coming here for so many years that it's nice to see all the familiar faces on the sand."
With a win early in the season at the four-star Pipeline event, there has been speculation that Machado may return to the elite Foster's ASP Men's World Tour.
"I think I'm rated around 156th at present so I'm not making too strong a run for it, not as hard as some of the guys out here at least," Machado said. "This is the beginning of a really big push for guys on the qualifying series. I'm actually going over to Europe to surf a couple of WQS events over there. That will be really fun since I haven't been to Europe in about five years."
Kekoa Bacalso (Haleiwa, HI), current ASP World Junior Champion, continued to steamroll through competition today posting the day's second-highest single wave score of a 9.17 out of a possible 10.
"I saw this right building up on the sandbar where I'd been sitting," Bacalso said. "I didn't know if it was a nine but I just surfed my ass off out there. I have really good boards and I owe it all to them. I'm not fit at the moment but the boards are just magic."
Mikael Picon (Cabreton, FRA), a rookie on this season's Foster's ASP Men's World Tour, took down Florida's Lopez brothers (Cory and Shea) with the highest heat total of the day, a 16.67 out of a possible 20. The Frenchman looked confident in the small surf crediting his recent stint on the World Tour for his improved competitive prowess.
"I'm gaining more experience from the older guys and working on using better tactics," Picon said. "I'm concentrating on the ASP World Tour right now and I want to qualify through that tour (versus qualifying through the WQS). I think I am a bit more confident on the WQS but I am really working on my surfing – better flow, longer turns, etc."
Ben Dunn (Old Bar, AUS), current no. six on the WQS, won his heat this morning with a 15.43 out of a possible 20. Dunn has had an excellent start to the 2006 WQS season, highlighted by his back-to-back wins at the four-star Hyuga Pro and the ASP Grade One Hyuga Flow Pro Junior in Japan last May.
Courtesy of last weekend's rampage through the Lost Pro Junior (garnering him a berth in this weekend's final) and his success thus far in the Honda U.S. Open, the young natural-footer finds himself in position to repeat this amazing feat.
"I was thinking about that after I made the final for the Lost Pro Junior," Dunn said. "I'm actually more interested in doing well here because the Japan event was only a four-star and this one's a six-star. That was a pretty good thing that I did (winning both events in Japan), but I don't know if I can do it again. I just want to do well in the WQS event, as I've already done well in the Junior."
In addition to his success on the WQS and Pro Junior series, the Australian has also been given, or earned, wildcards into three of six events on this season's Foster's ASP Men's World Tour.
"Rip Curl has given me a few wildcards and I've got to surf Bells (Rip Curl Pro) when it was good and 'La Jolla' (Rip Curl Search Mexico) when it was really good as well as the wildcard I earned through the trials at Snapper (Quiksilver Pro). I've had a bit of experience with the World Tour guys and it teaches you that it doesn't matter who's in your heat so long as you get the best waves – and that's something that I try translate to the WQS."
Advancing in the second spot behind Michael Campbell (Port Macquarie, AUS) was elite tour rookie Adrian "Ace" Buchan (Avoca Beach, AUS).
Suffering from an ankle injury sustained at the 2006 WQS season opener in Brazil, Buchan has been absent from all six events on the Foster's ASP Men's World Tour so far.
"I've been out for about five months – it's been a pretty long and frustrating road," Buchan said. "It's my first year on the World Tour and not being able to surf is pretty trying. About a week ago, I wasn't even sure if I was going to surf in this event. My ankle is just now starting to come good, so I just thought I'd give it a go and I'm stoked I made it through my first heat."
The U.S. Open is the first event that Buchan's been able to compete in since the season-opener, and with six no shows in 2006, the young Australian's future on the World Tour is uncertain.
"You can't rely on the injury wildcard," Buchan said. "Hopefully I'll do really well on the World Tour when I get back and I won't need that to re-qualify. However, I'm back in the water and stoked to get through my first heat. I look forward to being back to full strength by the Boost Mobile Pro in September."
The opening heat of the Boost Mobile Trials ran following the last heat in today's U.S. Open. First and second place from today's heat one and tomorrow's heat two will advance to the finals of the Boost Mobile Trials (also tomorrow) where the victor will receive a wildcard into the Boost Mobile Pro presented by Hurley in September, a Foster's ASP Men's World Tour event.
After 20 minutes of hard-fought exchanges in the difficult afternoon conditions, it was Shane Beschen (San Clemente, CA) and Dane Reynolds (Ventura, CA) taking out Hank Gaskell (Lahaina, HI) and Mike Todd (Laguna Beach, CA).
Tomorrow will see the remaining 48 surfers in the Men's Honda U.S. Open of Surfing presented by O'Neill hit the water at 7:30 am for Round Four. Following the men will be Rounds three and four of the Women's event as well as heat two and the finals of the Boost Mobile Pro Trials.
Live scores will be available on www.usopenofsurfing.com or www.aspnorthamerica.org.
For more information, log onto www.usopenofsurfing.com, www.aspnorthamerica.org or www.aspworldtour.com.
RESULTS DAY FOUR:
MEN'S HONDA U.S. OPEN OF SURFING PRES. BY O'NEILL – ASP $125,000 WQS SIX-STAR
Round 3 (Heats 6 – 24)
Heat 6: Corey Ziems (AUS) 11.60, Kieren Perrow (AUS) 9.16, Patrick Gudauskas (USA) 8.87, Shaun Ward (USA) 8.27
Heat 7: Ben Dunn (AUS) 15.43, Joel Centeio (HAW) 13.80, Dunga Neto (BRA) 12.76, Glenn Hall (AUS) 11.47
Heat 8: Victor Ribas (BRA) 13.34, Tanio Barreto (BRA) 10.97, Hideyoshi Tanaka (JPN) 9.57, Yuri Sodre (BRA) 7.87
Heat 9: Bruno Santos (BRA) 13.50, Pablo Gutierrez (ESP) 11.00, Beau Mitchell (AUS) 9.93, Troy Brooks (AUS) 9.26
Heat 10: Tiago Pires (PRT) 11.67, Ricky Basnett (ZAF) 10.50, Warwick Wright (ZAF) 9.93, Teppei Tajima (JPN) 9.34
Heat 11: Ben Bourgeois (USA) 15.84, Maz Quinn (NZL) 13.50, Brett Simpson (USA) 15.84, Heitor Pereira (BRA)
Heat 12: Mikael Picon (FRA) 16.67, Justin Mujica (PRT) 13.16, Cory Lopez (USA) 12.54, Shea Lopez (USA) 8.10
Heat 13: Michael Campbell (AUS) 14.33, Adrian Buchan (AUS) 8.93, Antonio Bortolleto (ZAF) 8.93, Dean Morrison (AUS) 8.70
Heat 14: Patrick Bevan (FRA) 13.67, Jeremy Flores (REU) 11.00, Marcelo Trekinho (BRA) 9.00, Kirk Flintoff (AUS) 8.67
Heat 15: Rob Machado (USA) 14.20, Russell Winter (GBR) 13.67, Neco Padaratz (BRA) 11.73, Nathaniel Curran (USA) 9.76
Heat 16: Jake Paterson (AUS) 12.60, Roy Powers (HAW) 12.00, Junior Faria (BRA) 9.00, Samba Mann (AUS) 8.33
Heat 17: Frederick Patacchia (HAW) 16.33, Leigh Sedley (AUS) 11.34, Asher Nolan (USA) 10.90, Raoni Monteiro (BRA) N/S
Heat 18: Tim Curran (USA) 15.33, Mike Losness (USA) 10.54, Bernardo Miranda (BRA) 10.33, Eric Rebiere (FRA) 9.37
Heat 19: Kekoa Bacalso (HAW) 15.33, Josh Kerr (AUS) 11.10, Rhys Bombaci (AUS) 9.77, Daniel Ross (AUS) 2.30
Heat 20: Heitor Alves (BRA) 10.77, Paulo Moura (BRA) 10.33, Pedro Henrique (BRA) 9.00, Nathan Carroll (HAW) 6.46
Heat 21: Dustin Cuizon (HAW) 14.16, Marcondes Rocha (BRA) 9.20, Hira Teriinatoofa (PYF) 7.17, David Weare (ZAF) 5.50
Heat 22: Federico Pilurzu (ITA) 13.60, Luke Munro (AUS) 11.43, Odirlei Coutinho (BRA) 10.43, Brian Toth (PRI) 9.64
Heat 23: Jean da Silva (BRA) 11.17, Drew Courtney (AUS) 10.40, Matt King (USA) 9.06, Kai Otton (AUS) 7.23
Heat 24: Tim Reyes (USA) 14.23, CJ Hobgood (USA) 14.00, Renato Galvao (BRA) 10.00, Nic Muscroft (AUS) 5.60
BOOST MOBILE/HURLEY SHOOTOUT – 1st and 2nd advance to finals held tomorrow
Heat 1: Shane Beschen (USA) 9.87, Dane Reynolds (USA) 8.90, Hank Gaskell (HAW) 7.40, Mike Todd (USA) 6.76

SCHEDULE FOR FRIDAY, JULY 28, 2006
Men's U.S. Open Round 4 (Heats 1 – 12) 7:30 am to 12:30 pm
Women's U.S. Open Round 3 (Heats 1 – 6) 12:30 pm to 3:00 pm
Women's U.S. Open Round 4 (Heat 1) 3:00 pm to 3:25 pm
Boost Mobile/Hurley Shoot Out (Heat 2) 3:30 pm to 3:50 pm
Boost Mobile/Hurley Shoot Out (Final) 3:50 pm to 4:10 pm
About ASP:
The Association of Surfing Professionals (ASP) is the governing body of professional surfing. Crowning surfing's undisputed world champions since 1976, the ASP sanctions the following tours: the Foster's ASP Men's World Tour, the ASP Women's World Tour, the World Qualifying Series (WQS) and the World Longboarding, Junior and Masters Championships. The ASP is dedicated to showcasing the world's best surfing talent in a variety of progressive formats and has revolutionized the way the world watches surfing via their webcasts. The organization is divided into seven different regions: Africa, Asia, Australasia, Europe, Hawaii, North America, and South America. These regions manage all their respective domestic affairs under the guidance of ASP International, which is located on the Gold Coast of Australia. ASP International and ASP North America are committed to the progression of surfing and are dedicated to continuing excellent relationships with their surfers, event
operators, sponsors and media. For more information log onto www.aspworldtour.com or www.aspnorthamerica.org.

About Bank of the West Beach Games/Honda US Open of Surfing:
The "2006 Bank of the West Beach Games featuring the Honda U.S. Open of Surfing presented by O'Neill" attracts more than 600 international competitors and features surfing, skateboarding, BMX, FMX and volleyball in world-class venues along with an interactive lifestyle festival spread over 12 acres. All events are open to the public, free of charge. Surfing competition begins on Friday, July 21 and runs through Sunday, July 30. Festival activities, BMX and skate competitions begin on Thursday, July 27 with FMX starting on Friday, July 28. Consumer information is available at www.usopenofsurfing.com and www.bankofthewestbeachgames.com.