Header

FOR IMMEDIATE RELEASE

ASSOCIATION OF SURFING PROFESSIONALS (ASP) NORTH AMERICA

HONDA U.S. OPEN OF Surfing ASP WQS SIX-STAR
Huntington Beach, CA
July 21-30, 2006
SOFIA MULANOVICH WINS HONDA U.S. OPEN OF SURFING
Lee Ann Curren Wins Target Women's Pro Junior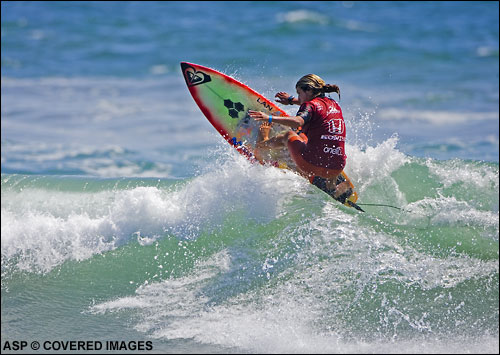 Sofia Mulanovich Picture Credit ASP Tostee
HUNTINGTON BEACH, Calif. (Saturday, July 29, 2006) – Former Association of Surfing Professionals
(ASP) Women's World Champion Sofia Mulanovich (Lima, Peru) won the Women's Honda U.S. Open of Surfing presented by O'Neill in front of a capacity crowd at Huntington Beach this afternoon.
"I'm so happy," Mulanovich, 23, said. "It's been my dream to win the U.S. Open since I was very young so it's amazing to finally win it. I've been surfing this event since I was 14 and I've gotten seconds, and finished third, but I've never won before. I'm stoked."
Mulanovich carved comfortably through shifting afternoon conditions to claim the long sought-after title over fellow ASP Women's World Tour competitor, Jessi Miley-Dyer (Sydney, AUS).
"It's such a good contest," Mulanovich said. "It's in America and all my sponsors are here, so it's great to win one in California in front of all these people on the beach – it's great for your career."
Mulanovich, runner-up on last year's ASP Women's World Tour, has so far this year struggled to regain the form that's seen her sitting at the top of the ratings the past few years. Though currently no. eight in the world, momentum gained from this win will surely impact her headspace heading into the next ASP Women's World Tour event in Brazil in August.
"For me, once I've won a contest, it's so much easier to get on a roll," Mulanovich said. "This is my first WQS event this season. I've been at home training a lot, both physically and psychologically. To win here is good for my confidence for sure."
In addition to the prestige of winning the U.S. Open as well as a swath of World Qualifying Series (WQS) ratings points, Mulanovich was also awarded $4,500 and a Honda AquaTrax jetski for her efforts.
ASP Women's World Tour campaigner and current ASP World Junior Champ, Miley-Dyer looked dangerous all week as she steamrolled towards the finals. After taking down defending U.S. Open Champ Julia Christian (Carlsbad, CA) in her morning heat, the powerful goofy-footer looked poised for the podium. Failing to put together a solid combination of scores in the final, she was forced to settle for a second place showing.
"I got one wave but I didn't get much after that," Miley-Dyer said. "The conditions changed and Sofia moved down to the rights and I stuck with the lefts I'd been surfing all event which, in hindsight, was probably a mistake."
Miley-Dyer's runner-up finish earned her $2,300 and also moved her into first place on the women's ASP WQS ratings.
"I've done all the WQS events this year," Miley-Dyer said. "I'm not doing too well on the World Tour this season – and since it's my first year, I knew I would be surfing all the qualifying events. I've actually made all the finals now so that's pretty cool, but I hate coming second. I've had three second-place finishes and I'm over it."
Amee Donohoe (McMasters Beach, AUS) surfed brilliantly throughout the entire event but was unable to find the waves needed to advance past a rampaging Miley-Dyer in the semifinals. Her efforts still garnered her an equal third-place finish, $1,900 and 1,825 ASP points to move her up three spots to eighth on the WQS ratings.
"I'm not too sure but I think I'm in a pretty good spot," Donohoe said of her WQS campaign. "I'm only counting three events and I've got a third, a fifth and a ninth. There are a lot of girls doing well though like Caroline Sarran and Mel Bartels – they've got some good results. There's some really tough competition out there."
Melanie Bartels (HAW) was disappointed in her semifinal elimination at the hands of Mulanovich, but the equal third-place finish puts the passionate Hawaiian in a good spot to requalify for the elite ASP Women's World Tour in 2007 (Bartels surfed on the elite tour in 2004 and 2005, but did not requalify for this year's tour).
"I'm not doing very well this season," Bartels said. "I'm currently fifth (on the WQS) but anything can happen. I don't feel like I've been surfing to my full potential. All the girls are ripping. I'm just taking it contest by contest and heat by heat. Hopefully one day I make the finals and maybe even win it. That's what I'm looking forward to."
Bartels moved from fifth to fourth on the ratings once results from this event were tabulated.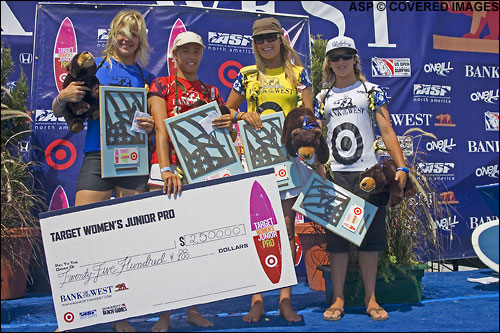 Lee Ann Curren Picture Credit ASP Tostee
Also crowning an event champion today was the ASP $10,000 Grade Two Target Pro Junior. Lee Ann Curren (Biarritz, FRA) claimed the title this afternoon edging out her fellow competitors Rosanne Hodge (ZAF), Erica Hosseini (Newport Beach, CA) and Courtney Conlogue (Santa Ana, CA) in one of the closest heats of the entire event.
"I was pretty nervous today because I didn't know if I was going to surf well," Curren said. "I'm so happy that I won. The other girls are all very good surfers. It was hard and it was very close and difficult to find the good waves. I am trying to surf the WQS events, but I still have one more year of school."
The Men's Honda U.S. Open of Surfing presented by O'Neill had no shortage of action as today's Round of 24 was shortened to the final 12 surfers who will battle it out for the title tomorrow.
Bobby Martinez (Santa Barbara, CA), current no. four on the Foster's ASP Men's World Tour, put an end to a potential Ben Dunn (Old Bar, AUS) double-event sweep (Dunn will surf the final of the Lost Pro Junior tomorrow) this morning with a commanding win in the opening heat of the men's event.
With such a phenomenal start to his World Tour season, Martinez has said this will be the only WQS event he will surf this year.
The lightning-fast Californian flashed his championship tour form to post a 9.50 out of a possible 10 for a series of high-risk maneuvers including a critical finishing re-entry just moments before shooting the pier.
"Oh man, you definitely don't want to hit them (the pier pillars) and anything can happen when you get close," Martinez said. "That wave was one of the bigger ones of the morning and I was just doing hits and not really paying attention to where I was going then it just surprised me."
Mason Ho (North Shore, HI), who along with Michael Campbell (Port Macquarie, AUS), is one of two trialists left in the main event, continued his aerial antics to advance on through to tomorrow's Round of 12.
"It's been really overwhelming," Ho, 17, said. "I've been having so much fun but I'm still trying to keep it on the edge out in the water. I don't have a game plan. I'm just surfing like I'm skating and skating like I'm surfing – just the basics."
Mike Losness (San Clemente, CA) eliminated former ASP world champion CJ Hobgood as well as local favorite and current world no. nine Timmy Reyes, when he won his round five heat today.
"Nobody knows this wave better than Timmy (Reyes). Of course he's always going to surf well and I think today he just didn't get the right wave, which came in my favor," Losness said. "It's good to do well in front of my family and friends since I'm so close to home."
Advancing from his round five heat along with former Foster's ASP Men's World Tour surfer, Tim Curran, Losness was the only surfer in the heat without championship tour experience.
"To surf against guys of that caliber…that's the kind of heat you want to make it out of," Losness said. "If I lost, fine, but I saw the draw last night and thought 'oh crap.' Then I thought about it, and if I want to be surfing with those guys more often, this is where you start. So I might as well go out there and be confident."
The Honda U.S. Open of Surfing will complete action tomorrow crowning champions in the Lost Pro Junior, O'Neill U.S. Open of Longboarding and the Men's Honda U.S. Open of Surfing
Live scores will be available on www.aspnorthamerica.org and www.usopenofsurfing.com.
Images are available through the ASP Media Center at www.aspworldtour.com.
For more information, log onto www.usopenofsurfing.com, www.aspnorthamerica.org or www.aspworldtour.com.
RESULTS DAY FOUR:
WOMEN'S HONDA U.S. OPEN OF SURFING PRES. BY O'NEILL – ASP $30,000 WQS SIX-STAR
Round 4 (Heats 2 – 4)
Heat 2: Sofia Mulanovich (PER) 13.33, Rebecca Woods (AUS) 10.50, Sheridan Shields (AUS) 5.70
Heat 3: Jessi Miley-Dyer (AUS) 10.00, Caroline Sarran (FRA) 7.17, Julia Christian (USA) 6.93
Heat 4: Amee Donohoe (AUS) 12.83, Rochelle Ballard (HAW) 12.66, Heather Clark (ZAF) 5.20
Quarterfinals (Heats 1 – 4)
QF 1: Melanie Bartels (HAW) 16.50, Rebecca Woods (AUS) 7.33
QF 2: Sofia Mulanovich (PER) 13.50, Jacqueline Silva (BRA) 6.46
QF 3: Jessi Miley-Dyer (AUS) 11.34, Rochelle Ballard (HAW) 9.26
QF 4: Amee Donohoe (AUS) 16.50, Caroline Sarran (FRA) 11.76
Semifinals (Heats 1 – 2)
SF 1: Sofia Mulanovich (PER) 14.67, Melanie Bartels (HAW) 8.43
SF 2: Jessi Miley-Dyer (AUS) 14.33, Amee Donohoe (AUS) 8.76
Finals
1 – Sofia Mulanovich (PER) 13.83
2 – Jessi Miley-Dyer (AUS) 8.67
TARGET PRO JUNIORS – ASP $10,000 GRADE TWO
Final
1 – Lee Ann Curren (FRA) 13.07
2 – Rosanne Hodge (ZAF) 12.10
3 – Erica Hosseini (USA) 11.56
4 – Courtney Conlogue (USA) – 11.53
MEN'S HONDA U.S. OPEN OF SURFING PRES. BY O'NEILL – ASP $125,000 WQS SIX-STAR
Round 5 (Heats 1- 6)
Heat 1: Bobby Martinez (USA) 15.83, Tanio Barreto (BRA) 12.33, Royden Bryson (ZAF) 10.94, Ben Dunn (AUS) 6.40
Heat 2: Mason Ho (HAW) 14.67, Victor Ribas (BRA) 12.90, Joel Centeio (HAW) 11.60, Gabe Kling (USA) 9.57
Heat 3: Jeremy Flores (REU) 14.50, Roy Powers (HAW) 13.90, Ben Bourgeois (USA) 8.94, Justin Mujica (PRT) 5.50
Heat 4: Rob Machado (USA) 15.00, Michael Campbell (AUS) 14.40, Maz Quinn (NZL) 12.76, Ricky Basnett (ZAF) 8.00
Heat 5: Luke Munro (AUS) 14.84, Josh Kerr (AUS) 9.50, Kekoa Bacalso (HAW) 6.27, Federico Pilurzu (ITA) 5.03
Heat 6: Tim Curran (USA) 15.00, Mike Losness (USA) 13.43, CJ Hobgood (USA) 12.53, Tim Reyes (USA) 12.07
BOOST MOBILE PRO TRIALS – WINNER GETS WILDCARD IN SEPTEMBER'S BMP OF SURF
Finals:
1 – Dane Reynolds (Ventura, CA) 17.33
2 – Shane Beschen (San Clemente, CA) 13.20
3 – Brett Simpson (Huntington Beach, CA) 10.64
4 – Asher Nolan (Atlantic Beach, FL) 9.60
SCHEDULE FOR SUNDAY, JULY 30, 2006
Men's U.S. Open Round 6 (Heats 1 – 4) 8:00 am to 9:40 am
Men's U.S. Open Quarterfinals (Heats 1- 4) 9:40 am to 11:20 am
Life Rolls On – They Will Surf Again 11:20 am to 12:05 pm
Men's U.S. Open Semifinals (Heats 1 – 2) 12:05 pm to 12:55 pm
Lost Pro Junior Final 12:55 pm to 1:25 pm
U.S. of Open Longboarding Final 1:25 pm to 2:15 pm
Men's U.S. Open Final 2:15 pm to 2:45 pm